The great thing about LED light technology is that it has given us far more scope in terms of how we choose to light our homes and gardens.
When we talk about the best battery operated LED puck lights, we are talking about small, generally circular LED lights that can be placed almost anywhere permanently or temporarily. But what exactly are puck lights used for? These are a very cheap, very versatile and highly effective way to light cupboards or as cabinet lights and, as they do not have a mains power cable, you can put them just about anywhere you want.
Best Battery Powered LED Puck Lights Reviews
Where and why do people use a battery LED puck lights? First, for convenience sake; you might not want to invest in a lighting system that is more expensive and needs electricity and an electrician to wire them in.
You may just want a little extra illumination from under your kitchen cabinets, but these can go in any other room in the house. It may be that you live in a property where permanent interior changes or installation of an extra fixture is not permitted by the owners, an instance in which these adhesive tape, non-permanent lights are ideal.
Our first choice for this list of the best puck lights is a neat little gadget from UR Power. This very clever little set of three lights – powered by AAA batteries(that are not included) – provide 20 lumens of light, with two color options bright or warm white, that's a decent amount for a small light.
These have a motion sensor built-in (how do motion sensors work?). They work great for inside your kitchen cupboard to eliminate any fumbling in the dark at the back of the shelves or even on steps and stairs etc for safety at night when you don't want to turn on a light.
They switch off automatically after a set time and you get a battery life of at least 10,000 hours from each light. If you don't want or need the motion sensor then they also have a duck to dawn setting and can automatically turn on as the ambient light fails.
If you'd rather not be messing around changing batteries then you could look at installing LED strip lighting instead as this mostly comes with a mains adapter that plugs straight into the wall.
They come with a good length of self-adhesive tape that will happily fit the lights to any surface and are really that easy to mount. They can be used indoors or out (temporarily as the unit is not waterproofed) and would be perfect for additional light in dark areas around the home, at the price can't be faulted.
Check for Black Friday Deals on Amazon >
(don't worry, button opens a new tab)
Why We Liked Them
Three-pack of LED puck lights
20 Lumens
With featured motion sensor
Auto-off timer
Sensible price
Another that is not permanent lighting but works on a sensor of movement or light is this option. The auto ON/OFF will turn the light ON when darkness falls and OFF at dawn. A setting for movement is also available for energy saving, it will turn on when you approach and off 15 seconds after no movement is detected.
The design of this LED puck light is very likely to conform throughout these puck light reviews, with few differences between each one, so the deciding factor could come down to value for money and brightness levels.
This is another pack of three puck light products and similarly priced to the above, offering 20 lumens of brightness and 10,000 hours runtime and fixed with double-sided adhesive pads supplied. They use AAA batteries which is not part of the pack.
Easy to install, these feature two LED bulbs each for an added effect that can be bright or warm white, there's no reason why this pack should not have a place on your shortlist. They make great options for under cabinet puck lighting or to brighten up any spaces in your home after dark.
Check for Black Friday Deals on Amazon >
(don't worry, button opens a new tab)
Why We Liked Them
Three pack of LED Puck lights
20 lumens
2 LED's in each light
Motion sensor activated
This is a pack of six so you are getting twice as many as in the packs above and these have some neat performance advantages. Each battery operated puck light in this pack offers 55 lumens of brightness.
Because of their brightest, these battery powered led lights on our puck lights reviews are one of the brightest options. They can be switched on and off with ease using a remote control, and also feature a dimming function so you can run them between 50% and 100%.
They have a timer that can be set for various durations to ensure energy saving when not required, they come with batteries supplied for each light (a total of 18 x AAA). The manufacturers say these will perform for 100 hours at full brightness; check out the price, this could be a bargain if you want party lights.
Check for Black Friday Deals on Amazon >
(don't worry, button opens a new tab)
Why We Liked Them
6 pack
55 lumens bright
Dimmable
Batteries supplied
Remote control
The Energizer brand is massive in the world of batteries and battery-powered products, and these puck lights come with a difference.
Rather than the lightweight plastic cover seen on the others so far, this one has an industrial-type hard case. It is designed for moving from place to place either at home or on-site and to take the knocks that come with it and is supplied as a single light.
The power is 50 lumens, which is more than enough for most situations and is a wide-angle design to illuminate a large area.
It has a simple on-off function, bright white light, and is easy to fit with a choice of two mountings. As a single item, it's not cheap, but they are a very good option when you are looking for great ways to use puck lights.
Check for Black Friday Deals on Amazon >
(don't worry, button opens a new tab)
Why We Liked Them
Energizer brand
50 lumens
Tough rubber case
Wide-angle
Sold as a single puck light
Although this option is not battery operated we couldn't resist including them in our puck lights reviews as they off so much. With a total of 510 lumens and an 80+ CRI, each delicate puck light from LE (Lighting Ever) is able to provide you with bright, yet natural-looking light.
If you want your lighting on for long periods then this is the best way to go. The great thing about these is the multi-functional usage that they have.
They can go almost anywhere, from a major application such as a kitchen or bathroom counter to a functional location like a computer desk or even underneath your TV stand or coffee table.
By mounting a simple puck light you will add a great effect to any spaces in your home. The 6.5ft cord attached to each puck light makes it easy and offers ample length and plenty of flexibility for ideal placement. The 0.27-inch thick puck lights make them almost invisible until you turn them on.
Check for Black Friday Deals on Amazon >
(don't worry, button opens a new tab)
Why We Liked Them
Pack of 3 or 6
Multi-Functional Usage
0.27 inch Thick
Excellent CRI
All Kits Ready
We're back to the standard style with batteries and they are very much like the others, after all, they are what they are so why mess with the design. This is a pack of four – a handy number for when you want a little extra lighting around the home or outdoors – and they are the usual 20 lumens LED lights, in a circular plastic case.
One difference with these that is not present in some models is that they have a magnet so they can be attached to metal surfaces.
These have a motion sensor – it should be mentioned all the motion sensor models automatically sense fading light too – and are powered by AAA batteries (not supplied) and they promise the usual long life and efficiency.
At the price, worth a look for a pack of four and another great option if you are looking for the best price under cabinet puck lighting.
Check for Black Friday Deals on Amazon >
(don't worry, button opens a new tab)
Why We Liked Them
4 pack
Long life and efficiency
Motions sensor activated
Magnetic feature
Now, this is something completely different and definitely one of the best puck lights for the party animal in you! Do you have a pool, or need some temporary pond lights? How great would it look with colored lights shining up through the water? This is a fully waterproof, completely submersible LED puck light that does just that.
Even better, this one comes with 10 x LED's and they can be controlled via a remote control unit to give a range of 16 different colors. There is also a setting for cycling through the colors which makes it even more interesting.
This feature really sets this light – it is sold as a single puck light and you don't have to use it underwater. One of the products you may not want to use as a fixture but one to take with you for some fun lighting anywhere. It's also surprisingly cheap, so a few of these would brighten up any party!
Check for Black Friday Deals on Amazon >
(don't worry, button opens a new tab)
Why We Liked Them
16 different colors
Submersible
Comes with a remote control
Great party lights
This very impressive puck light, designed for hard mounting on a ceiling but can be fitted elsewhere, with no wiring needed, offers no less than 100 lumens of light.
They are very bright LED puck lights indeed, making this one perfect for dark areas that may be difficult to access otherwise such as a closet, pantry or even the shed. It's easy to fit, is powered by AAA batteries.
The motion sensor will pick up any movement and will light up as you approach but automatically turn off 30 seconds later to conserve the energy.
If you have a dark entrance to the house or a room with limited light at nights, or you are looking to install some cupboard shelf lighting to stop all that groping around in the dark, then one of these will make life a lot easier and safer. All for a good price as well.
Check for Black Friday Deals on Amazon >
(don't worry, button opens a new tab)
Why We Liked Them
100 Lumens
Ceiling fitment supplied
Movement activated
This very neatly designed light fixture is very thin, so if you have areas where that would be a bonus it's certainly worth a look. Rather than being motion sensing, these LED puck lights operate via your touch and give instant light as you would expect with LED. By touching longer you can also get different brightnesses.
They can be fitted to metal surfaces with the built-in magnet or to other surfaces using the self-adhesive tape supplied. You need to buy AAA batteries for this one, and they come as a pack of three lights.
Check for Black Friday Deals on Amazon >
(don't worry, button opens a new tab)
Why We Liked Them
Pack of 3 LED puck lights
Touch-sensitive
Very thin design
Magnet or tape mount
Good price
If you need a recap, here's our top 3 battery-powered LED Puck Lights picks:
OUR #1 PICK
Brilliant Wireless LED Puck Lights
55 Lumens Bright
Pack of 6
Timer Function
Dimmable
Check Amazon →
Read our review
TOUCH DIMMABLE
LE LED Under Cabinet Puck Lighting
510 Lumens Bright
Pack of 3 or 6
Cool White Light
Amazon's Choice
Check Amazon →
Read our review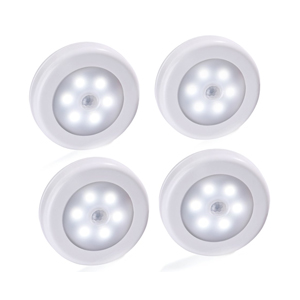 BEST VALUE
LUCKLED Battery Operated LED Puck Lights
20 Lumens Bright
Pack of 4
Motions sensor activated
Requires AAA batteries
Check Amazon →
Read our review
LED Puck Lights Review Summary
That's our list of the best LED puck lights complete, but before we go on to give you our verdict, one word of warning. If you buy motion sensor lights, you need to set them apart by a good distance or one light being illuminated will prevent the others from working!
If you don't know what LED lights are all about, here's a brief description: LED stands for Light Emitting Diode, this is not a new concept, but one that has been developed greatly in recent years. The light is produced by a different method to the usual filament light bulb, and can also be colored as well as white.
LED's are at once more efficient, effective and longer-lasting than any other form of light bulb, and being very small, can be used in miniature applications.
So, do we have a favorite? Let's have a look!
Our #1 Choice
The concept of puck lights is an excellent one, and we think we have covered all the variety there is in the market. First, if you want simple, cheap lights for occasional use like for under shelves lighting, the last one on the list – the pack of 8 – will do the job as well as any other, as long as you don't need motion sensing.
If you do need a motion sensor light, we suggest you have a look at the LUCKLED pack of four, no.6 on the list, for a good set of lights at a sensible price. For brightness, it has to be no. 3 from Brilliant Evolution, and for the most fun, we can't get away from the Qoolife colored light at number 7, which you can even put in your hot tub, pool or pond!
Every one of those included on our list serves the purpose well, so we hope we have helped you find the ideal battery-powered LED puck lights for your requirements.
Frequently Asked Questions
We hope you have enjoyed our reviews on what we have found to be the best battery operated LED puck lights that are out there in the market. Whether your search is for cabinet lighting or something that will turn on when you open your cupboard door and save you from fumbling in the dark at the back of the shelves, hopefully, your quest will soon be over.
Below we are going to answer some of the questions that a lot of people ask us about battery puck lights.
How do I replace LED puck light?
LEDs by their very nature last for thousands of hours of lighting, so you should not need to replace an LED puck light very often. But if you feel the brightness is being lost over time then it is not a hard job to replace the LED bulbs in some models.
You will need to turn the power off and remove the cover from the fitting, then it is just a case of replacing the bulb. Obviously all puck lights will vary so it is best to check the manufacturers' instructions to not only ensure correct replacement but also safety measures required.
Where to use led puck light kit?
Where you can use a puck light kit is pretty much not limited. Is the kit going to use electric as its power source if so then you will need to get the correct wiring done in whatever place you want the puck lights?
Some options you can choose from can just be plugged in so you are only limited to having an outlet nearby. The battery-operated puck lights are great for anywhere that you can think of, and as most designs have movement sensors are ideal for a kitchen cupboard, closet or shed where you do not have a power source.
How long do battery-powered LED Puck Lights last?
How long battery-powered LED puck lights last has variants. The LED bulbs actually last thousands of hours and can sometimes even outlive the life of the actual fitting.
How long the batteries last is completely dependent on the time period used and the brightness setting that they have. Obviously the brighter the light the less time the energy will last.