With Christmas around the corner, your holiday decor choices get fewer every week.
You may have thought about picking up some LED Christmas tree lights and maybe even LED window Christmas lights, but one of the easiest ways to turn your home into a winter wonderland is by adding a festive pre lit Christmas Garland or two around the home.
A Christmas garland with lights is a simple way to fill your home with the holiday spirit. And… if you're wanting to take things to a whole new level (saving yourself time and getting some bonus decor points), then pick up some garlands with LED Xmas lights built-in.
BEST CHRISTMAS GARLAND WITH LIGHTS
We've compiled a list of the top 10 Christmas garlands with lights so you don't have to do the work to find them.
A light-filled artificial Christmas Garland on the banister or mantle is sure to make your home Christmas-ready… and it won't take you a ton of time either!
This Wispy Willow is 9 feet long and pre-strung with 50 clear lights that provide you with the perfect amount of light. The lights on the pre lit Christmas Garland will last if they're kept inside and will look best wrapped around your stairwell, across your fireplace or hung around a doorway.
When it arrives you will have to fluff it up to create the perfect look you see in the magazines (since it did just arrive in it's confined packaging).
Check for Black Friday Deals on Amazon >
(don't worry, button opens a new tab)
Plus, this lighted garland is fire-resistant and non-allergenic unlike traditional options, so you can rest easy knowing it won't be causing any fires or causing any nasty allergic reactions during the holidays.
If you are looking for an Outdoor Christmas Garland with lights this Wispy Willow is suitable for inside or outside depending on what you're wanting. Also, it isn't overly pricey when compared to the choices at some of the home decor stores.
Even though it is a better price than most store-bought choices, it is durable so it should last you for years to come.
Since the bulbs are pre-strung all you have to do is plug it in, and you're set.
National Tree Company is up in the ranks again with this gorgeous artificial Christmas Garland, except this time, it's got a few more bells and whistles (metaphorically speaking).
If you're wanting something that dazzles a little more than a typical pre lit garland, then this might be the one for you. It comes laced with red berries, cloth poinsettia, "frosted" pinecones, and of course, 50 LED lights.
It is battery-operated, so you don't have to worry about tripping over any cords, or trying to reach an outlet that's too far away. Just press the button and you are up and running.
Check for Black Friday Deals on Amazon >
(don't worry, button opens a new tab)
It spans 12 inches in width and is 9 feet long, making it great for wrapping around stairway banisters or around doorways.
The LEDs give off a softer, warm white than typical bright white LEDs – giving your home a cozier feel.
Because this comes with all the extra colorful decor, it is a bit pricier. However, if you're wanting that little bit of extra color to cozy up your home this Christmas, then it's definitely worth the investment (especially since you'll be using it for years to come).
Just like the standard Wispy Willow edition, this is also fire-resistant and non-allergenic, so you don't have to have worry about it causing a ruckus this winter.
If you're wanting something even more colorful than the National Tree Company's Decorative Collection, then this might be the perfect one for you.
iGeeKid introduced this new, upgraded version of their Garland in 2019. It's 9 feet by 10 inches and contains, 220 branches, 75 red berries, and 15 pine cones – to be exact!
The iGeeKid Xmas Garland includes 50 pre-strung LED lights. Unlike popular choices with only white, this option includes 3 colors of LED lights. It also has two different settings, which are steady on or flashing
It is battery-operated, so you can put them anywhere you want. They take 3 AA batteries (not included).
Check for Black Friday Deals on Amazon >
(don't worry, button opens a new tab)
One nifty feature of this is that it is completely adjustable and you can shape it into any form. Plus, you can bend the branches however you want as well.
This iGeeKid option is perfect for door frames, doorways fireplaces, and stair banisters. You could wrap it around a bookshelf or on the mantel to create a cozy atmosphere by your Christmas tree.
This is waterproof, so if you are looking for an outdoor garland you can use it outside as well as inside. Just be careful as even though the garland and LEDs are waterproof, the battery case isn't.
Also, the branches can be flattened down when you store it away, making it easy to hide it in the off-season.
National Tree is at it again with their new Decorative Collection. This one is another model from their "fancier" range. This time, it's the Red Mixed Garland with Sprigs.
It includes a 9 foot by a 12-inch length with 113 branches. On it, you'll find red and green leaf sprigs, as well as a variety of shiny and matte red ball ornaments. Of course, you'll also see 50 pre-strung warm white LED lights.
The LEDs are battery operated that includes a 6 hour on, 18 hours OFF timer. (You'll need 6 AA batteries to turn on the lights.)
Check for Black Friday Deals on Amazon >
(don't worry, button opens a new tab)
It is durable and able to be used either inside or as an outdoor garland, it can handle the elements of winter. Just be careful with the battery case as it's not waterproof. It's great for putting outside your door, or near your front yard as it looks real from the road as you're driving by.
The red bulbs really "pop" and have a nice contrast between the shiny and matte styles.
This gorgeous choice is more expensive than the original Wispy Willow, but not quite as expensive as the Tartan Plaid  (although they are arguably just as nice as the Tartan Plaid).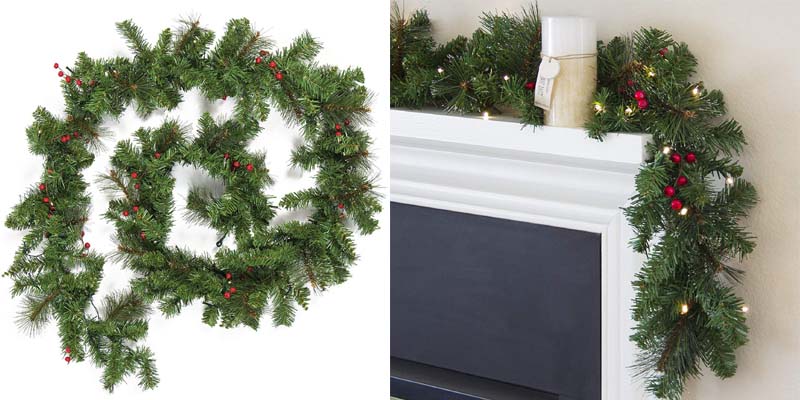 It can be hard to find an option that doesn't fall apart and leave pieces on your floor everywhere…
Thankfully the name of this says it all… "Best Choice Cordless Christmas Garland". Needless to say, "Best Choice Products" is the name of the brand.
But really, considering the price of this, and the quality, you're looking at a winner.
Check for Black Friday Deals on Amazon >
(don't worry, button opens a new tab)
It's durable – which means it won't leave a disaster of greenery on your floor.
Since it is 9 feet long, it gives you the ability to wind them around your railings perfectly. It is heavier than some of the cheaper options out there and can be secured easily with zip ties.
This comes with red berries, silver bristles, and 50 warm LEDs already on it. Having these festive additions already on makes it extra easy for you to put it anywhere to have a complete Christmas look with hardly any work.
All you'll need are those zip ties and three AA batteries to see this gorgeous option light up your home.
The Frosted Holiday Pine is one of the most "wintery" you could possibly find, with its warm lights that glisten through the snowy greenery.
This just makes you feel like you've got a white Christmas wherever you put it, inside or out.
It's 6 feet long and decorated with delightful pinecones (of various sizes) throughout, adding even more to the festive winter wonderland look.
Check for Black Friday Deals on Amazon >
(don't worry, button opens a new tab)
It simply doesn't need any other decorations to complete the look, making it easier for you to get your home ready for the Holidays. Once it arrives, all you have to do is fluff it up a little bit and expand the snowy green foliage.
The Frosted Holiday Pine is great for several areas, including your mantle, table (as a table runner), along your stairwell banisters and, around your doorway.
Do you love poinsettias? And… do you love garlands? Then this is the perfect Xmas garland for you.
You might be unsure at first since you usually stick to the traditional style with mostly greenery, however, this Velvet Poinsettia choice will surprise you when you see how it can really liven up your home.
Check for Black Friday Deals on Amazon >
(don't worry, button opens a new tab)
This is one of the most cost-effective options you can get, offering value for what you're getting. The poinsettia also has red berries and holly leaves, centered around a light in the middle.
Since they're battery-operated, you can put them wherever you like – on the banister, mantle, doorway, or by the window.
Most people choose a greener option, but having the extra red can bring a festive and cozy warmth into your home this Christmas.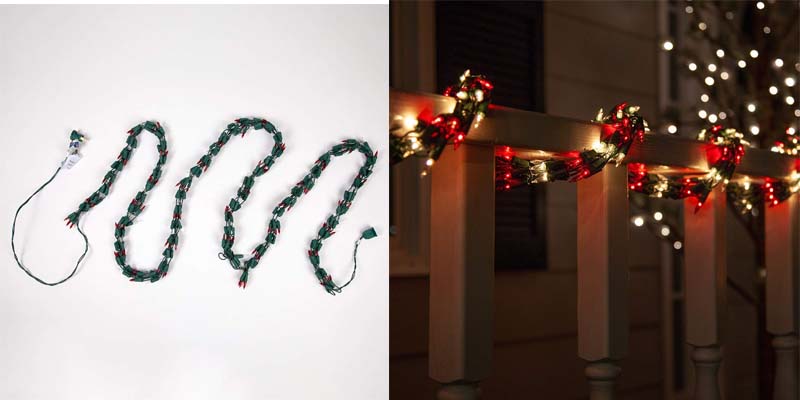 This is not like the rest. In fact, it's not really a garland as there are no branches and there's no foliage at all. It's just a set of lights, but boy, do they pack a punch.
Wintergreen Lighting's "garland" is a 9-foot strand of LEDs wrapped together, giving the look of a garland while just using lights.
The green plastic part of the lights gives off the look of a real one, making this a really unique piece for any home.
Check for Black Friday Deals on Amazon >
(don't worry, button opens a new tab)
They are sure to make a statement to anyone who comes over. And also create a gorgeous look even though they're only LEDs strung together. It is made up of 300 red and white lights.
Perfect for decorating patios and porches, they are also great for trees, columns, banisters, railings, in fact almost anything.
Because there's no "branch-like" component to the lights, they're much more versatile than regular options and you're able to put them almost anywhere.
They come with the twist ties making them easy to put up. Do not remove the twist ties as it keeps the lights spaced neatly and the whole thing together.
The Wintergreen Lighting Lights are durable, safe (it's UL listed), and can be used indoors or outdoors.
Thinking of glamming out this Christmas with something a bit more luxurious? Then these beautifully strung lights might just be the pick for you.
Just like the Wintergreen Lighting Garland, the General Electric Gem Garland Christmas Holiday Lights don't have big branches as a base, unlike the more traditional choices.
They do however have a "gem" and mini silver ball foliage style along with the lights – with a similar sheen to jewelry.
Check for Black Friday Deals on Amazon >
(don't worry, button opens a new tab)
These are only for indoor use. And at 9 feet by 12 inches, they're the perfect size for putting in the windows or on a mantle.
They have 100 clear bright lights (that are UL listed) and you can connect up to 4 sets together, allowing you to span this across any long tables or railings the ideas are endless.
These are more than just a typical set of fairy lights. They really give off the "winter wonderland" vibe as soon as you hang them or place them. They're not low cost, like any luxury item, but you will definitely make your home sparkle with the festive spirit this Christmas when you have these in it.
Don't be surprised if you get a few compliments when you have friends and family over
Red Sleigh's Oregon Fir Line is the Volvo of the garland world. It is 9 feet long, just like most of the others on this list, however, this is a whopping 20 inches wide (about 8 inches wider than an average option), making it the lushest on our list. Again this is not a cheap choice but it certainly packs a punch.
It comes equipped with 200 UL listed warm white mini LEDs. The PVC needles offer a deep green hue and realistic foliage. (Looking at it from afar, it's hard to tell that it's not real).
Check for Black Friday Deals on Amazon >
(don't worry, button opens a new tab)
The Oregon Fir is one of the safest, most durable on the market. Backed by a 10-year warranty, the lights are rectified (so they won't flicker), stackable (with male plugs), connectable (end-to-end), sealed (construction-grade), and… they are even protected with extra fuses.
If you want a trustworthy, reliable decoration with lights that you can use year after year without worrying if it'll break down on you, then this one is for you.
It's one of the highest-quality garlands you can get, and although it's not cheap, it's sure to create the perfect, full Christmas atmosphere year after year.