A Christmas tree without lighting isn't quite complete. And for most people, selecting and decorating your home with the best Christmas lights is sure to be one of the most memorable things about Christmas.
If you're planning to buy Xmas lights this year, it's crucial to know that traditional incandescent lights are being phased out of the market.
If you're too busy shopping to read this full post, here's our top 3 picks for the best LED Christmas lights:
OUR #1 PICK
MyCozyLite LED Christmas String Lights
8 Functions
Waterproof
100 Lights
180+ 5* Reviews
Check Amazon →
Read our review
BEST DESIGN
LED Fairy Net/Mesh Christmas Lights
Outdoor Friendly
200 LED Lights
Linkable
Stunning Design
Check Amazon →
Read our review
OUTDOOR FRIENDLY
Solar Outdoor/Indoor Globe Lights
600+ Reviews
14ft of Lights
Solar Powered
2 Modes
Check Amazon →
Read our review
Today, most people go for LED Christmas lights because of a number of advantages, with many people now also buying Christmas laser lights to quickly and easily decorate the outside of their homes with minimal effort.
First, LED lights are made to be energy efficient and durable. They come in many shapes, sizes, and colors, and they can easily connect with each other. In addition, they produce minimal heat, are dimmable, and have a long lifespan compared to traditional lighting options.
Best Christmas LED Light Reviews
What makes the best LED Christmas lights? Well, it depends on your needs. We took out time to research the 10 best LED Christmas tree lights so that you don't have to go through the same painstaking process. Hopefully, you'll have found your ideal choice by the time you finish checking out our list!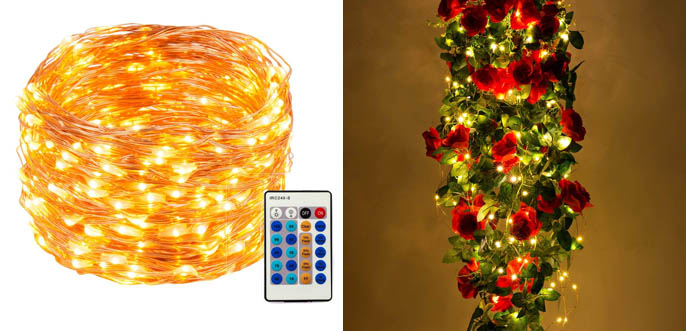 The Weico LED string lights are some of the best LED lights you can buy for your Christmas tree. The strings have a twinkly warm glow, produce unobtrusive light, are dimmable and can be operated using a remote control. They come with a 10 level brightness and 3 adjustable settings. This includes flash, smooth and strobe. Essentially, these options give you the ability to set or adjust the mood of your Christmas tree based on your preferences.
You'll also be happy to learn that they come with a flexible cord that you can easily wrap around your Christmas tree. With a bit of creativity, you can create stunning decorations for your home  You should be careful when handling the lights though, as excessive use of force can damage them.
To sum it up, if you're looking for a warm white LED Christmas lights and waterproof Christmas tree lights that will shine for a long time, consider purchasing the Weico LED string lights.
See What Customers Are Saying on Amazon.com →
(don't worry, button opens a new tab)
Pros
300 LED lights
Warm white and bright LED lights
The lights are waterproof
The cord is made of copper, which makes it f=safe and flexible
Lifespan of over 20,000 hours
Do not tangle
Energy efficient
Cons
These string lights cannot be extended or even connected with other string lights
Excessive force could damage them so you must be careful
The connector and remote controller are not waterproof
These lights may look tiny but they are an excellent choice for decorating your Christmas tree or outdoor area. They produce a white, warm, cozy and inviting glow that is certain to lighten the ambiance of your home. These are some of the best outdoor Christmas lights on our list and you can either choose the flashy or steady mode, depending on what you prefer.
The best part about these string lights is that they can be powered by batteries or solar energy, which means you don't have to be close to an electric outlet to decorate your Christmas tree. In addition, these lights aren't used on Christmas trees only; they can also be utilized on other occasions such as weddings or garden parties. Lastly, they have a nice rhythm when lit and are flexible enough to fit most Christmas trees.
See What Customers Are Saying on Amazon.com →
(don't worry, button opens a new tab)
Pros
Warm beautiful white color
2-modes
Battery/Solar operated
Durable
40 LED lights
Cons
No remote control included
Batteries not included in the package
Novelty lights have quite reliable mini lights for decorating your Christmas tree. The mini lights come with a solid green cord that naturally blends with your Christmas tree. They come with a cord that is 50 feet long and connect from end to end with the bulbs spaced 6 inches apart.
When you choose these christmas tree lights, you'll not have to worry about power consumption because they are energy efficient LEDs. They also have a longer life span than most Christmas tree lights because they are pre-molded before manufacturing. Additionally, they come with an inbuilt rectifier that prevents the bulbs from flickering, which eliminates the need for using an adaptor.
Beside Christmas trees, these lights can also be used to decorate patios, pillars, fences, bushes, and wreaths. Lastly, they are ideal for small Christmas trees but you can increase their length and use them on a large Christmas three if you connect several strings together.
See What Customers Are Saying on Amazon.com →
(don't worry, button opens a new tab)
Pros
No flickering
Energy star qualification
In-built rectifier
Connectable up to 21 strings
Suitable for both indoors and outdoors
Concave design
Green color matches with the tree
Energy efficient
40,000 hours use
Durable
If one bulb burns the rest still work
Cons
No blinking setting
No remote control
If you love snowflakes or multicolored Xmas lights, then snowflake shaped Inngree solar string lights are a solid option to consider. The lights use LED technology and can be powered by solar energy as well. They can be used to decorate all types Christmas trees, whether stationed indoor or outdoor because they are waterproof.
Once you buy them, you shouldn't have any trouble using them as they are easy to operate.  One switch is used to power on or shut off the lights while the other is used for controlling the flash function.
Because they have a high energy conservation rating, you won't have to worry about utility bills from using a lot of LED Christmas lights. They can last up to 12 hours when fully charged, but you must remember to charge them for 10 hours the first time you use them for maximum life.
Also, you can set the lights to turn on and off automatically according to your liking. Ultimately, these multicolored lights produce a beautiful glow with the power to lift the mood of your surroundings. We are sure your family will totally love them this Christmas.
See What Customers Are Saying on Amazon.com →
(don't worry, button opens a new tab)
Pros
Waterproof
Energy efficient
Comes with 30 LED bulbs
Built-in storage battery
Durable
Cons
Short cord of only 20 feet
No remote control
Cannot be connected to electrical power
Cannot be connected to another string
Short lifespan of 5000 hours
These LED Christmas lights have a charming golden white glow that's sure to make your Christmas tree stand out. They can be switched on and off automatically because they come with a timer and a memory chip.
You can decorate your Christmas tree the way you like since the lights are extendable by up to 10 chains. And the LED lights can be used both inside and outside because they are also waterproof.
Apart from decorating your Christmas tree, you can also use the lights to decorate your wall, bedroom, balcony or garden (if you are planning on decorating your garden this Christmas, check out these awesome garden pathway lights). Ultimately, if you're looking to decorate your Christmas tree with a gentle white glow, consider MyCozyLite LED String Lights. We're sure you won't have any regrets.
See What Customers Are Saying on Amazon.com →
(don't worry, button opens a new tab)
Pros
8 different function
Durable
Extendable LED light chain
Waterproof
100 LED lights
Exclusive auto timer
Versatile
Cons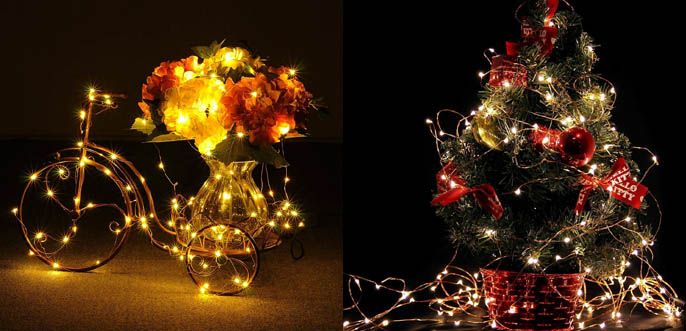 If you love an ultra-bright white glow on your Christmas tree, then consider checking out the mini Mine Tom Starry String Lights. These light strings are aesthetically beautiful and don't overheat. If you're looking for best lights to bring your Christmas decorations to life and enhance the ambiance in your home, you should definitely check out these lights.
In terms of versatility, you can use them inside your home or outside because they too are waterproof. And they produce ample bright light because they come with 120 LED bulbs. You can actually switch off your usual lighting system in the home but your surroundings will still be lit. Also, these energy efficient lights aren't for decorating Christmas trees only—they can also be used to decorate your patio, bedroom, fence, garden or events such as a wedding ceremony or birthday party.
As we all know, most LED string lights aren't quite as flexible as we would like them to be. These lights are an exception to the rule, as they come with a highly flexible thin copper cord that will make the task of decorating your Christmas tree a simple and straightforward task. What's more, these lights are extendable, which means decorating large trees will always be a breeze, since all you need is to connect a few light strings together.
A word of caution though—poor handling could damage both the cord and the bulb. So you'll need to be careful with the way you decorate your Christmas tree.
See What Customers Are Saying on Amazon.com →
(don't worry, button opens a new tab)
Pros
Flexible copper cord
20,000 hours
Water-resistant
Connectable
Ultra bright warm while light
120 LED lights
360-degree luminosity
Versatile uses
Cons
No remote control
The plug is not waterproof
Cannot be operated with battery
KooPower have some of the best Christmas lights for decorating Christmas trees on the market in 2018/19. The strings come with over 200 lights that produce a cozy warm glow that everyone is certain to love. With a timer and a remote control, you have control on how you switch your lights on and off at your own convenience.
These lights are also superior to most choices in the market, bearing in mind that they come with 8 variable modes and brightness settings. This allows you to play around with a variety of lighting combinations when decorating your Christmas tree.
As if that's not all, the lights are also some of the safest around because of their low voltage. In addition, these lights can also be used to decorate walls, living room, bedroom, patio, etc.
See What Customers Are Saying on Amazon.com →
(don't worry, button opens a new tab)
Pros
Waterproof for outdoor use
Low voltage transformer
Remote control
Durable
8 different effects
Timer program
Dimmable
Cons
No blinking setting
One color
Imagine buying a net of lights that make decorating your house easier; wouldn't that be great? Well, that's exactly what you get with Ollny LED Fairy Net-Mesh Decorative  Lights. These are som of the best Christmas lights and are super easy to wrap around your tree, or furniture. But that's not their only quality because they also shine bright, dissipate very little heat and have a long lifespan.
With 8-point brightness settings, you have complete control over the kind of mood you want to set for your Christmas party. Some of the mood options you can choose when decorating your tree include wave, twinkle, slow fade, slogs, flashing, steady, etc.
You can have the tree inside or outside the house because these  LED Xmas lights are also waterproof. Lastly, the net lights are extendable, making it possible to decorate a large surface by connecting two or more net lights together.
See What Customers Are Saying on Amazon.com →
(don't worry, button opens a new tab)
Pros
Waterproof
200 LED lights
Completely safe to touch and convenient
Copper wire technology
Connectable
Flexible
Cons
If you love lighting your spaces with candles, Christmas Candle String Lights with Tree Clips could be perfect for you. These light strings look so much like real candles, considering they come with wax drippings to make them look even more real. With clip-ons, these lights can easily be fixed on your Christmas tree quickly.
One interesting thing about these light strings is how the 48 feet green cable will blend well with your tree foliage, besides being flexible enough to decorate your tree the way you like.  You'll be able to create the best Christmas atmosphere because the candles are 3 inches tall and produce a very nice glow. Additionally, because of their low voltage, these lights strings are also some of the safest in the market.
See What Customers Are Saying on Amazon.com →
(don't worry, button opens a new tab)
Pros
Traditional rustic look
Long cable
Low voltage for safety
Static light effect
Cons
No remote
The bulbs are non replaceable
No flickering
The BRC LED lights produce a shiny glow and are the only option embedded with Christmas music in our list. They come in various colors and are a joy to watch when they dance on and off to the musical notes. If you're looking to have a cheerful experience where you sing along to Christmas tunes uninhibited, then these LED lights are a must have.
You should however use these LED Christmas lights indoor only as they are not waterproof. In addition, the string is 27.5 feet long and it comes with 140 LED bulbs, making it a versatile option if you want to decorate other spaces other than your Christmas tree.
See What Customers Are Saying on Amazon.com →
(don't worry, button opens a new tab)
Pros
Beautiful lights with a long string
Durable
Musical
Cons
Indoor use only
No remote control
Not waterproof
Christmas Tree LED Lights Buyers Guide
There are lots of options in the market today if you're planning to buy Christmas tree lights. In this guide, we are purposely going to focus on LED lights strings because traditional incandescent lights are being phased out.
Knowing the different types of Christmas LED light strings before you open your wallet is important. But ultimately, you'll have to make your choice depending on how you want to decorate your Christmas tree.
Here are the most common LED string light types and bulbs you'll across online.
LED Mini Light Strings
Also known as M5 LED lights, these lights were originally designed to look like the traditional incandescent lights. They come in a myriad of styles but their basic design resembles traditional lights.
LED Wide Angle Mini Lights
These are a little different from Mini lights, but they serve the same purpose. Often called polka-dot lights, the wide-angle LED lights disperse colorful lights in wide, circular patterns instead of straight lines.
LED C6 Light Strings
C6 light strings, often referred to as strawberry lights, come with ¾-inch LED bulbs permanently fixed to a wire. They are much brighter and larger than Mini lights and can be used both outdoors and indoors.
LED C7 Light Strings
LED C7 lights are the closest alternative to traditional outdoor Christmas lights. They are attached permanently to a wire and are ideally for decorating Christmas trees indoors.
Xmas LED C9 Light Bulbs
These lights are quite large compared to other options. They are much brighter than most and make a great choice when used outdoors. However, they can also be used indoor, particularly in large rooms.
LED G12 Berry LED Christmas Lights
These come in the shape of berries and are a perfect solution for small Christmas trees or wreaths. The lights are permanently fixed to a string, and lots of people prefer them over cone-shaped lights.
Battery Operated LED String Lights
Battery operated lights make it easy to set up a Christmas tree from anywhere.  You'll not need to be closer to the electricity source in order to decorate a Christmas tree. And If you like your setup without visible cords, these should be your best choice.
Net LED Lights
Net LED lights come in the form of a net. Decorating your tree with these lights is a lot easier, as all you need to do is to wrap them around your Christmas tree and you have a beautiful setup in place. They also have a more uniform look than most choices out there.
Factors to Consider When Choosing Christmas Tree LED Lights
How Many Christmas Lights Do You Need?
The rule of thumb when buying Christmas tree lights is to get about 100-150 mini lights for approximately one foot of your tree. If you go with 100, you'll have more room to add decorations and the foliage will be visible. If you choose to go with 150, you'll have a strong twinkling effect with little space for more decoration.
When thinking of how many strands you need, your personal preference will be the deciding factor. However, bulb spacing and string strength are crucial factors that you can't overlook. LED light strings with wide spaces are ideal on slender posts or branches. Strings with fewer spaces are ideal for wrapping over your Christmas tree. Strings that come with 4-inch bulb spacing are best used outdoor because they shine brighter.
Which Bulb Color?
Some people prefer white lights, while others prefer blue or multi-colored lights. However, it's important to note that white gives a very modern look while multicolored lights are best used to enhance the mood and ambiance of the festive period.
Do You Need a Remote Control?
Would you like to control your lights with a remote device?  If so, choose a model that comes with a remote control. It simplifies the task of operating your LED string lights since it can operate them with convenience.
However, it's crucial to check the amount of distance a given remote control covers. The device will be of no use if you have to be very closer to your string lights.
Determine Your Lighting Budget
The price of LED lights depends on the length of the string, the quality, size of the bulbs and the type of brand. But most light strings don't cost a fortune so there should be no reason why you can't decorate your Christmas tree to brighten up your surroundings.
Wrapping Up
Christmas is the time to be merry and bond with family and friends you've not seen for some time. If you're looking to improve the mood and ambiance of your home during Christmas, LED lights can do the magic for you.
And there's simply no better way of revving up the Christmas spirit than decorating your Christmas tree with shiny, twinkling LED lights. The 10 best picks above are some of the best LED string lights on the market for the 2018/19 festive season.
We hope you'll find the perfect option for decorating your Christmas tree before the festive period kicks in.