More car owners than ever before are looking for the LED headlights as the product of choice for their car's main lighting, thanks to the fact that LED replacement headlights across the board are considered longer lasting & better looking, particularly compared with what you likely already have in your car – halogen headlights.
If you haven't got to read the full article, here's what you came for:
OUR #1 PICK
OPT7 LED Headlight Conversion Kit
6000+ Reviews
Fits All Models
50,000 Hour Lifespan
3500 Lumens
Check Amazon →
Read our review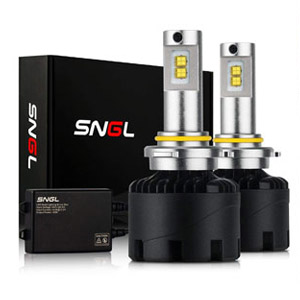 BRIGHTEST
SNGL Super Bright 6K Headlight Kit
High 6200 Lumens
Fits All Models
Bright White Color
250+ Reviews
Check Amazon →
Read our review
PREMIUM
Starnill LED Headlight Conversion Kit
360 Degrees Emitting
Power: 72W/set
Super Bright White LED
All Bulb Sizes
Check Amazon →
Read our review
We know first hand how much of a minefield it can be for anyone trying to find the best LED headlight bulbs for your car because the choice out there is simply staggering and can be more than a little intimidating.
Just having the brightest LED headlights isn't the only thing you need to worry about, there's the color temperature, the fitting, the different types of headlights you can buy and a range of other considerations to make.
To help we've put together a list of our Top 5 picks for the best LED headlights on the market, and to help make your search a little easier still we'll run through an extensive buying guide to make when buying your new headlights.
If you're wondering, are LED headlights legal? In most states they are as long as they follow the regulations, but it's best to check your local area before installing them.
So, let's dive into the individual headlight reviews.
If you're not sure which fitting you need, check out our what headlight bulb do I need? article first (click will open in a new tab so you won't lose this page).
Our Top 5 Best LED Headlight Bulbs For Cars
| | |
| --- | --- |
| Power | 55 Watts |
| Color Temperature | 6000 Kelvin |
| Light Color | Bright White |
| Brightness | 6200 Lumens |
| Lifespan | 50,000 Hours |
| Warranty | 2 Years with Lifetime Support |
It's true that the first LED headlight kit on our list is one of the most expensive, but the SNGL Super Bright LED headlight bulb set is one of the best LED headlight bulbs on the market. SNGL are a reputable brand in the industry and therefore it is no surprise really that the design and construction of this are of a very high standard.
They are weather, waterproof and the electronics behind the lighting can actually be fully submerged in water and still work perfectly well. These headlights produce a bright white light of 6,000 kelvin with a brightness of 6,200 lumens which makes these some the brighter LED headlights featured on in our list. Despite the 55 watts and these other impressive specs, the headlights won't overheat thanks to the cooling fans and heat sinks, giving a total run time of over 50,000 hours.
When it comes to installation, the SNGL LED headlights have been designed to fit in a wide range of different cars and vehicles and installation should not take much more than 20 minutes.
That being said, it is only easy to install from the box if your car already has projector housing. So that's something you need to bear in mind before making any final decision.
Read Recent Customer Reviews on Amazon.com →
(don't worry, button opens a new tab)
Pros
If your car has projector housing, these are one of the simplest headlight kits to install
Wide enough beam pattern
Fairly low maintenance
Cons
Some customers have reported that the cooling fans are a bit noisy
Not easy or even wise to install in your car if it doesn't have projector housing
| | |
| --- | --- |
| Power | 30 Watts |
| Color Temperature | 6000 Kelvin |
| Light Color | Bright White (Yellow and Tiny Covers Provided) |
| Lifespan | 30,000 Hours |
| Warranty | 2 Years |
Kensun are another brand of LED headlight conversion kits that are considered to be one of the best LED headlights on the market. This kit has a high quality and very robust aluminum case that will keep the bulbs completely safe. As the bulbs themselves have a heat sink and cooling fans built into them, they are unlikely to overheat, even when producing a full beam of ultra bright white with a color temperature of 6,000 kelvin.
In addition to the bright white the lights naturally produce, there is also tint covers included in the kit, meaning you can change your headlights color to blue or even yellow.
For the price, this LED replacement headlight kit is incredibly sophisticated and high quality and by far one of the biggest selling points of these is Kensun themselves. The manufacturers offer a full 2 year warranty and also are known for having one of the best customer service teams in the business.
Read Recent Customer Reviews on Amazon.com →
(don't worry, button opens a new tab)
Pros
500 meters beam
Kensun have a sterling customer service team and are knowing for going the extra mile to ensure customers are kept happy
Easy to install
Cons
Not all customers are particularly fond of the beam pattern
Not might difference between high and normal beams – though when set to normal, these are fairly bright anyway
| | |
| --- | --- |
| Power | 40 Watts |
| Color Temperature | 6000 Kelvin |
| Light Color | Bright White |
| Brightness | 4800 Lumens |
| Lifespan | 50,000 Hours |
| Warranty | 3 Years with Lifetime Support |
ECCPP's LED headlight 880 conversion kit with Cree LED headlight bulbs is next on our list and considering the extremely competitive price; these are high performing LED lights. Each bulbs is powered by a meaty 40 Watts to provide 6,000 Kelvin of white light with a brightness of 4,800 lumens.
As with most LED headlights these days, they have in-built cooling, referred to in this model as a TurboCool fan, to prevent them from overheating.
These headlights live up to another standard you will find in most models – they are reportedly plug-n-play, so there is little to no taxing installation involved.
Given the price point and the fact that ECCPP offer a longer warranty compared to their competitors,  these are worth considering – particularly if you have a tight budget, but still want a quality product.
DUE TO POPULARITY THIS ITEM OFTEN SELLS OUT, HERE'S AN ALTERNATIVE
Read Recent Customer Reviews on Amazon.com →
(don't worry, button opens a new tab)
Pros
Competitively priced
Longer 3 year warranty
Plug and play installation
Cons
Some customers have found that there can be incompatibility issues with these lights and their vehicle's diagnostic systems. This is rare though.
Others have noted some issues with the plugs not being easy to fit
| | |
| --- | --- |
| Power | 30 Watts |
| Color Temperature | 6000 Kelvin |
| Light Color | Bright White (Yellow and Tint Covers Provided) |
| Brightness | 6000 Lumens |
| Lifespan | 30,000 Hours |
| Warranty | 2 Years |
Starnill have a great reputation overall, and this Starnill LED headlight conversation kit is a testimony to that. The lights are easy to install and have an IC Circuit built-in that prevents damage occurring from voltage variations and spikes. Each 40 watt bulb provides 6,000 kelvins of bright white light with a brightness of 3,600 lumens and they are supposed to last for up to 30,000 hours.
The only major downside, and not everyone has the same experience, is that some customers have noted that they are not consistent and need to be replaced more often than other headlights. However, they are incredibly affordable, easy to install and provide an excellent bright beam of light.
Read Recent Customer Reviews on Amazon.com →
(don't worry, button opens a new tab)
Pros
Beam pattern is one of the best, covering a full 360 degrees
Crystal clear and ultra bright white light, thanks to the 6,000 K and 3,600 lumens
Easy enough to install in minutes
Cons
Some customers have noted they need to be replaced more often
Some customers have also noted there may be overheating issues
| | |
| --- | --- |
| Power | 60 Watts |
| Color Temperature | 6000 Kelvin |
| Light Color | Cool White |
| Brightness | 3500 Lumens |
| Lifespan | 50,000 Hours |
| Warranty | 2 Years with Lifetime Support |
There are many reasons why the OPT7 LED headlights is on so many best LED headlight bulbs lists and why most of the car headlight experts consider them to be the best. The quality of beam they produce is first rate and with the 60 watts of power running through each, they produce a cool white light of 6,000 kelvins with a brightness of 3,500 lumens.
They will provide up to 50,000 hours of use and because the driver, fan and housing are all properly rainproof, they will withstand all kinds of weather. All that plus the fact that they are incredibly easy to install and you are fully supported by the excellent customer service team at OPT7, consisting of real technicians, it's hard to find fault with these great headlights.
Read Recent Customer Reviews on Amazon.com →
(don't worry, button opens a new tab)
Pros
Perfect color temperature and brightness
Quick and easy to install
Second to none customer service
Cons
Expert LED Headlights Buying Guide
Hopefully, our overview of the 5 best LED headlights has helped to give you an idea of what you should be looking for if you decide to convert the standard halogen bulbs in your car to LED replacement headlights. However, before you rush out or to another page to buy some headlights, we felt it was important to discuss some important factors concerning headlights.
So, in the guide below that's what we are going to do. We will briefly look at headlights in general and the different components you need to be aware of and what the difference between a sealed beam light and a headlight bulb is, then we will look at how LEDs can improve your headlights as well as looking at some of the crucial factors to consider to help you determine whether or not a particular set of LED headlights are good enough quality or not.
Types Of LED Headlights For Cars – Single Beam or Dual Beam
All cars must have headlights that have dipped beams or low and high beams. Different setups achieve this in different ways. For instance, some use a single bulb that has been integrated with low and high beam functionality. These kinds of headlights are normally referred to as dual beam bulbs.
While other headlight designs consist of two individual and separate bulbs with low and high beams. You can learn more about single beam and dual beam led headlights over at the Better Automotive Blog.
While single beam designs have two bulbs in one headlight, dual beam designs only have the one. It's vital that you note that if your car came installed with single beam lights, you can only replace them with a single beam option. Likewise, if your car originally featured dual beam headlights, you have to replace them with dual beam headlights. The two designs are separate and can't be swapped and changed because the wiring is different for each.
How Do LED Headlights Work?
For the uninitiated, LEDs produce light, by controlling the flow of an electrical current with a diode acting as a semiconductor. The two main parts of this diode are – the n-type semiconductor and the p-type semiconductor, with a p-n junction between them.
The p-type semiconductor fills with positively charged electrons, while the n-type semiconductor is filled with negatively-charged electrons. When an electrical current is applied to this diode, the negatively-charged electrons are attracted to the p-type conductor.
As electrons are continually moving around an atom's nucleus the only way they can move away from it, is to change their energy, or lose it. They lose this energy as they cross the p-n junction mentioned above in the form of light or photons. As a result from all of this, the light energy is what illuminates LED bulbs.
You can learn more about how LEDs work in our extensive guide.
LED Headlight Bulbs for Cars
As with most applications LEDs can be used for, LED headlight bulbs are bright enough and provide long enough beams for cars. However, there are a number of specific factors that actually determine whether they are best LED headlights for cars.
Best LED Headlight Performance
Performance of headlights can be improved greatly in a number of ways by using LED headlights instead of the alternatives. Seeing as LED bulbs do not emit as much heat as a bi-product of the light they produce, they are far more energy efficient. Almost all of the energy generated by LED lights are used to create the light the produce, which is in stark contrast to halogen and HID bulbs where a lot of the energy created transforms into heat.
As such, less energy and fuel is required to create light with LED headlights than the alternatives. To fully understand how LED lights improve the performance of headlights, we will look at this subject in greater detail below, breaking it down into different aspects of performance.
Ultra Bright LED Headlights
The brightness of not just LED headlight for cars, but LED light bulbs in general, is measured in lumens. While you may find that an LED headlight bulb is capable of producing a beam of light that is 3,000 lumens or possibly even higher (up to 10,000 lumens in some of the brightest LED headlights), you need to pay close attention to the number of lumens that are used to produce actual light.
Normally, some of the luminosity escapes while energy is produced by the lighting process. This issue can be counteracted by installing LED projectors into the headlight assembly of your car, as this will help to make a more focused beam of bright light rather than one that is scattered and give you the brightest lights you can get.
Light Color or Color Temperature
The color temperature/color of light produced by light bulbs is measured in Kelvins. Interestingly, the higher the color temperature, the cooler the light color; while on the reverse, the cooler the color temperature, the warmer the light color.
Warm colors are normally produced at around 2,500 to 4,000 K, while cooler colors are produced at between 5,000 to 8,000 K. Read our guide on understanding LED color temperatures if you'd like to learn more.
In general, the best LED headlight kits tend to have color temperatures in the lower end of the cool white range, between 5,500 and 6,500 K.
Issues with Headlight Color Temperature
As LED bulbs are basically semiconductors, the performance they give more or less depends on the temperature. Diodes are designed to be more productive when the temperature is lower and less so when it is higher.  Therefore it is crucial that the LED headlight temperature is balanced to ensure a consistent amount of light is produced and to keep it running for long periods of time without the chance of them being turned off suddenly.
What does this mean for you? It means you should be keenly aware as to what the heat dissipation of LED headlights might be before buying.
Bulb Stability
LED headlight bulbs should be stable enough to not break down or become easily damaged while in use as you are driving. The ballast, also known as the driver, is the component that connects the headlight into the car, that helps to prevent spikes and variations in the voltage-current, while ensuring the headlight operates efficiently and effectively, while providing enough protection against overheating.
LED headlights should be shock absorbent to some degree and the degree to which a particular model is shock absorbent and shockproof will depend on the design and materials used to make the bulbs.
If you purchase a low-quality headlight for instance, it may not continue to work after a few bumps. Bearing in mind that driving is not always a smooth ride, this shows the need to invest wisely in LED headlights and don't just buy a set because they were the cheapest.
Following on from the shockproof side of stability, it is also vital that you invest in LED headlights that have some level of rain/waterproofing. Look for the IP rating of an LED headlight and keep in mind, the higher the number, the better protection you will have against rain getting into and onto your headlights.
Other Important Factors to Take Into Consideration
Aside from the above there are some other important factors you need to take into consideration when purchasing LED headlights for your car. Including the legal implications, compatibility with your car and whether there will be issues with your diagnostics system or not.
Are LED Headlights Legal?
If you need your LED headlights to be road legal, ensure that the particular model you are buying are designed for operating while you are driving, not those that are only meant for display purposes. This is why you can't simply replace the actual bulb and instead have to replace the entire headlight unit.
The laws surrounding this area are a bit beyond the scope of this post so we've made a separate article which discusses are LED headlights legal more in depth.
You need to also look out for signs that the headlights are properly certified and carry the CE, RoHS and E-Mark to prove it is compliant with the standards established in the EU (if you are driving there). While here in the US, headlights need to be also compliant and have a DOT-Compliant certification that follows American transport rules and regulations.
LED Headlight and Car Compatibility
It's probably not surprising that this is the biggest concern you should have when buying new headlights – whether they are going to be compatible with your car or not. Generally speaking, most headlights are made to standard sizes and styles and will therefore fit in various cars regardless of their make and model.
However, this is the part when it is very easy to make very costly and frustrating mistakes, so it still makes perfect common sense to research thoroughly to make sure that whatever LED headlights you are looking at and interested in purchasing will be compatible with your car or vehicle.
Most car owner manuals include the relevant information pertaining to the headlights or you could look at the model number noted on the current/previous headlight that was installed in your car.
Diagnostics Systems Issues & Error Codes
Sometimes, although not often depending on the car, problems can arise between the diagnostics systems of cars and the headlights. Some LED headlights are just not compatible with vehicles and some vehicles require CANBUS enabled headlights. This problem seems to occur more in the higher profile manufacturer's vehicles such as BMW, Audi and Mercedes.
However, this issue can be resolved very easily in most situations. If you need to find out how to fix flickering LED headlights, you should be using an anti-flicker or warning canceler, otherwise known as a capacitor and wiring that goes in-between the plug of the LED bulb and the socket in the car.
Some of the best LED headlights on the market are those that come with anti-flicker/warning cancelers pre-configured into their design as it can save you a lot of hassle when installing them.
With that said, we hope that you now feel better informed and will find it much easier to choose the right LED headlight replacement for your car. One thing's for sure, if you do make the change, we know you will not be disappointed with the quality of light and the length of use you get out of LEDs compared to halogen bulbs.