We've taken the hard work out of buying the best LED strip lights for your home, whether you need smart strip lights, or motion-activated, we've got them all.
If you are looking for an interesting light feature to use as decoration for either the interior your home or office then best LED strips are a good way to go. LED strip lights are flexible, offer higher levels of brightness and use less power than conventional lighting solutions.
Our Top 10 Best LED Strip Lights
We've put together this guide of the 10 best LED strip lights to choose from to make your choice much simpler.
As well as looking at reviews of each of the 10 listed, we will also discuss some of the important considerations to make when you're buying the best LED light strips.
First up on our list of the best LED strip lights is from Nexlux. A fantastic Smart strip light that can be controlled wirelessly using Wi-Fi, as well as Google Assistant and Alexa. This is a big selling point as is the fact it features numerous different colors.
Check for Black Friday Deals on Amazon >
(don't worry, button opens a new tab)
You can install it as easily as the others and it can be altered and modified to meet your needs, perfect for anyone looking for the best LED light strips but are unsure how you want your lighting design to look. A great addition to your smart home lighting and at a fraction of the price of the other we've featured here.
What We Like
Strip Light Length 32 Foot
Smart Lights – Compatible with Alexa, Google Home, iOS, Android .etc
Affordable AI-Assisted option
Easy to use and install
Very bright and colorful light pattern
Philips most recent entry into the LED strip light market is a higher price point compared to other models. With good reason though as you get many great features and can create a true lighting experience.
Check for Black Friday Deals on Amazon >
(don't worry, button opens a new tab)
Most notably, it will function as a smart light with your smartphone or in conjunction with Alexa, Google Assistant, IFTTT, SmartThings, Microsoft Cortana, and even Apple HomeKit. So, if you are looking for a set of Smart LED strip lights for your smart home setup, this is perfect.
Just as others on our list, the Philips Hue Strip Light Plus is incredibly easy to set up and also to use. There is also room to add at least 40-inches onto it with the Hue Light Strip Extension. All-around the Philips Hue Ambiance is one of the best LED light strips compatible with smart technology and your smartphone!
What's more, unlike others on this list it features a memory function which means even when turned off, it will activate in the same lighting mode you last had selected.
It comes with a full 1 year Philips warranty, which will cover you against any of the LEDs dulling or failing completely.
What We Like
Strip Light Length 6.5ft (2m)
Compatible with Google Assistant and Alexa, as well as many others
Easy to use and configure with your phone
Use your smartphone, Google Home, Amazon Echo, or Apple Homekit as the controller
Can be extended at a later date and adds to your smart home system
12 Month Philips warranty
Next up on our list is the simple-to-use daylight white LED strip light. That consists of 300 different LEDs with a strip length of 16.4-feet.
Check for Black Friday Deals on Amazon >
(don't worry, button opens a new tab)
It comes with strong self-adhesive tape to make it easy to apply to any suitable surface. Furthermore, it can be cut into groups of three and connected easily, without causing any damage to the strips or requiring soldering. A great thing to look out for when you're looking for lights strips for your home.
What We Like
Strip Light Length 16 Foot
Bright LED lights
Easy to install
Cuttable and linkable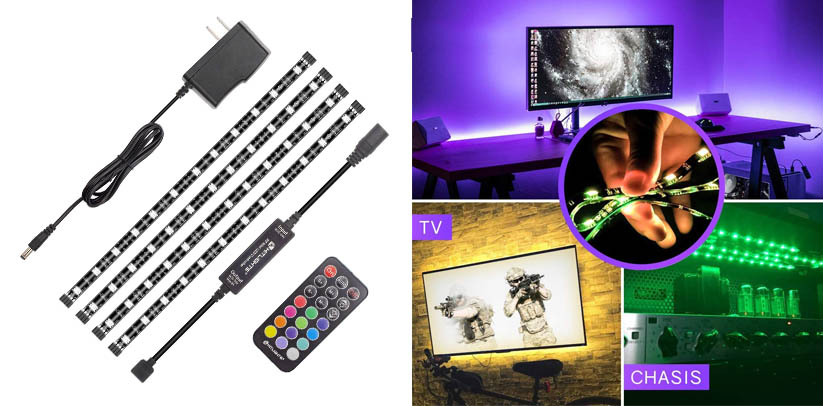 Second on our list is this great kit from HitLights, which could be the best LED light strips currently on the market and could be the ideal choice if you are looking for a strip light solution that is discreet.
Check for Black Friday Deals on Amazon >
(don't worry, button opens a new tab)
Thanks to their black tone, these LED strips can be very well hidden and will not stand out whether they are in use or not.
You get four strips with this kit, all the connectors, controller and power supply. It also, as is pretty much standard with these kinds of products, comes complete with 3M adhesive backing to make it easy to install and use and one of the best LED strip lights kit on the market at the moment.
Perhaps the most attractive thing about this one over the above is the fact that the color of the LEDs can be changed easily which makes this lighting setup perfect for mood lighting.
What We Like
Strip Light Length 4 x 12″ Pre-cut strips
16 different color ranges
A versatile range of uses
Easy to install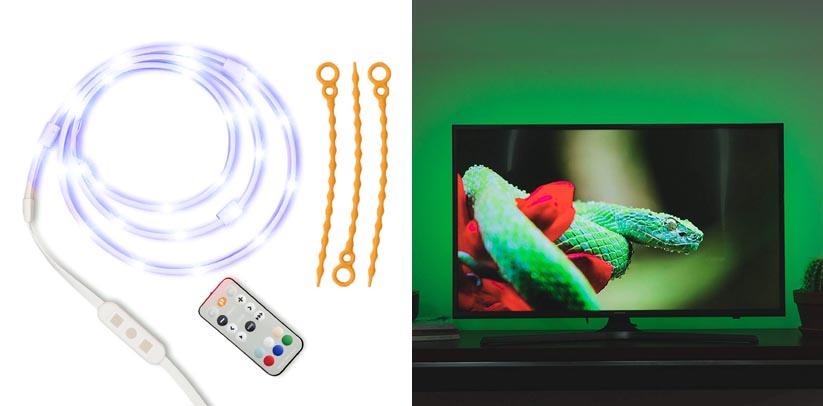 Luminoodle is a name that has become incredibly popular over the last decade or so, with their ingenious LED lighting solutions and fixtures.
Check for Black Friday Deals on Amazon >
(don't worry, button opens a new tab)
This Luminoodle Color Bias Lighting strip kit to backlight your television is made in partnership with the equally prolific company, Power Practical. More than just decorative lighting to make your TV stand out, bias lighting for a tv or computer can help reduce strain on your eyes while watching the television screen.
Although we are discussing the large option, there are five sizes in total, including small, medium, extra-large and XX-large. First things first, you get everything you need in the packaging.
Including the 3M adhesive tape, the in-line on and off switch and the USB lead to power it. It only takes about 5-minutes to install.
With this great LED light strip you get the benefit of 15 different colors, as well as different tones of white light, 10 brightness settings, and 3 different fade modes. What's more, you can control it all by remote control via the remote.
What We Like
Strip Light Length 30 x 40"
Incredibly quick and easy to setup
Remote Control
Lots of customizable options
The Tingkam LED light kit we wanted to bring to your attention has been picked out for a number of good reasons, and we feel it is one of the best LED light strips around. Although it is very similar to other packs on our list, there are a few aspects of this flexible LED light strip that helps it stand out from the crowd.
Check for Black Friday Deals on Amazon >
(don't worry, button opens a new tab)
For one thing, it is waterproof, so can be used both inside and outside your home (although the power supply needs to stay indoors), depending on your needs and as long as you stick to the manufacturer's guidelines and user instructions. It also has a high number of color options with 44 colors to choose from.
This means that it is able to shine the right tone to match your specific taste and decor perfectly making it a great choice of one of the best LED strip lights available.
Unlike some other LED strip light kits on the market, this one comes with an extremely handy remote control.
What We Like
Strip Light Length 16ft
44 color range
Waterproof and suitable for indoor and outdoor use
Easy to install and use
Comes supplied with the required power adapter.
This Cefrank set of four LED light bars is next up. Although technically a set of light bars similar to those found in under cabinet lighting, they can still be used in the same way as to strip lights. It is possible to use them for many different kinds of accent lighting and task lighting.
Check for Black Friday Deals on Amazon >
(don't worry, button opens a new tab)
While they can obviously be installed anywhere and have been found to be particularly useful for accent garage lighting. The downside of them being designed in this way is that they are not quite as versatile and flexible.
They can't, for instance, be cut up and re-linked together. However, due to their lifespan and the brightness they provide, as well as the affordable price they make a good option.
What We Like
Strip Light Length 11 inches per strip
Perfect for use as under cabinet task or accent lighting
Bright LED strip light
Easy to use
Comes supplied with required power adapter/s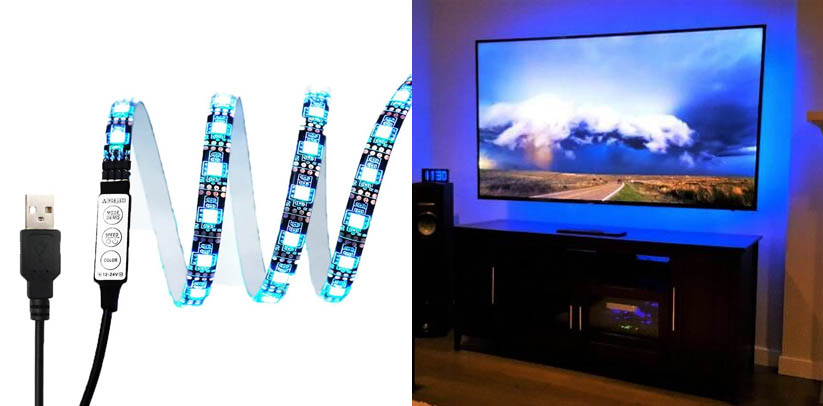 Whilst still technically LED strip lighting, this option is more commonly known as bias lighting. Primarily for use behind TVs, this strip light kit can be used for other lighting projects including being used as car strip lights.
Check for Black Friday Deals on Amazon >
(don't worry, button opens a new tab)
While many of the strip light kits on this list are quite long, if you only have a small area that you want to utilize accent or task lighting in, this is ideal.
Rather than cutting down a larger kit, it might be better to buy a smaller kit from the get-go, making the eTopxizu backlight kit the best LED light strips option for you.
Although smaller than most, this does come with the option of 20 different light colors and a range of 20 different mods, such as chasing, waterfall and flash to name a few.
What We Like
Strip Light Length 1 Metre
USB Powered
Multiple colors to choose from
Multiple lighting modes to choose from
Easy to use
Everything can connect to Alexa and Google Assistant these days it seems and this roll of LED strip lights from Kwanan is no different.
Check for Black Friday Deals on Amazon >
(don't worry, button opens a new tab)
With this, you get a roll of 150 LED strip lights measuring 16.4-feet, the power adaptor, Wi-Fi controller, a mini handheld remote control and 3M adhesive. Like most of the strip lights in our guide, this particular set is very easy to set up and the instructions are clearly laid out in the accompanying user manual.
You get the benefit of a whopping 16 million different colors and a wide range of lighting modes. You can even sync the lights to music and set timers.
But, the most impressive feature is the voice control using either Google Assistant or Alexa which can be set up very easily using the App. Along with the voice activation, the thing we really like about this set is the length of the roll and the fact you can use it in a variety of applications. 
What We Like
Strip Length 32.8ft (10m)
Flexible and versatile – can be used in a variety of different applications
Voice control using Alexa, Google Assistant or phone
Wide range of lighting modes and options
Next on the list of our best LED strip lights, we have these battery-powered OxyLED motion sensor light bars which can be used for similar purposes to LED puck lights. This is a great solution for some part of your home or work premises that you only need to light up when it's in use such as a closet.
Check for Black Friday Deals on Amazon >
(don't worry, button opens a new tab)
It has 10 LEDs in each light bar, but the thing that really makes this an attractive purchase is the motion-sensing feature.
Like the others on our list, this is very easy to install thanks to the adhesive tape backing to the lights. Because it is LED and only switches on when it senses movement this is a very energy-efficient option. These are the best LED light strips that come with a motion sensor!
Perhaps not suitable for your living room, but would work well in a closet or under kitchen cabinets. If you have a dark area where you need a motion sensor light then this is perfect. What's more, being battery-powered means there are no wires to hide.
What We Like
LED Strip Light Length: 4 – 19″ Options
Battery-powered
Easy to use strip lighting alternative
Quick installation and basic specifications
Motion sensor
Once again, here are our top 3 favorites:
OUR #1 PICK
Nexlux Smart RGB LED Strip Lights Kit
32 Foot
Wireless Controls
Easy Installation
Google & Alexa Compat
Check Amazon →
Read our review
PROFESSIONAL
Philips Hue Ambiance LED Light Strips
Smart Lighting System
Flexible LightStrip
Hassle Free Connectivity
Maximum Compatibility
Check Amazon →
Read our review
CHEAPEST
LE 12V LED Strip Lighting Kit
16 Foot
Easy to Cut
Simple to Use
Connected Easily
Check Amazon →
Read our review
Tips for Choosing the Best LED Strip Lights
With the increased development of LED lighting, they are more versatile than they ever have been before. Strip lights are perhaps one of the most versatile of all. They can be applied and used in various ways, both commercially and domestically.
To help you make the right choice of what you need, we've put together a brief guide about some things you should consider.
Colored or White Lights
What are you looking for from LED strip lights? If you just want some plain, functional white light, there are a few good options out there. You can, for instance, choose either a cool white or warm white color temperature set.
While warm lights are a better option for spaces where you are going to relax, such as your bedroom and living rooms, cool white work better as home office and business premises.
However, if you're more interested in having colors, there are plenty of RGB Strip Light solutions available. These rely on the same three basic light colors, blue, green and red but with these RGB lights you then have the option to create a lot of other different color variations.
Strip Light Length
As you've undoubtedly noticed from our list these LED strip lights come in a variety of lengths.
Always measure carefully the space you want to use strip lights and buy slightly bigger than necessary, if possible because they can always be cut down to size.
Voltage
All LED strip lights that have a very low voltage, this means you will need to install a driver that is suitable compatible with them to make sure they work properly.
If you were to just connect them to your mains circuit directly, you could damage or otherwise have a negative effect on them or at the very least, shorten their lifespan. All of the strip lights on our list come with the required transformers or sockets, but if you decide on a different product be sure to check it comes with everything you need to wire it in.
Check for Waterproofing
Not all LED light can be used outdoors. Therefore, if you're looking to use strip lights in an outdoor application you need to make sure they have the right IPX rating.
An IPX rating is what determines the level of waterproofing an item has.
Easy Installation
The great thing about LED strip lights is that the vast majority have self-adhesive backings that make them easy to install and setup. There are some out there that might require more than just sticking them on the right surface and connecting them up easily.
So, always check what is required and whether you have the confidence to do it yourself or conversely if you have the budget to hire a professional to do it for you. We hope that our list of the best LED strip lights will help you find exactly what you are looking for.
It's worth noting that if you want to be able to use your LED light strip kit with smart home automation or your smartphone that you'll need to buy the Philips Hue range of LED lighting strips.
Frequently Asked Questions
If you've never purchased LED strip light spools before, you may have a few questions. Here are some of the most common questions we get asked.
Which LED light strips are the brightest?
The brightest LED light strips aren't what we're looking at here, but if we had to choose we would say the brightest are the Philips Hue Strip lighting kit.
It provides the best functionality, performance and fits nicely into the smart home lighting ecosystem.
How to install LED strip lighting
Installing LED strip lighting varies between models. We've purposely picked models that are designed to be plugged into an outlet and do not require hard wiring.
For most on this list, installation is as simple as removing the adhesive backing tape on the strip light and sticking it in place.
How to connect LED strip lights together
It's important to purchase LED strip lights that are able to be connected together. Not all designs allow for this functionality so you will need to plan ahead. In most cases, you're provided with small connecting pins that go in between the strips.
How to connect LED strips to power supply
There are 2 types of LED strip light, one is a simple socket setup and the other more permanent, but more complicated type is direct wire.
If you're looking to install direct wire LED strip lights, you will likely need to hire a professional electrician.