Summer evenings are a special time. Whether you spend them relaxing in the garden while your kids play until late or have some friends over for beers and a lot of delicious barbecued food. What better to set the evening than with the atmosphere and ambiance of outdoor fairy lights or maybe some vintage backyard patio lights to brighten up your evening?
It doesn't really matter how you are spending that time, a simple series of outdoor string lights or gazebo lights can turn your rather ordinary yard into something altogether more extraordinary.
Do you want the space outside your home to feel like every other property on your street or do you want to have an area where people really want to come and hang out?
With the combination of LED outdoor patio string lights and solar path lights, you can make your outdoor area or pergola and patio look absolutely gorgeous.
These types of outdoor patio lights may be the ideal choice because, above all else, they are incredibly versatile and available in various colors, styles, and even power sources. Learn more about how solar panels work.
Whatever you are looking for, whatever the type of outdoor patio lighting, mood and feel you want to achieve, you will find a set of outdoor lights to suit your property and outdoor areas. If you're stuck for inspiration, check out our big list of outdoor lighting ideas.
Our Top Picks for Best Outdoor String Lights
To help make your decision a lot easier though, we have sifted through a lot of what is available right now, sourced the best outdoor patio lighting options and have created a guide to what we believe are the top 9 best outdoor string lights to help you transform your home, garden, backyard or just the small balcony, with a range of outdoor lights.
We've also covered how to hang string lights in a separate post, which includes some great string light ideas for your garden.
First on our list is this quality set from Brightown. These LED outdoor globes are both incredibly simple and minimalist in design and style, but also capable of adding a touch of sophistication to your outdoor space.
Check for Black Friday Deals on Amazon >
(don't worry, button opens a new tab)
The great thing about this particular set, and much like others available, with 25 LED bulbs are lined up along the 25 feet length and if that is not enough to cover where you want to illuminate with the soft white glow, you can add more and safely connect up to 16 strands together making it a great choice for the outdoor light string.
When you consider their reasonable price and the high rating they have received from customers, it's not hard to see that these could be a wise investment for your garden or outdoor space lighting. and could be a great addition to garden path lights.
What We Loved
Versatile, lightweight and easy to use
Connectable
An attractive warm white glow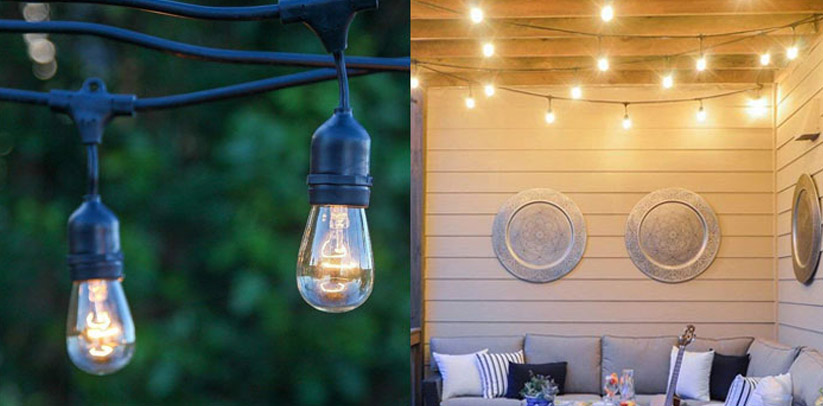 Next up is intriguing and has a vintage-looking filament bulb. It is a set of backyard string lights outdoor from Brightech, using the vintage Edison bulb design. Brightech formed their company to provide lighting solutions for people everywhere that were not only beautiful but innovative and highly creative.
Check for Black Friday Deals on Amazon >
(don't worry, button opens a new tab)
Longer than a lot of outdoor LED patio string lights, this strand from Brightech is 48 ft. and with the 15 individual incandescent bulbs set 3 feet apart they can go the distance without flooding you with too much light. They each have an output of 11 watts and as an added bonus, they are compatible with a dimmer (not included), enabling you to alter the level of lighting you have at the touch of a button.
These are heavy-duty commercial grade, weatherproof and so very durable, but, with the classic exposed filament retro look and the warm glow that emits from them, this string light will give a warm nostalgic feel for a wonderful ambiance – perfect for those late nights spent under the stars. Unbeatable quality
What We Loved
Classic Edison bulb look
11 Watts bulbs
Dimmer compatible
Brighten up you evening with this beautiful set of outdoor or string lighting. If you are looking for something a bit more dazzling and different from the average globe or bulb-shaped light, you should consider this attractive set of LED lights from Twinkle Star for your ideal decorative lighting solution.
Check for Black Friday Deals on Amazon >
(don't worry, button opens a new tab)
Along with the 6.7 feet worth of wiring are 12 stars, 6 large ones and 6 small ones with 138 bright lights. Not only are they perfect for adding a more seasonal touch during the wintertime, but the attractive star shapes also make for a more interesting focal point than normal lighting arrangements.
You could even use them to set a more romantic tone if you are planning a special meal under the stars for an occasion such as your wedding anniversary or engagement.
They are equipped with a waterproofing IP44 rating, but please note the power and controller units are not. As if the aesthetically pleasing design wasn't enough of a selling point in itself, this set comes with 8 different modes – steady-on, flash/twinkle, slow fade, flash/chasing, slo glo, sequential, in waves and combination.
This gives you plenty of options to switch and change the level and style of illumination you have, depending on the situation and event.
What We Loved
8 different lighting patterns to choose from
Waterproof
Easy to use
The next strand of lights we want to look at is a real bargain because with this Lalapao set you get not just one set of 200 LED lights, but two for the same price as many other sets that do not have the features! A great investment in to brighten up your garden!
Check for Black Friday Deals on Amazon >
(don't worry, button opens a new tab)
Although they are very small, there is a sizable amount to make an attractive and illuminating display in your backyard, around your porch or even if you are decorating a venue for a special occasion.
The fact is, that these nifty and small lights are incredibly versatile and as the lights are solar-powered, they are more cost-effective than having to buy batteries or electric plug models for your lighting solutions.
Simply charge up the solar panel during the daylight hours and then you have glowing little stars for when the sun goes down. To give you some versatility with the type of lighting arrangement you desire and there are 8 different working modes and can turn on automatically as they have a Dusk to Dawn sensor.
What We Loved
Solar powered
2 sets of 200 lights
Dusk to Dawn
8 different lighting settings
This next strand of string lights is great, however, they are at the higher end of the price range, but worth considering if you are looking for a high-quality lighting solution that offers a lot of versatility and flexibility. They are some of the best outdoor string lights available.
Check for Black Friday Deals on Amazon >
(don't worry, button opens a new tab)
From Enbrighten, a product line made and supplied by Jasco comes these cool remote-controlled color-changing bulbs.
Visually pleasing and adding ambiance and atmosphere to any outdoor area. This set really comes into its own when it comes to the subject of colors. It has as a standard-setting that emits a relaxing and bright warm white light but also offers the option to change the colors and lighting effects.
With 16 different colors to choose from and can create more than 120 different combinations. There are even preset effect and color modes, timers that can be set to go off after 2 or 4 hours and a dimmer function that works with the remote.
You get 24 impact-resistant acrylics, durable LED bulbs styled to look like the classic Edison bulb shape. They are UL listed and made from commercial grade materials to handle serious levels of use and abuse. As if that wasn't enough, this set can even be controlled using your smartphone.
What We Loved
Easy to use
Waterproof
Highly customizable, with various color, dimmer and lighting pattern options
There are many designs for string lights but these frosted globes are one of the most versatile options available today. They match almost any type of interior making them the perfect addition to your living room, bedroom or any other indoor space needing some extra love.
Check for Black Friday Deals on Amazon >
(don't worry, button opens a new tab)
The string itself is a clear white color so it blends in well with the surroundings, leaving you with a beautiful soft yellow glow. There are 8 different modes for these bulbs, including a dimming function, and the package comes with a remote control for quick adjustments from a distance.
This is a plug-and-go type product so there is no complicated installation process necessary. A single string is 66 feet long, including the power cord, and this is further extendable to up to 5 strings for a total length of 330 feet.
This product has a waterproof rating of IP44 which technically means it is safe for outdoor use. However, we still recommend only installing these lights outdoors when there is a cover like on a covered porch, for example, to keep the moisture out.
What We Loved
Extendable to up to 5x length
Includes remote control for dimming & mode change
Versatile design with soft glow
This Novtech design is a modern take on the industrial style bulbs with small round globes and visible LED strings inside of them. The clear glass means that the lights offer a better illumination which is perfect for outdoor decoration.
Check for Black Friday Deals on Amazon >
(don't worry, button opens a new tab)
These are commercial grade outdoor lights rated at IP65. This means that you don't have to worry about rain ruining the festivities because these bulbs will continue to shine brightly even in heavy rain.
This model has 50 individual globes spread over its 48 feet with an additional 10 feet for the power cord. This type is not extendable so consider ordering several packages so that you don't run out of lights for the garden decoration.
Another reason to buy these string lights is that they are considerably environmentally friendly, a safer and more eco-conscious option than regular incandescent lights. Since these are LED lights they have a much longer lifespan of 15000 hours and run on much lower power of just 0.1 watts per bulb.
What We Loved
Environmentally friendly option
Long lifespan
Suitable for outdoor use
String lights can be quite delicate but that is not a concern with this lampat product that meets commercial grade requirements. It is perfect for outdoor lighting use and makes for magical garden decorations for parties and event lighting.
Check for Black Friday Deals on Amazon >
(don't worry, button opens a new tab)
A single string is 25 feet long with 25 individual clear glass globes spread along it at 12 inch intervals. The design is connectable on either side thanks to the 6 inch long male plug and 6 inch long female plug on the opposite end.
Another common issue with string lights is that the entire length product stops working when one of the bulbs gives up. That is also not a problem with this Lampat product because a defective bulb does not affect the remaining globes and each globe is removable.
These are the perfect design for hanging along a patio roof, under a pergola or patio umbrella. It is also suitable for wrapping around structures such as a fence or porch pillars.
What We Loved
End-to-end connections for extra length
Commercial grade materials
Defective lights don't affect other lights
Although string lights come in many shapes and sizes, this design by Zhongxin easily wins the title of the most unique string light design. Along a dark brown wire are 10 individual copper string globes with a net of copper beading filling in the open spaces.
Check for Black Friday Deals on Amazon >
(don't worry, button opens a new tab)
This is one of the shorter options with a total length of 8.5 feet but each unit is extendable with up to a whopping 22 extra units thanks to its end-to-end plugs. The manufacturer also offers a solution for the most common issue with string lights by including four replacement bulbs in the package.
The unique color and design is a true eye-catcher and a more original alternative to other more basic designs. The light effect is also very interesting with the copper creating a lovely reflection over the surrounding area.
There are many more unique string light designs available from the same manufacturer so browse through their beautiful collection. String lights add a lot of character to an interior or outdoor decoration so try adding in some of your own character to the set up.
What We Loved
Unique design
End-to-end connection with male and female plugs
Replacement bulbs included
Outdoor String Lights Buyers Guide
Now that we have discussed our choices for the top 10 outdoor string lights available, to further help you find the right set for you; we have put together a guide to some of the most important considerations you need to make when buying yours.
Additionally, we have also provided some handy tips for using them effectively. But before that, a quick recap on our top 3 favorites:
OUR #1 PICK
Brightown 25 ft G40 Globe LED Patio String Lights
450+ Reviews
Indoor & Outdoor Use
Cozy Warm Glow
25-100ft Length
Check Amazon →
Read our review
COZIEST
Novtech Outdoor Patio String Lights
60ft Length
350+ Reviews
Warm White Glow
50 Bulbs
Check Amazon →
Read our review
SOLAR POWERED
Solar Powered Outdoor String Lights (72ft)
Solar Powered
800+ 5* Reviews
Pack of 2
8 Different Modes
Check Amazon →
Read our review
Are Incandescent or LED Bulbs Better?
When it comes to outdoor string lights, incandescent bulbs are the more budget-friendly and traditional option. They produce a very warm and soft glow, but because they need electricity to power them they are not as eco-friendly as LEDs. They can be prone to getting hot, so they are not always the best option for indoor use.
LED bulbs, as you are probably aware, are energy efficient and so use less electricity to power them, which is why they have become increasingly popular over the last couple of decades. Not only do they work more efficiently and use less energy but, they also emit brighter light and colors. They also last a lot longer too. Furthermore, because they stay cool they are perfectly safe and the best option for use indoors.
Rope Lights Or Classic String of Lights
There are generally two main options to choose from – rope strings and the more classic string.
Rope String
Rope lights feature bulbs that are held within the color or transparent tubing. These work well when used as an outline for a specific feature such as a pathway, patio lights or doors and can be used to create interesting shapes and designs.
String Lights
These more traditional styles feature individual light bulbs that all hang from a central strand. If required, strands can be connected to other strands to former longer strands for lighting larger areas.
Indoor Use or Outdoor Use?
Generally speaking, all string lights are okay to use indoors. However, if you intend on using yours outdoors, you need to make doubly sure that they will be safe. Lights that have been cleared and rated for use outdoors are able to withstand the elements to a reasonable extent and function, even in snow and rain.
If you really want to make your outdoor area glow, check out some of this AMAZING outdoor LED furniture, it's absolutely stunning.
Power Type
These lights are generally powered by three different sources – battery, mains and solar.
For mains powered versions they need to be plugged into an electrical outlet. If you are planning on using them outside, therefore, you may have to invest in an outdoor outlet or outdoor extension cord.
Battery-powered lights usually have a battery case at the end of the string. They offer more versatility and can be used virtually anywhere because they don't need to be plugged in, but remember check that the case is waterproof before leaving out in the rain.
Solar string lights, as the name suggests, are powered by the sun and use a solar sensor so are the best for energy saving. They usually automatically switch ON and OFF from dawn to dusk but some doing have separate modes to override this. Quick and easy to set up and you don't need an extension cord or electrical outlet nearby. If you already have solar lamp posts in your garden, then solar powered is probably your best option.
Frequently Asked Questions
Now you have seen some of the best and most decorative lighting solutions out there you might still wonder which is the best for you. Here we have answered some of the most asked questions that we get.
Are LED string lights a fire hazard?
Led string lights are not a fire hazard as the voltage is so low and because the current running through the wires is so low. LED string lights do not generate heat as the more traditional incandescent bulbs do. They give off brilliant bright light but virtually no heat.
Can you leave string lights on all night?
Although modern string lights have greatly improved the fire risks of electrical decorations and have very high safety standards, it is never recommended to leave your string lights on overnight or prolonged periods of time when you are out and enjoying the festive spirit.
Not only because of the fire risks, but think of the energy used for your fairy string lights and other electrical decorations and you are not even getting to enjoy them.
How long do outdoor string lights Last?
How long outdoor string lights last completely depends on whether you plan on having them all year round or just for the holiday periods. 24 – 30 months is an average for permanent positioning but if you only use them occasionally then your string lights outdoors will give you a good 6- 7 years.
Don't forget, you will also need to take into consideration the weather conditions in your area to ensure they will be ok in extreme cold or heat, etc.
Handy Tips For Using Outdoor String Lights
If you do not have a lot of space available, but feel that you could benefit from more lighting in the outdoor areas of your property, you could try weaving outdoor lights around the handrails for your stairs or the railings of a balcony. Alternatively, you could consider attaching them to an umbrella to create a beautiful ambient umbrella lighting. Patio lights are also another favorite among string lights.
In addition to being used in a string, you could gather together a collection of smaller strands and put them into a mason jar, lantern or vase to make a light flower display.
If the outdoor area you are working with is large enough, you could use these lights to divide the area into different sections or zones. You can use them to add light to a darker corner of your yard for a cozy hideaway or around your table and chairs for a more intimate entertaining and socializing area.
And that summarises our top 10 LED best outdoor string lights.