If you have a backyard space and a pond and are looking to add some intrigue and interest to it; submersible pond lights might be a worthy investment. By illuminating the water, you can create an amazing array of different reflections and make your backyard look stunning.
Whether you're trying to find the best pond light or looking to light your fountain out of the hundreds of different options or you are simply looking for an innovative and practical way to provide extra lighting for your home – you've come to the right place.
Our Top 5 Picks for Submersible Pond Lighting
As well as highlighting what we believe are the top 5 best submersible LED pond lighting kits, we will also provide you with practical advice and tips for deciding what the best ones for you are.
Jebao Co. Ltd is a very reputable and successful manufacturer of pond and aquarium accessories including pumps, filters, water features, and waterproof LED lights for water features.
They have been in business since 1998 and have constantly produced innovative, high quality, and high-performance products. The Jebao Submersible lights for ponds come with 3 individual spots that produce a nice cool white illumination that is powered by a total of 1.6 volts.
Check for Black Friday Deals on Amazon >
(don't worry, button opens a new tab)
As with all garden pond lights and underwater spotlights they are set inside waterproofed material that allows them to safely be submerged.
These are very cost-effective and come with the official Jebao branding, which attests to their high quality. You even have the option of using four alternative colors with the handy lenses.
Why We Liked Them
Submersible LED lights
Comes as a set of 3 lights
4 color lenses included
Great value for money
Next on our list is the highly affordable and practically designed MUCH Underwater Light for pond lighting. This is a fully submersible form of light that can be used for ponds or to highlight a fountain and consists of 36 powerful LED bulbs that produce very vibrant and rich colors.
This option would also make great as LED lights for waterfalls. If you are looking to create a stunning ambiance and transform your garden into the focal point of your outdoor light theme efforts, you could do far worse than investing in this little lamp.
The light will sit under the water safely, thanks to the waterproofing grade of IP68 it has been designed with.  Furthermore, the 36 LEDs housed inside the light produced an amazing mix of different colors running through 7 different patterns every 1 to 2 seconds.
Check for Black Friday Deals on Amazon >
(don't worry, button opens a new tab)
Another great feature of the MUCH Underwater Light is the fact that the jointed stand that holds the light has been designed to accommodate positioning the light at various points through a full 180 degrees.
As well as increasing the variety in terms of light that is open to you, it also makes it that little bit more flexible and versatile, meaning it can be placed and set-up at various angles, on both horizontal or vertical surfaces.
Because it is constructed from ABS engineered plastics, it does not include anything harmful or toxic ingredients making it 100% safe for fish, adding to the eco-friendliness that goes hand in hand with LED lighting in general.
Why We Liked Them
180 degrees of light
Most flexible on our list
7 different light patterns
Waterproof standard of IP68
The next option that we are going to discuss is the COODIA Solar Powered Underwater Night Light. First things first, we have chosen this because it is powered by solar energy, which is collected by the panel that is included with the set and then set to the battery where the solar energy is converted into electricity.
When darkness falls, a sensor switches the light on to provide illumination for your pond or wherever you have it set-up. The fact that it relies on solar energy to power the LED lighting (curious as to how do solar panels work?), makes it very eco-friendly.
So, if you are looking to save some money on your utility bills, but want to turn your backyard pond into an aesthetically pleasing focal feature, this is a great choice in a light fixture. This set includes three different LED water feature lights that all have the ability to change through 6 different colors.
Check for Black Friday Deals on Amazon >
(don't worry, button opens a new tab)
Similarly to others on this list, these have also been housed in sturdy and long-lasting material that has also met the waterproof rating of IP68, the highest of its kind in America. So, they are completely submersible.
Like the light above, these also have stands that can be adjusted through a full 180 degrees, and further to this, the heads themselves can be adjusted through a full 90 degrees.
When you consider the fact that they are not connected to any wiring and can be adjusted a considerable amount, it means that you can place them virtually anywhere and in any position. Even the solar panel itself can be adjusted to find just the right angle to absorb as much of the sun's rays as possible.
Why We Liked Them
Solar-powered pond light
Incredibly flexible
Waterproof to IP68
6 different colors
Next, on our list, we have this great spotlight that's suitable for use outdoors and near ponds and water features. It's been waterproofed to IP65 rating which means it will survive in most types of weather conditions from rain to snow and even has anti-fog properties.
As a great addition, it' also heatproof. The thing we especially like about this model is that it comes with a solar panel and rechargeable battery, so there's no need for any pesky and troublesome wires.
Check for Black Friday Deals on Amazon >
(don't worry, button opens a new tab)
The rechargeable battery provides 8 hours of high light and 14 hours of low light when fully charged. The lights can be fully adjusted through 90-degrees to achieve the desired effect and they're made even more versatile by the 2-in-1 installation options.
You can either place it on the ground atop the stake included or mount it against a wall with the screws included, making this a great versatile spotlight ideal for lighting your pond and water features!
Why We Liked Them
Adjustable to 90-degrees
Rechargeable battery
8 hours of light
Solar-powered LED light
The last LED fish pond light on our list is the Honfeng battery operated pack of 4 submersible lights. Each of the 4 lights is capable of producing 16 different colors, including red, green, blue, white, and a full variety of combinations.
You also have the option for 6 different options, making this a truly versatile and adjustable solution to illuminate your pond. Thanks to the fact that it is battery operated, you do not have any cables or even solar panels to worry about.
Check for Black Friday Deals on Amazon >
(don't worry, button opens a new tab)
Simply pop 3 AAA batteries in, place it where you want it, and turn it on for the perfect way to draw attention to your beautiful pond as the evening draws in and darkness falls.
These lights won't just transform your pond area either, they are so versatile they can be used in a wide range of places in your home, hot tub, or even on special occasions.
Why We Liked Them
Packs of 4 lights
16 different color options
Wireless/battery operated
Submersible
Submersible LED Pond Lighting Guide
There are important factors you need to keep in mind when looking at all the different types underwater light available on the market, such as submersible pond lights vs downlights that will help determine which is best for you.
In the guide below you will find advice about the most important aspects of submersible pond lights, that will help you make the right purchase.
Here's a recap of our 3 best selling LED pond ligths: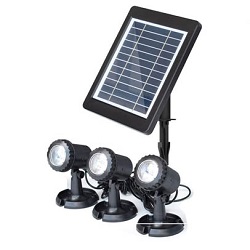 OUR #1 PICK
COODIA Solar Powered LED Pond Lights
Solar Powered
3 Spotlights
Color Changing
Easy to Install
Check Amazon →
Read our review
PROFESSIONAL
Jebao Pond Lighting with Color Filters
Electric-Corded
3 Lights
Colored Lenses
High-Quality
Check Amazon →
Read our review
CHEAPEST
MUCH Underwater Pond Lighting Spotlights
Electric-corded
7 Lighting Patterns
Sold Individually
Affordable
Check Amazon →
Read our review
Understanding Light Power Rating
When it comes to the illumination, the general rule of thumb is – the deeper and larger the pond is, the more powerful the lights you use need to be to provide it with suitable illumination.
Make sure that you check the power rating/wattage of lights instead of the actual size though. Size is never a very reliable indication of how powerful and bright light will actually be.
Power Source
There was a time when you really only had one choice when it came to the power source for your lighting – wired connection to a mains electrical outlet. While this is still an excellent choice, thanks to the constant supply of power it will provide, solar power is a suitable and more cost-effective alternative.
For starters, they don't need to be placed according to the length of the cord, as they are cordless and can be set-up anywhere. On the other hand, even though the power they produce is greener, the power and brightness they provide may not be as good as the alternatives if you do not get a lot of bright days where you live.
Battery-powered lights are another option. Although, due to the constant need to recharge or replace batteries, this is probably better suited to temporary use.
Easy Installation
Whether particular light kits are easy to install or not is another important factor to consider, as no koi pond lights are made equally. It really depends on how much work you want to do and the quality of lighting you want to have.
Battery and solar-powered pond lights are far easier to install than those powered by your electricity supply.
Mounting and Placing a Pond Light
This is another important aspect that will largely depend on your own personal preference and taste. you need to note that solar pond lights need to be placed to ensure they receive as much sunlight during the daylight hours as they possibly can.
You also need to be aware of the buoyancy of the LED lights you are interested in if you are looking to set them inside submerged. It may be that you need to use a weighted item of some sort, like a piece of concrete, brick, or stone.
Drill a hole inside the weighted item and attach your light to it before you place it and this will prevent it from bobbing on the surface.
Remember That Safety Always Comes First!
Particularly if you are working with lighting connected to your mains electricity supply, you need to ensure that everything is switched off when you are handling the cable. You should also be sure that the electrical lights you use are grounded. Safety should always be a priority.
Frequently Asked Questions
Whether you decide to use pond lights powered by solar power, mains electric or battery is up to you. Either of these, as you have likely seen, have their own unique benefits.
Don't be alarmed or put off by the reminders about the safety required when using electricity and water, because if you follow obvious safe working practices, you are going to be alright. Below we have answered some of the most frequently asked questions about LED outdoor pond lights.
What are the best underwater pond lights?
Sometimes electrical lighting solutions are the best bet. Remember that designing and decorating your pond so that it stands out should also be a fun experience, so make sure you enjoy it.
By doing the legwork now and putting in the research and not rushing into a purchase, you will reap the rewards of a stunning pond with perfect illuminations that will transform your nice, but rather plain backyard into a whole new world.
LED or the alternative pond lights?
Although this will obviously depend on your preference and the color of light you want, most pond owners tend to invest in LED lights due to their long life and low energy use.
This is because they require a lot less in terms of maintenance compared to more traditional bulbs and lights. While they may cost a bit more upfront, they offer an exceptionally high return on investment as most LED lights are designed to last for many years.
How to install underwater lights?
Do you need to know how to install pond lights? We have based our selection of products on the customer reviews, their ratings, and the actual features of the lights themselves.
Before you go, we thought it might be a good idea to give you some further help as many people are often unsure where and how to install pond and fountain lights to get the maximum benefit for them.
Please take a look at some of the extra tips below for submersible solar pond lights and waterfall lights before you settle on the LED lights you are going to buy and definitely before you decide where you are going to place or set them up.
You should make sure that you always buy lights and anything electrical, especially if there is water is involved, from reputable sellers or dealers. Even though price and brand names are not always a sign that a product is better as you may just be paying for the name, you can at least rest assured that they are safe.
Always follow the instructions and directions as they are noted in the manual that comes with your lighting kit.
As models of underwater lights for ponds powered by electricity tend to rely on low voltage cabling and a transformer, the combination of electricity and water is safe. Further to this, because these lights are designed to be submersible, they are sealed to ensure no water leaks in. This does not mean you need to negate the use of some common sense and if you are unsure use a professional.
If at all possible, plan where you are going to have the lights when you are doing the design and construction of the pond, as this will make it much easier to install them without having to drain and then refill it.
If you have to do it after your pond has been set up, you should consider illuminating the water cascading down with fountain lighting, if you have one. Alternatively, you could also place the lights around the edge and have them pointed towards a central feature, to form a nice focal point.
In addition to any solar lighting for ponds, you could also consider using some floating lights to illuminate the surface. The advantage of these is that they are much easier to position and less time-consuming to set up.
When you are using lighting for a water fountain, you need to make sure that both the pump and fountain are both secured to a flat surface inside your pond.
You will find that some fish pond lights underwater kits come complete with a mechanism that enables them to be attached easily to the pump on a fountain system.
Further benefits of planning lighting, particularly underwater lighting, when you are designing and planning, is that it means you can arrange to use the appropriate cables and waterproofed sockets
Only use outdoor lighting in a pond. Always make sure that you use plugs and connectors that are fully waterproofed. Following on nicely, you will notice that a transformer has been mentioned a number of times throughout this post. We can't stress enough how important it is to make sure you use a transformer with lights to make sure that the level of electrical power is kept to a safe level.