There are some aspects of home interior décor that have been improved greatly thanks to the use of developments in technology. For once, we're not talking about home entertainment; we mean lighting, which has undergone something of a revolution in recent years. The demise of the standard, filament light bulb and its replacement by halogen and the very impressive and versatile LED.
If you don't have time to read the full article, here are the most popular rope lights people purchase:
MULTICOLORED
Multicolored Christmas LED Rope Lights
10 Metres
Battery Powered
Remote Control
340+ 5* Reviews
Check Amazon →
Read our review
SOLAR POWERED
LTE Solar Powered Blue Rope Light
Solar Powered
8 Light Modes
33ft Length
200+ 5* Reviews
Check Amazon →
Read our review
MOST ELEGANT
Lalapao Warm Elegant Rope Lights (2 Pack)
200+ Reviews
Pack of 2
8 Light Modes
12 Metre Lengths
Check Amazon →
Read our review
Light Emitting Diodes have changed the way we view lighting in the home and have brought to the party some very impressive and versatile innovations. Take the rope light; this is, quite simply, a length of PVC tube that contains a string of LEDs, sometimes white and sometimes in other colors, that you hang wherever you want in the home – or indeed anywhere – and when you switch on, you have a really cool light source that can provide light over a wide area.
Fun, attractive and available in a wide variety of options, rope lighting is also very energy efficient, cheap and last a long time, so we took the trouble to check out the best on the market. Here's our selection of the top 10 rope lights that you can buy, and we're sure there will be one for you.
Top 10 Best Best Rope Light Reviews
This set of rope lights is a good starting place as it is a very typical product when it comes to Christmas lighting. The brand may not be a household name but you can rest assured these are a top-selling choice, with plenty of customer testimonial as to their value and versatility.
One of the benefits of rope lighting is that it can be used outdoors, as they are designed to be waterproof. This set of color changing rope lights is equipped with 8 different modes so you can have displayed such as slow fade, flashing strobes or standard lights, for different effects.
This one comes with a remote and a timer system. You can set the lights to come on at a certain time for a 6-hour period and to switch off for the rest of the day. This will be repeated each day. Powered by 3 x AA batteries (not included), this multi-colored rope light set is portable and can be used anywhere. A 10metre length is more than enough, and it is a very sensibly priced item in this company.
Check the Latest Offers on Amazon.com →
(don't worry, button opens a new tab)
Key Features
10m
Multi-colored
8 x settings
Battery powered
Remote and timer
The major differences in rope lights are in the choice of color – where the above model offers multi-colored lights, this set from GuoTong is simply bright white, which is what many people want – and the length of the rope itself. This is a 15metre length, or 50ft if you wish, and it's ideal for indoor-outdoor use, being fully waterproof. This one is a mains plug-in design, so you need a convenient outlet.
This is a quality item, is made from very durable materials so is highly suitable for outdoor use, and it offers the usual energy-saving properties that come with LEDs. It can be cut to length if you do not need all 50ft, and a connector is included so you can join two lengths together for added length, and it is also very easy to use. There is no remote with this one and no program settings, but it is proving very popular. Not the cheapest, but decent value.
Check the Latest Offers on Amazon.com →
(don't worry, button opens a new tab)
Key Features
White
No settings
Mains powered
15m
Can be cut and joined
One of the main benefits of using rope lighting is that you can drape them in any shape you want, as they are designed to be very flexible. This 33foot long string comes with warm white LEDs that are able to be used in a number of settings. These include flashing, strobe and still, and the light can be adjusted in terms of brightness, too. All of this is done via an easy to use remote that can also switch the lights on and off.
A nice touch with this one is that the wire is copper, so you get the added effect, and it is particularly versatile in terms of molding it to shape, too. The light emitted is very pleasant and would make a great backdrop for parties, and it is certified waterproof and safe for use in outdoor settings, too. This one comes with a 5-foot cable in addition to the lights, so you can place it quite a distance from a power outlet and is very cheap, although not the longest here.
Check the Latest Offers on Amazon.com →
(don't worry, button opens a new tab)
Key Features
Mains powered
Warm white
100LEDs
33 foot
10 settings
Brightness adjusts
We have mentioned a variety of length as one of the main differences between these items, and this example shows how much they can differ. This one offers just 18-feet of lights; that's not much more than half the one above. That may, however, be enough for you and as it is fairly cheap, we thought it should be included on the list. This is a white light set, so there's no multi-color option, and it offers a nice bright light when in use.
It's mains powered, so you simply plug in and go, and there is no available remote and no programmes or settings; all you get is white light at a set brightness. Now, if that's what you are looking for, and you only need rope lights for a small decorating or design project – or perhaps as a backdrop for a party – then it may do the job, but we feel there are others here that offer more versatility for pretty much the same money.
Check the Latest Offers on Amazon.com →
(don't worry, button opens a new tab)
Key Features
Mains powered
Only 18ft
White
No settings
No remote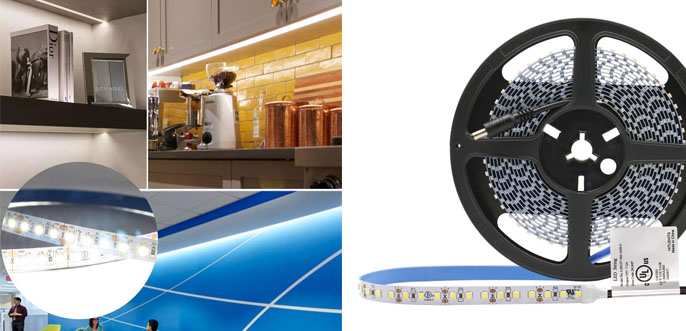 We've included this product, which is slightly different in some ways, to show you a different purpose to these lights. So far we have talked of them as for use in parties, perhaps as festive items, and for fun; but why not use them for practical purposes, as this version is sold? For example, this one is promoted as being great for under lighting cabinets, for use above kick-plates, and so on.
We think this is a great way of using LED lights as they are cheap and great value for money. However, this mains-powered strip light is only 5-meters in length. Yet, it can be cut and joined to others for added length. It offers white light that is dimmable, so that's an advantage, and is very easy to fit and use. Note that this model – which comes with 600LEDs – is not certified for use outdoors, but there are others in the range that are.
Check the Latest Offers on Amazon.com →
(don't worry, button opens a new tab)
Key Features
Only 5 meters
White light
Dimmable
Cut and join
Mains powered
Not outdoor friendly
The perfect elegant Christmas rope lights for decorating your home.
Here you get two for the price of one; that's two lengths of 12meters (39 feet) each with 120LEDs. There's no remote but you get a simple on and off – the lights will come on automatically when the sensors detect the light fading – and also 8 settings, including various brightness and flashing modes. One customer comment has been that while these are good they are perhaps not as bright as mains powered options. However, at the price, it's very attractive.
Check the Latest Offers on Amazon.com →
(don't worry, button opens a new tab)
Key Features
Twin pack
8 Settings
12 meters each
Auto on/off
This standard yet high-quality rope light, from Westek, has one main area of appeal: it is 48feet long, which is around 15meters, so is a good length. These are white lights only and set at a standard brightness, but they are very bright and come with mains power. You also get a 6-foot power cord which is enough to make sure you can space the lights away from the outlet quite easily. The lights are evenly spaced and the plastic tube is very flexible.
This one, being simple and without any flashing modes, would be great for decorating an outdoor tree or – our preferred use – hanging around a doorway as a great way of brightening up your entrance at party time. They can also be used in more practical terms as indoor lighting. That's really all there is to say about these, but that's no bad thing, and they are sensibly priced given the length.
Check the Latest Offers on Amazon.com →
(don't worry, button opens a new tab)
Key Features
48feet
100watts brightness
Mains control
Great for outdoor or indoor
If you want colors – and when it comes to decorative lights for parties or the festive season many people do – then this set of lights might just be for you. To be honest, while this one comes from the Areful brand, we reckon it can probably be found under many other brand names as it is a standard design. It offers you 8 different colors, selected from a remote, and a wide variety of different operating modes, and is easy to fit and use wherever you want.
You can set it in one color or have it move through them all, and though at 16ft long it is not the longest here, it is possible to connect four together with a simple connector, for a length of more than 60ft. This model is usable outdoors, too, and will last a long time so will be perfect for brightening up a patio or yard, or anywhere around your property. It's not the cheapest of these, but good value is given the colors and features.
Check the Latest Offers on Amazon.com →
(don't worry, button opens a new tab)
Key Features
16ft
8 colors
Many displays
Can be joined
Remote
There are both benefits and drawbacks to the solar-powered option: the major benefit is that, if you get enough sunlight during the day, you get free automatic lighting during the darker hours, and you can place them anywhere you want as they have their own power source. The drawback is that they are not always as bright as mains or battery powered lights. This is a solar set that measures 33ft in length, which is ideal for smaller gardens or lighting projects. If you're feeling eco-friendly this Christmas, also check out our novelty Christmas LED pathway lights.
With dimmable lights that can be used in 8 modes – including slow fade, flashing and many more – this is a set that would be great for use as a Christmas tree light set. Bear in mind there are no colors, it's just white lights, but it is very effective. There is no remote, you simply switch it to come on when the light fades and set your chosen programme. It's a good choice, and surprisingly cheap.
Check the Latest Offers on Amazon.com →
(don't worry, button opens a new tab)
Key Features
Solar power
8 settings
Dimmable
33ft
Auto on function
Our final entry and these come in no order, is a simple yet effective white rope light kit that measures 50feet. Like many, this one can be cut for extension or use in smaller sections, with the use of simple connectors that are easily obtainable. There are no flexible settings with this one – it's a standard brightness white light with no dimming ability and no colors – yet would be perfect for lighting a room for a party.
Very flexible in terms of how you can shape it, it is waterproof and therefore suitable for use anywhere outdoors as well as in, and it is easy to fit and use. This one – like all of these – comes with the relevant certifications, too, so you are safe and sound using them. Not the cheapest by a long way, but worth including on the list.
Check the Latest Offers on Amazon.com →
(don't worry, button opens a new tab)
Key Features
White light
50foot
Outdoor or indoor,
Mains power
Our Choice
That's 10 rope lights for you, but which would we recommend? That comes down to whether you want colors or just white. If you want colored lights, we recommend that you look at no. 1 on the list, as it offers everything you could need at a sensible price, and is a decent length.
For white lights, the choice is yours, but we can't help recommending the Lalapao twin pack, no.6, as it is solar powered, and you get two ropes of lights at an amazing price.
We hope we've found one for you so you can add fun lights to your home.