There are some aspects of home interior décor that have been improved greatly thanks to the use of developments in technology and no we're not talking home entertainment, we talking lighting, which has undergone something of a revolution in recent years.
With the gradual demise of the standard incandescent filament light bulb and its replacement by both halogen and the very energy-efficient and versatile LED light technology.
Welcome to the world of amazing LED multi color changing rope lights and if you need some inspiration on how to use these multi colored rope lights then check out our top rope light ideas.
LEDs, otherwise called Light Emitting Diodes, have changed the way we view lighting around the home and garden. With very impressive and versatile innovations and, rope light kits are just one of those innovations.
The color changing LED rope lights are quite simply a length of PVC tube that contains a string of LED bulbs, white or multi colored, that you hang wherever you want in the home or garden – or indeed anywhere. Just switch on and you have really cool lights for an added attraction to your home decor or to make the party night atmosphere.
Top 10 Best Best LED Rope Light Reviews
A color changing LED rope light is a fun, attractive, and available in a wide variety of options. The best outdoor LED rope lighting is also very energy-efficient, cheap, and lasts a long time, and we have checked out the best on the market for you.
Perfect for events and parties the best outdoor rope lights will help you set the mood on any occasion, there are so many different ways to use rope lights!  Here's our selection of the top 10 LED rope lights that you can buy, and we're sure there will be one for you.
Next on our list is the best quality LED rope light that not only covers your lighting needs, GuoTong has also got you covered for safety by putting in the extra safety feature of a built-in fuse that will automatically short-circuit before an accident can occur.
That along with the fact that when they say it is waterproof they mean it, as these lights have a waterproof rating of IP65, which is high, so rest assured they are waterproof rather than water-resistant.
One of the major differences in LED rope lights is in the choice of color temperature and the actual color. Where the previous option offers colored led rope lights, this set from GuoTong is a bright daylight white, giving a more contemporary and minimalistic feel and can be used as task lighting such as lighting your path or driveway.
Check for Black Friday Deals on Amazon >
(don't worry, button opens a new tab)
The other difference is the power source and these are plug and go, so you have no batteries to replace but you will need to have an outlet to plug into. Measuring a brilliant 50ft, which is a considerable length, but you can cut it at specific spots for the length you require.
The best feature though is the fact that these lights are linkable that enables you to join up to 3 units together, that's a whopping 150 foot of pure lighting, making them the best rope lights for covering all your lighting needs in the whole garden, on or in your house, or any large area.
With 1737 lumens this LED lights rope is a practical lighting solution that has very low energy consumption and one to be seriously considered. Not the cheapest on our review list but definitely one of the best for quality and safety.
Why We Liked Them
4 different colors available
Mains powered
50-foot Length that can be cut
Up to 3 sets can be joined together
If you really want to up your lighting game, then check out these LED neon rope lights from Touchstar. Coming in at 50 feet in length they are an amazing choice for restaurants, bars, cafes, and for transforming your home. They can also be used in more practical terms as indoor/outdoor lighting. Just look how elegant they look underneath furniture.
With a 160° beam angle and 120 high-quality LEDs arranged every 3.3 foot, these rope lights provide you with a well-balanced light and flicker-free brightness. Touchstar have really done us a favor and given us a choice of 7 different colors to choose from. 
Check for Black Friday Deals on Amazon >
(don't worry, button opens a new tab)
The main feature that we love about this product, a max of 150 ft of the rope light can be connected thanks to the integrated connectors. Installation is made fast and easy as this pack comes with 30 plastic mounting clips and 60 nickel-plated screws.
These neon rope lights are both durable and wear-resistant, and what's more, is that the environmentally friendly PVC material extends its lifespan. The IP67 waterproof rating makes this neon LED rope light the best choice for both indoor and outdoor decoration.
Why We Liked Them
50,000hrs lifespan

7 different color choices
Connectable lights

Environmentally-friendly PVC material
This next product is a little different from your traditional rope lights, but it deserves its place here on this list. This is, without a shadow of a doubt, one of the coolest designs of the traditional battery lanterns, that we have seen so far and we challenge anyone to say the name out loud without cracking a smile. There is more to the Luminoodle LED light rope than a silly name and quirky design, no batteries required either.
The Luminoodle is a series of LED lights on a transparent rubber-coated and waterproof string and we think that every backpack should have one of these in it, even if you are not camping. The LEDs provide the instant illumination for the spur of the moment party, no modes just instant light, and illumination.
Thanks to its very flexible design, you can either use the Luminoodle as just a series of lights on a string and drape them over branches to light whatever area you wish. We love the fact that you can even put the lights into the nylon bag supplied to create a makeshift LED camping lantern for when you need a portable lighting solution.
Check for Black Friday Deals on Amazon >
(don't worry, button opens a new tab)
It is easy to attach the lights to virtually anything using the rubber ties or magnets provided. Now we know what you are probably thinking this is a gimmicky light and LED lights like this can't possibly produce a bright enough light for a tent.
However, the Luminoodle actually produces around 180 Lumens and thanks to the lithium-ion rechargeable battery allow you to get around 6 hours from just one charge. You also have the option to use the USB power bank, meaning you can extend life with a larger capacity.
The weight is minimal and the design is brilliant a must for your next trip. These are great as emergency lighting for the car simply uses the USB port in your car as your power source.
Why We Liked Them
Doubles as a lantern
USB Chargeable
Great camping rope light
Versatile design
Can be used anywhere
If you are looking for rope lights long enough to cover the whole house or for a special occasion then these are the ones for you. Available in this beautiful blue, which is the most popular, or in green, red, cool white, warm white. These lights are perfect for decorating for the holidays, parties, or any other event.
These rope lights emit a pleasant bright soft glow and creates that ideal ambient mood lighting wherever they are placed. They are made out of thin flexible crystal clear PVC tubing making them really easy to install and play around with.
Check for Black Friday Deals on Amazon >
(don't worry, button opens a new tab)
Suitable for both indoors and outdoors, these lights from WYZworks have been upgraded with a built-in fuse connector for an extra layer of protection from overcurrents and overload, and are both ETL and UL certified.
This model of LED rope light continuously remains cool to the touch when in use making it safe for kids and pets around your home. As they are IP65 rated water protected, we think they work best in the backyard or as Christmas lights for the holidays. 
Why We Liked Them
10 – 300 ft available
4 different colors (find the others here.)
Built-in fuse for extra safety
Great for decorating
The perfect elegant rope lights for decorating your home, perfect for the Christmas holidays, or for just sprucing up your backyard. These LED rope lights from Lalapao come in 4 different colors, blue, cool white, multi-colored, and this purple color.
They also over a solar-powered and battery option for the multi-colored model. If you order in the cool white you get two sets of outdoor rope lights for the price of one; that's two lengths of 12meters (39 feet) each with 120LEDs.
Check for Black Friday Deals on Amazon >
(don't worry, button opens a new tab)
There's no remote with this model but you get a simple on and off – the lights will come on automatically when the sensors detect the light fading. This LED light also features 8 different light settings, including various brightness and flashing modes.
These LED rope lights have a run time of about 8 hours once the solar panel has absorbed enough sunlight, which is something to think about when you are installing them.
Why We Liked Them
8 different light settings
4 available colors
Solar-powered lights
Easy to install
If you want rope lights that change colors for decorative lights for parties or the festive season as many people do, then this is another quality LED rope light set that might just be for you. It features 8 different colors and 6 different light modes all selected via a remote.
The colors are red, green, blue, white, orange, yellow, cyan, and purple with lighting modes that are auto ON/OFF, sequence or fade of 3 colors, and 7 color pulse, fade, or sequence. Something for all occasions. This option does come with a remote control to enable you to change your lighting with ease.
Measuring 16ft it is not the longest that we have reviewed but is a very manageable and convenient length and as these are linkable, you can join up to 4 units together, with a simple connector for a length of more than 65ft.
Check for Black Friday Deals on Amazon >
(don't worry, button opens a new tab)
Although this model is waterproof and suitable for outdoor use, it is not designed for really bad weather conditions and should therefore only be used temporarily if the weather in your area is not all year sunshine.
However that being said, it will take the odd shower and it is fitted with an 8 amp fuse for safety should you have a downpour. This quality item will last a long time and is just the thing for brightening up a patio or yard and is also perfect for creative indoor decorative lighting.
If you are looking for color changing rope lights with remote control use option then these just have to go on your shopping list.
Why We Liked Them
16 foot in length
8 different colors
6 light modes
Linkable light design
Comes with a remote
There are both benefits and drawbacks to the solar-powered option: the major benefit is that, if you get enough sunlight during the day, you get free automatic lighting during the darker hours, and you can place these outdoor rope lights anywhere you want as they have their own power source.
The drawback is that they are not always as bright as mains or battery-powered lights. This is a solar set that measures 33ft in length, which is ideal for smaller gardens or lighting projects.
Check for Black Friday Deals on Amazon >
(don't worry, button opens a new tab)
If you're feeling eco-friendly this Christmas, also check out our novelty Christmas LED pathway lights. With dimmable lights that can be used in 8 modes – including slow fade, flashing and many more – this is a set that would be great for use as a Christmas tree light set.
Bear in mind there are no colors, it's just white lights, but it is very effective. There is no remote, you simply switch it to come on when the light fades and set your chosen program. It's a good choice, and surprisingly cheap.
Why We Liked Them
Solar-powered
8 lighting settings
Dimmable design
33 foot in length
We have mentioned a variety of lengths as one of the main differences between these items, and this example shows how much the outdoor rope lights can differ. This one offers just 18-feet of lights
That may, however, be enough for you and as it is fairly cheap, we thought it should be included on the list. This is a white light set, so there's no multi-color option, and it offers a nice bright light when in use.
Check for Black Friday Deals on Amazon >
(don't worry, button opens a new tab)
This LED rope lighting kit is mains powered, so you simply plug in and go, and there is no available remote and no programs or settings; all you get is a white light at a set brightness, which might be the best option for anyone looking for a simple LED rope light. 
Now, if that's what you are looking for, and you only need LED rope lights for a small decorating or design project – or perhaps as a backdrop for a party – then it may do the job, but we feel there are others here that offer more versatility for pretty much the same money.
Why We Liked Them
Mains powered
Very easy to use
Very affordable
Plug and go
Our final entry and these come in no order, is a simple yet effective warm white LED rope light from Ollrieu that measures 50 feet in length. What's great about these LED lights is that you are able to string them together end-to-end, up to 3 strands, which gives you a total length of 150 feet.
With no connectors needed, they are so easy to install and make great ambient lighting for a wide range of occasions and areas around the home. Although these lights cannot be cut, they are extremely flexible making them really easy to meet your decorating needs.
Check for Black Friday Deals on Amazon >
(don't worry, button opens a new tab)
This model is great for both indoor and outdoor use, and is IP65 waterproof and can withstand all kinds of weather conditions. Having said this, the power adapter isn't-waterproof, so make sure this is covered wherever they are installed.
From a safety aspect, these lights from Ollrieu have two built-in fuses in the power plug and also short circuit protection for added reassurance. We also love that they are available in three different color options.
Why We Liked Them
Linkable and flexible
3 available colors
Durable & waterproof
Widely used
This set of LED rope lights is a good starting place as it is a very typical product when it comes to creative lighting decorations and not just for Christmas lighting. Although the brand may not be a name you know you can be sure these are a top-selling choice, with plenty of customer testimonial as to their value and versatility.
One of the benefits of LED rope lighting is that it can be used outdoors, as they are waterproof. This set of color-changing outdoor rope lights is equipped with 8 different modes that include Twinkle, Slow Fade, Flash, Strobe, Steady on, and more so something for all occasions and events.
Check for Black Friday Deals on Amazon >
(don't worry, button opens a new tab)
These rope lights come with remote control and the feature of having a timer system so you can set them to come ON at a certain time, for a 6-hour period, and then switch OFF for the rest of the day, saving the battery energy, and once set will do so each day.
Powered by 3 x AA batteries (not included), these LED rope lights, like a lot of solar lighting, are portable and can be used anywhere whether that is on your patio, in the garden or you could even take them camping for some fun nights. A 10metre length is more than enough, and it is a very sensibly priced.
Why We Liked Them
10m in length
Multi-colored
8 lighting settings
Battery-powered
Remote control and timer
LED Rope Light Summary
That's 10 LED rope lights for you, but which would we recommend? That comes down to whether you want colors or just white. We hope we've found one for you so you can add fun lights to your home. And it doesn't need to stop there, there are some great ways to get creative with rope lighting in your garden too!
As a recap, here are our 3 best selling LED rope lights that people are buying;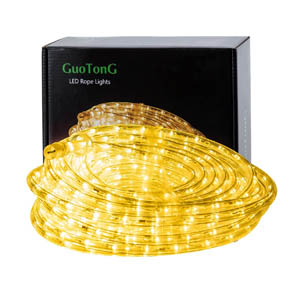 OUR #1 PICK
GuoTonG Warm White LED Rope Lights
4 different colors
50-foot Length
Cut to Size
3 sets can be joined
Check Amazon →
Read our review
MOST ELEGANT
TORCHSTAR Elegant LED Neon Rope Lighting
50,000hrs lifespan
7 different color choices
Connectable lights
50 foot long
Check Amazon →
Read our review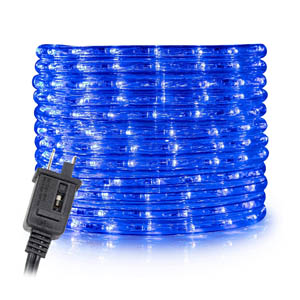 LONGEST OPTIONS
WYZworks Cool Blue LED Rope Lighting
10 – 300 ft available
4 different colors
Built-in fuse
Great for decorating
Check Amazon →
Read our review
Frequently Asked Questions
Now you have the heads up for all the rope light varieties and options, we hope you have seen a version that you like and want to put in your garden or decorate the house with.
Just in case you need any more information we have put a list of the questions that we often get asked along with the answers to help further.
Can you cut LED rope lights?
Almost all LED rope lights can be cut and will be marked as to where you can do this. Always use a sharp knife or pair of scissors and ensure that you have disconnected the lights from the power supply first.
How long do LED Rope Lights last?
LED bulbs are renowned for being the longest-lasting form of lighting and LED rope lights are no exception. On average the bulbs in your LED rope lights set should last approximately 50,000 hours that is about 6 years of continuous use. Although you will find that during the life span of an LED they will lose some of the brightness.
What is the best rope lighting?
Depending on your needs, the best rope lighting will have different colors and lighting modes. For a party atmosphere or some very decorative lighting, you will find the multi-color and multi-functional rope lights the best such as No.6 in our review by Areful.
But if you need a rope light for practical use such as path lighting then the bright daylight white options is the best rope light for you such as No. 1 in our review by GuoTong.