Buying a flagpole makes a grand statement. Whether it is out of patriotism, pride in a family crest, or just plain fun, it will become a centerpiece of your property. It seems a waste than that it should all but disappear when night falls or with changing weather conditions.
Knowing this, it is worth investing beyond just the flagpole and into a well-made solar flagpole light. More than ever before, solar power has become cheap and accessible and flagpole lights are no different. Once night falls or fog and rain cover the streets, everyone can still spot your flag like a beacon.
Outdoor lights can be a serious hassle to maintain, but with solar lights, they take care of themselves. They are also environmentally friendly and significantly reduce your carbon footprint.
You can illuminate your banners for countless hours without guilt because you will be using pure solar energy. Read on for our flagpole lighting guide and solar flagpole light reviews of the best.
Top 5 Best Solar Flagpole Lights Reviews
Nevertheless, solar flagpole lights can be confusing. They work and illuminate differently than your typical bulbs and it is not always clear which solar lights are better than others or what will work best for you.
To help in your decision, we have created this list of the 5 best solar flagpole lights that we think are some of the best on the market. All of our choices were made based on quality, price, and ease of use. After a quick read, you should be ready to purchase in no time.
Deneve's Deluxe Solar Flag pole Light model is a perfect choice for anyone looking for a powerful product that is easy to install and user friendly. In fact, it is possibly the brightest solar flagpole light on our list. Deneve is an American company determined to create high-quality lights with a zero-landfill policy.
The Deluxe model features an easy installation process, with a circular module. On the topside, six large solar panels sit evenly spaced to absorb the most solar energy possible. Below are 26 powerful LED light bulbs that shine lights with 1,300 lumens for an intensity of illumination that is 5 times brighter than most other models.
The panels are equipped to efficiently store power so they can illuminate throughout the night. The Deluxe features an auto ON/OFF dusk to dawn switch, which is a built-in sensor that detects when the ambient light is failing, and will automatically turn on the LEDs.
Check for Black Friday Deals on Amazon >
(don't worry, button opens a new tab)
This takes the problem away from having to remember when to turn it on every night but more importantly turning it off in the morning to prevent using the daytime solar energy when illumination is not needed.
This comes with AA rechargeable lithium batteries which last years before needing replacements which are incredibly convenient since with some models you need to replace the entire flagpole light rather than just the batteries.
At 9-inches across and 1/2-inch thick, this option is unobtrusive and is designed to fit most standard flagpoles between 15 to 25 feet tall. No tools are required for installation. Simply unscrew the top of the pole, press the on-button, and insert the light onto the pole. This solar light also comes with a small rod at its top to help with stabilization.
Why We Liked It
1300 lumens of brightness
Auto ON/OFF Dusk to dawn switch
AA rechargeable lithium batteries
Rod for added stabilization
The Hallomall Solar Flagpole light is aimed at those who want both durability and bright light as well as versatility in its features. Though designed for flagpoles, the light can be uninstalled and combined with a carabiner to illuminate any outdoor space like campsites, courtyards, and roadsides.
This option features 11 large solar panels lining the topside of the lamp. The high number of panels helps to more efficiently absorb light and means that they catch the sun at most angles.
On the bottom are 48 LED lights capable of illuminating at an impressive 800 lumens. The combination of many lights and high lumens (brightness) is what helps make this flagpole light so versatile.
Check for Black Friday Deals on Amazon >
(don't worry, button opens a new tab)
After a sunny day, the flagpoles' light will stay lit for up to 10 hours, well through the night. Moreover, the Hallomall comes with 3 settings that range from low, medium, and high brightness. This allows you to further control how you want your flagpole illuminated at any given time.
When switched on, the Hallomall will automatically illuminate at night and shut off in the daytime. It comes with one rechargeable lithium battery and is replaceable. That said, the battery should last a long time without concern.
The light is easy to install and does not require tools. Screwing onto the pole and switching it on is all that is required to get started. It has a diameter of 8.54-inches and is around 1.4-inches thick and it should fit on most standard flag poles.
Why We Liked It
800 lumens of brightness
Can stay lit for 10 hours
11 large solar panels
Versatile design
The Feelle model Solar Flagpoles Light is designed for those living in the most overcast places. It features an incredible 20 solar panels that cover the entire top of the module, it is as efficient as it gets.
Each solar panel is of superb quality, not only does the amount of coverage catch sunlight at almost any angle, but the panels are also capable of absorbing more solar energy light in less time. Additionally, once fully charged, this solar LED light is capable of providing illumination for up to 10 to 12 hours.
There are 32 LEDs (Light Emitting Diodes) bulbs across the bottom of the piece that reaches a combined 640 Lumens which might not give the illumination brightness of floodlights or solar flagpole spotlights but is the perfect amount of brightness for lighting up your flag and the ability to charge on cloudy days far outways the slightly lower lighting level.
Check for Black Friday Deals on Amazon >
(don't worry, button opens a new tab)
Even better, the flag light is manufactured with a cover that will protect them from water and damp foggy moist air. and should have no problems in storms, blizzards, and even heatwaves. These solar flagpole lights also come with two brightness adjustment settings. The LOW setting should be enough for most situations and will last over 10 hours while the HIGH is good for bad visibility and lasts up to 8 hours.
Like the previous selections, Feelle includes a sensor to detect the changes in ambient light with this dusk to dawn sensor the light will automatically switch ON and OFF when needed. Combined with a carabiner, it matches both Sunix and Hallomall in its ability to be used beyond the flagpole.
The solar light is easy to install and is 9.6-inches wide and 1.7-inches thick. It features a stabilizing rod at the top and is meant to fit most standard poles at 15 to 25 feet tall. Lastly, the rechargeable Lithium battery is extra powerful and long-lasting.
Why We Liked It
Carabiner feature
Dusk to dawn sensor
Manufactured with a cover
640 Lumens of brightness
The last solar flagpole light review that we have for you is the only and probably the best commercial solar flagpole light The Telepole Manufacturing Inc New Solar Flagpole Light. This is for those willing to make the biggest investment for the highest quality and the biggest statement as your flag will certainly be seen for some distance away.
While it is definitely the highest price point item on this list there are reasons, the cost comes with maximum efficiency and thoughtful design of not just the flagpole, but the angle of each solar panel, the beam of the solar LED lights, and of course the durability.
Surrounding the top side of the piece are 11 powerful solar panels that not only cover the entire surface but are also angled at 45 degrees so not one ray of sunlight is wasted. The panels and battery are capable of storing up to 15 hours illumination for the lights, which is the biggest run time of any of the solar flagpole lights in our on this list.
Check for Black Friday Deals on Amazon >
(don't worry, button opens a new tab)
There are 120 durable LEDs that shine at an excellent 800 lumens. Additionally, the LED bulbs are grouped and spaced to create the maximum circumference of lighting all from solar energy, however, should the weather be bad for prolonged periods, reducing the run time of the LED lights, then you have the option of purchasing the new optional charging adapter that gives you the ability to charge the LED lights in about 2 hours.
This means that just about any size flag will be illuminated along with the surrounding area of the flagpole even in bad weather. With a diameter of around 10-inches and at 1.5 inches thick, it is on the large side but is capable of fitting on standard poles as well as larger ones that get up to 40 feet.
The Telepole design is geared towards those looking to upgrade their lighting options. With high-quality components, thoughtful design, and the ability to illuminate the largest flags and poles, it is the most professional of the flag pole lighting options and the most heavy-duty light on this list.
Why We Liked It
800 Lumens of brightness
11 Powerful solar panels
Most professional
Heavy-duty light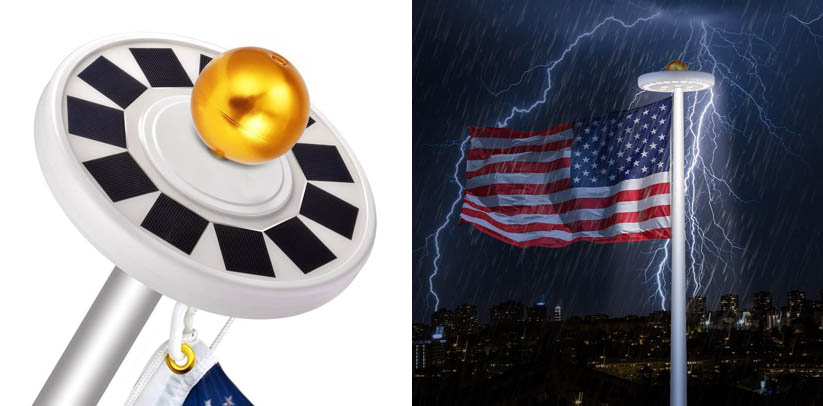 The Sunix 30 LED Solar Flagpole Light will get you through all seasons and is a particularly good choice for those living in places that experience drab sky days and a lot of storms. With a waterproof grade of IP65 which is high, this light can resist just about any form of foul weather or flood.
With 11 large, high-quality solar panels along the top of the piece, the Sunix is able to absorb the energy from the sun in even the most overcast weather conditions. Around the bottom are 30 LED bulbs capable of illuminating at 200 lumens each that is a lot of brightness for the light beam.
This may not be as bright as the Hallomall or Deneve, but it makes up for it with the high-density level of 30 LEDs as well as its fantastic ability to absorb energy in the worst weather conditions.
Check for Black Friday Deals on Amazon >
(don't worry, button opens a new tab)
The solar panels are equipped with sensors for auto ON/OFF to automatically detect the ambient light failing and switch ON as night falls and OFF when daylight returns (otherwise called dusk to dawn setting).
Furthermore, the Sunix is versatile enough to be used beyond just the flagpole as an automatic solar light for other outdoor spaces.
At 8.7-inches wide and 2.2-inches thick, the Sunix is designed to fit standard 15 to 25 ft flag poles with a 1/2″-thick rod at the top with ease and should not require any effort beyond pushing a button and screwing it onto the pole.
Why We Liked It
800 lumens of brightness
Sensors for auto ON/OFF
Great for all weather conditions
Versatile can be used for other outdoor spaces
Solar Flagpole Buyer's Guide:
When shopping around for a solar flag light it is important to keep a few variables in mind. Below we will give you a quick run-through of the points to look out for.
Here's a recap of our top 3 Best LED Solar Flagpole Lights:
OUR #1 PICK
Deluxe LED Solar Flag Pole Downlight
Cutting-edge sensor
Photovoltaic cells
Easy installation
Satisfaction guarantee
Check Amazon →
Read our review
PROFESSIONAL
Telepole Manufacturing Inc LED Flag Pole Light
Full illumination
Rechargeable battery
Free charging port
120 LED flagpole
Check Amazon →
Read our review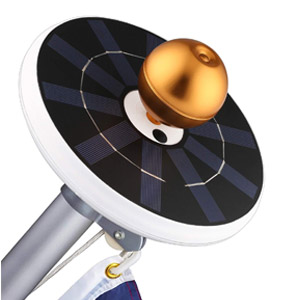 ON A BUDGET
FEELLE LED Solar Powered Flagpole Lighting
Ultra-large Solar Power
Upgraded circuits
Waterproof Design
20 solar panels
Check Amazon →
Read our review
Find the Best Solar Panel
It is essential to pay careful attention to the solar flag light solar panels themselves. Not only should they be of the highest quality, but they also need to be designed in a way that fits your environment.
If you live in the sunbelt, 6 solid panels across a flat surface should work just fine to reach a maximum charge for lighting your flag pole. If you live in the Pacific Northwest where rain is common 9 months out of the year, then you will want to find the most efficient designs.
Panels that cover the entire surface of the module and have an angle that is able to catch as much daylight as possible will help to combat the constant overcast conditions. Solar panels actually need daylight, not sunlight to charge the battery, but they do have to be efficient.
Check the Size of your Flagpole
While most if not all flagpole lights are made to illuminate the most common size of flags, they may fail to shine on the larger flag.
If you fly a particularly large flag that requires a tall pole, then this might limit your options to something like the Telepole Solar Flagpole Light which is designed for just such an occasion.
Don't be caught with only half the light you need to show off your flag.
Weatherproofing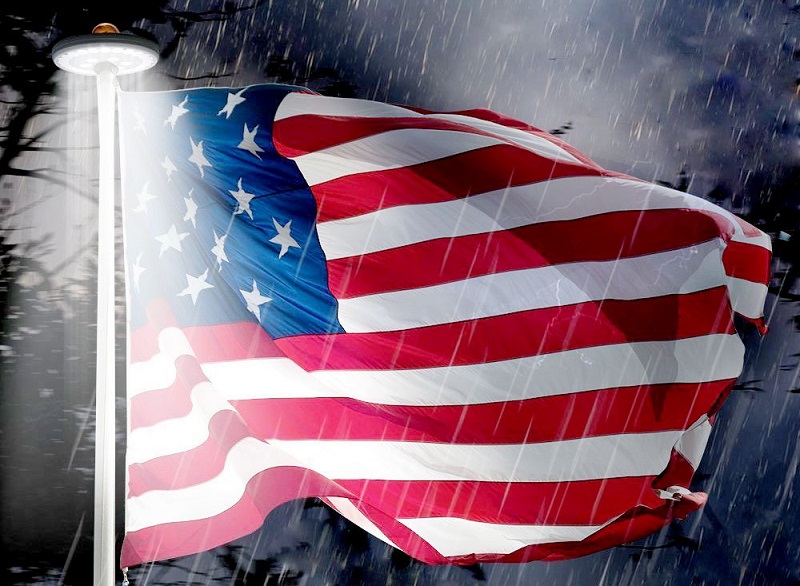 While all solar flagpole lights outdoor options are designed to take the weather, some are better than others when it comes to bad weather. Reviews are rife with complaints about water seeping into the battery and LED light capsules.
If you live in a damp, rainy area or a place that experiences harsh winter storms, it will save you a lot of time and money to buy a light that is made to withstand harsh conditions, an IP65 rating at least.
Frequently Asked Questions about Flagpole Lights
Though it is a small detail, having a decent light on a flagpole can make all the difference in presentation. Not only does it keep your flag looking regal throughout the night and during the worst of storms, but it also illuminates the area around the pole as a valuable safety light.
Furthermore, using solar power means you can rest assured that the long hours of illumination are not taxing the environment or your wallet. Every item on this list is catered to slightly different needs. Take the time to investigate and find the solar light that shines brightest for you.
To help you even further in your search for the best flagpole light, we have answered some of the most frequently asked questions.
What is the best solar flagpole light?
For the best solar flagpole lights, you need to ensure that there are enough solar panels and that they are at the correct angle to absorb maximum energy for the battery to fully charge.
The best solar light for flagpole purposes should also have enough lumens, brightness, to ensure it lights your flag.
How do you light a flag pole?
Using solar LED lights is the most energy-efficient way to light a flag pole. With LED bulbs being renowned for their long life, easy installation, barely any maintenance, and low energy consumption and the solar light using the power of the sun to charge the battery making your flagpole light completely eco-friendly.
What is a telescopic flag pole?
The telescopic flag pole is made up of sections that fit into each other and slide up and down, giving you the ability to make the flag pole either taller or shorter.
How do Solar Flagpole Lights Work?
It's worth stopping a moment to understand just how a solar LED light works.
Most solar lights work with photovoltaic technology in which certain materials are used to absorb light (sunlight is better but solar lights do not necessarily have to have it for them to charge) and convert it into electricity.
In most cases, solar panels are covered with a semi-conductor like silicon which is highly reactive to light. This is usually a broad dark surface to better catch and absorbs the light.
When the sun's rays hit the solar panel, it excites the outermost electrons of the silicon atoms. As these begin to move faster and faster, electric currents are created. The electricity is then run through a converter that makes the current viable for use. Once converted, the electricity stored in a battery will illuminate the light and voila! The flagpole solar LED begins to shine.
The strength of illumination is highly dependent on the quality of the solar panels as well as the amount of sunlight they are able to absorb. Knowing this, it becomes doubly important to make sure you know what you are buying.