One of the biggest issues facing many online sellers (whether privately or commercially) is having high-quality photographs of their products which do a lot of the actual selling.
That's where the Foldio3 photography light box comes in.
Welcome to the Foldio3 Photography Light Box
What started its life back in 2018 as a Kickstarter campaign is now a hugely successful brand that has seen Orange Monkie sell over a million units over the last few years, and not just throughout the US, but across the world.
Whether you've already owned a Foldio before or have only just stumbled across the brand, we're going to give you a clear picture of why it might be time to up your product photography game and get one.
The Foldio3 is featured #1 in our Best Photography Light Box Reviews and caught our attention quick, so here's a full Foldio3 review where we take a much closer look at this beauty.
For the First-Timers: What Is The Foldio Light Box?
Foldio is the very first portable, mini studio consisting of a foldable design that allows you to take professional standard images with just your smartphone (if you wish).
As the name suggests, it's a lightweight portable, foldable photography lightbox.
Although lightweight and portable might sound off a few alarm bells about how effective can something like this be, let get rid of all those doubts and tell you this:
It works like a dream!
It has magnets in its structure which means each part opens up and sticks together in seconds. No more complicated tent-like systems which require multiple bags. The Foldio is up in seconds.
The Foldio 3 comes with a dimmable LED strip light and three matte foam backdrops in black, gray and white.
Currently, three are different versions of the Foldio available, these have been released by Orange Monkie over the last few years since 2014, along with a plethora of useful upgrades and accessories to enhance your small object and product photography even further.
The Foldio3 Is Bigger, Better & More Sophisticated
So, What's In The Box?
When you buy the Foldio3, you'll get you a neat package that contains everything you need to start taking product photography and other subjects, including:
The Foldio3 foldable body (of course)
LED Lighting System, consisting of 3 LEDs
A nifty dimming controller
Matte Foam Backdrops x 2 (Black and White)
Power Adapter Kit to enable use internationally, in EU, AU, UK and US
Instruction manual (not that you need it)
So… What's New with the Foldio3 Over The Others?
The Foldio3 is the follow-up and much bigger and greatly improved from the Foldio1 and Foldio2.
But, instead of looking at it as a basic upgrade to the older models, it's best to look at it as the bigger brother, for those who can afford it (or simply need the space).
It still folds down and up with ease and is easy to carry, but its structure has been altered somewhat to accommodate the bigger size.
So how big is the Foldio 3?
Measuring in at an impressive 25 x 25 x 22 inches – an incredible 15 inches bigger than the original design. But when closed,  it is closed it's just a mere 25 x 15 x 2.6 inches.
The other major change is the addition of a third LED strip to create what the company refers to as a triple LED lighting system.
This essentially gives you a brighter and much more effective lighting solution for your subjects. A diffuser cover has been installed to house the LEDs and give the light produced a more professional look.
The dimming controller helps you to adjust the light levels more precisely than ever before, which is a huge benefit over many of the other light boxes on the market today.
But… just because the third edition is bigger and better – it is not completely necessary for someone to buy if it is outside their budget.
With that said, our advice would be to get as big a Foldio as you can afford. The more space you have to play around with the lighting setup and positioning of the items your photographing, the better your end results will be.
New Accessories and Additional Products Available!
If you think that's all Orange Monkie had to offer you and your attempts to take better pictures, you would be wrong.
In our Foldio3 review we wanted to highlight some of the ingenious accessories you can buy to further enhance the Foldio photography experience.
The Halo Bar – A Lighting System To Further Enhance The Foldio3 Experience
The Halo Bar is a lighting accessory that consists of magnets designed to work in conjunction with the 2nd edition. It can be attached to the bottom or the side of the Foldio3 and adds extra definition and clarity to your pictures by flooding additional light onto the subjects.
The lighting can be controlled and dimmed via the main light dimmer and can either be used in conjunction with the Foldio3 lighting system or on its own to produce dramatically different atmospheres for your images.
Foldio360 – The Smart Platform For 360 Degree Images Of Your Subjects
Orange Monkie, with every new release from the company, keep on pushing things forward and opening a whole world of opportunity for great shots to both professional and amateur photographers.
Created to work in conjunction with their light box, the Foldio360 is a smart 360 turntable that measures 10 x 10 x 1.7 inches and is made from white durable plastic.
Essentially it is a smart platform for you to place items and take 360 degrees photography shots with ease, using the specially created Foldio360 app through your smartphone. It also features a Halo-Edge light system which helps give light directly behind the subject from the edge of the turntable.
In addition to the three different light boxes, the Halo Bar and the Foldio360; you can also purchase a wide range of extras including additional backdrops, additional LED and Halo Bar kits.
In order to properly review the Foldio3 Photography Light Box in the best way, it makes sense to take each version individually and look at the main features and the things that make them stand out from the others. This should help you to decide which one, if any, is best for you and your specific photography needs.
Check for Black Friday Deals on Amazon >
(don't worry, button opens a new tab)
Looking At Different Sized Models? Here's What You Need To Know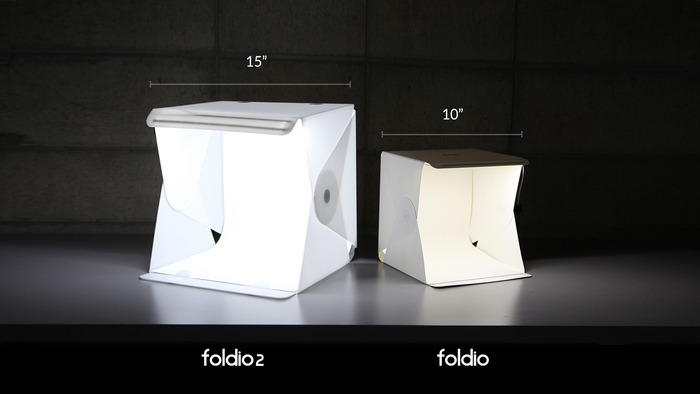 Foldio Revews – Sometimes Size Really Does Matter
What You Actually Get In The Box
You get a box that contains everything you need to get started, including:
The foldable photography light box
LED Light Strips x 2
USB Cables x 2
Matte Foam Backdrops x 4 (Green, Black, Gray and White)
Instruction manual
White carry pouch to hold everything in
The Lowdown on the Foldio 1
This is the original and actually the smallest of the three available Orange Monkie light boxes, measuring at 10.2 by 10.2 by 10.2 inches when opened and 10.2 x 10.2 x 0.6 inches when closed.
Once it is out of the box, you simply snap each section into place and it is more or less ready to go. The material the Foldio is made from is a very durable, white plastic sheeting. The LEDs are powered via the USB cables and produce daylight white colored light with a temperature of 5,700 Kelvin (Learn more about LED color temperatures).
You then are able to place items within the box and start snapping small projects or items that you need pictures of. The backdrops are perfect for helping you choose the best way to really make your subject matter sing.
As if all that wasn't enough, Orange Monkie have even devised an app that is completely free and aims to help you to maximize the use of your light studio.
When you are finished using the portable studio, it simply unfolds again into a compact package that is small enough to carry.
Foldio2 – A Little Bigger…
What You Actually Get In The Box
When you opt for the Foldio2, you get a box that contains everything you need to get started, including:
The light box with carry handle
LED Light Strips x 2 (with Dimmers)
Matte Foam Backdrops x 4 (Green, Black, Gray and White)
Holder for Backdrops
Adapter Kit to enable use wherever you are – EU, AU, UK and US
Pouch for Adapter Kit
Instruction manual
The Lowdown
The Foldio2 as you'd imagine differs somewhat from the first edition. For one thing, it's bigger measuring at 15 x 15 x 15 inches when opened and 15 by 15 by 1 inches when closed.
Another major change is with the 2 LED strips and how they are powered. Whereas in the first model, they were powered by USB connections, these are powered by 9 volt power adapter, that Orange Monkie have painstakingly ensured will work virtually anywhere with the international adapter kit that is included in the package. Each LED with this model comes with dimmer devices that enables you to adjust the brightness of your images.
Nothing has been altered in the way the foldable box assembles compared to it's smaller brother and it is still made from the same white plastic sheeting with magnets.
Rather than being an upgrade, the Foldio2 is more of an upgrade for those who perhaps have a bigger budget and need a bigger light box for larger items that would not fit in the 10 inch original.
So, Is The Foldio Photography Light Box Studio Really As Good As It Sounds?
If you put all the hype generated by Orange Monkie and their success through Kickstarter, the glowing reviews on their products is that they are practical, functional and just about do everything they promise.
Here are just some of the images we took whilst reviewing the Foldio 3 hands on.
Of course, just buying a light box won't completely transform your product photography overnight, so be sure to check out our top tips for professional product photography guide.
Acclaim in the Media and From Customers
Orange Monkie have been featured on reputable sites such as Mashable, Digital Trends, Tech Insider, GetNavi, Yanko Design and Taxi. The Foldio range have also received generally favorable reviews from impartial online customers. If you are still in doubt or need further convincing, it makes sense that you should take a look at some of those other reviews out there.
In Conclusion – The Choice Is Yours
If you are ready to take the plunge and improve how crisp, clean and professional your online store or blog images look – we feel compared to the alternatives out there; the Foldio, be it the 1, 2 or 3 with the Foldio360 that you choose is miles ahead of the rest of the pack.
Although there is a very wise saying that suggests 'if something seems too good to be true, it probably is'; we might be tempted to say that with Orange Monkie and their amazing portable studio light boxes, are one of the very few exceptions.
Check for Black Friday Deals on Amazon >
(don't worry, button opens a new tab)