Lighting is sometimes the overlooked element in home interior design. All too often the emphasis is placed on the décor and the space, yet lighting can be the one element that makes all the difference.
Well planned out home lighting design and lighting arrangements bring out the very best in a room and can give a much more comfortable overall feel to the environment.
Lighting need not be expensive – we'll talk about the savings you can make with modern LED light bulbs within the article – and light fittings are plentiful and varied in design.
Remember, you may need to engage the services of an electrician if the lights you are installing require fixing into the mains, so make sure that is budgeted into your costs.
7 Tips for Interior Lighting Design (+ Some Inspiration)
We've got 7 great home interior lighting tips that don't cost a lot and will give your home that cozy feel, so let's have a look at these great lighting design ideas to help transform your home.
Tip #1: Fit a Centrepiece Light
Our first tip on this list of lighting design ideas is that you fit an impressive central light fitting. It depends upon your choice of décor what this may be.
For a traditional, larger room, perhaps a stylish chandelier fitted with LED candelabra bulbs, or for a modern room, there are many different types of light fittings that you can choose from.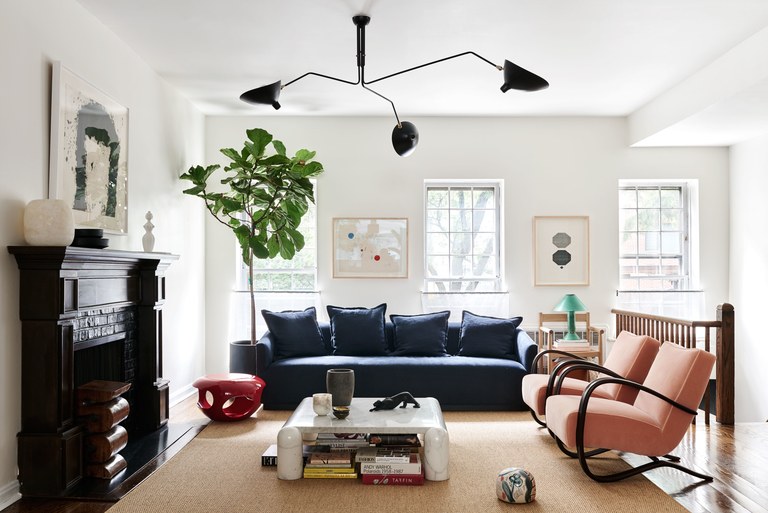 If you're thinking of buying a modern chandelier, LED candelabra bulbs can provide a super cosy feel when combined with a dimmer switch, which can give your room the mood you want, when you want it, especially with other light sources involved. Which brings us to another home lighting design…
Tip #2: The Beauty of Wall Lights
The advantage of extra lights on walls is that you can angle the light that illuminates the room easily, and from different directions.
Wall lights are very useful for when you need a low level of light, and perhaps do not want a central, bright illumination that will envelop the entire room.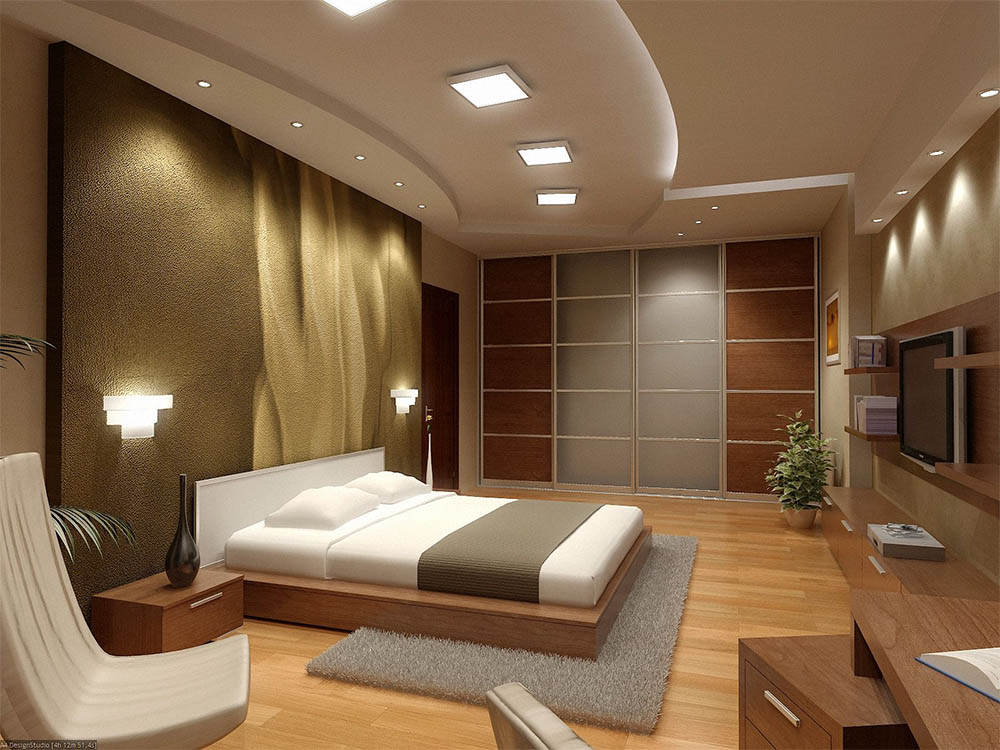 You will find there are most likely matching wall lights for your centerpiece too, so you can have the full ensemble. You may need an electrician for these if you don't want ugly cables in view though.
Tip #3: Illuminated Art is a Talking Point
Pictures, ornaments, and statues may all benefit from being lit are a starting point when looking for lighting design ideas. You can buy small light fittings to hang over pictures, which can handily illuminate them with a low-level light source from above. Just look at how this home lighting design brings these features to life.
An important point to consider, many wall lights will need to be wired to your mains circuit will need a qualified person to deal with, and may not be suitable for DIY.
Tip #4: Strategic Tall Lamps
Here's an idea for if you don't want – or haven't got – a central ceiling light: you can buy tall standing lamps with a curved arm that hang a light high in the room. These are very effective and make for an interesting focal point, too.
Another advantage of this type of lighting designs is that it will simply plug into your wall socket; there is no need for electrical work and no extra expense. These lamps are available from a variety of manufacturers and suppliers and are very popular with people in more modern homes.
#Tip 5: Install Mood Lighting
Fitting some dimmer lights with subtle colors can have a huge impact on a room, both in the warmer seasons and colder ones. This can be achieved with smart LED bulbs such as the Philips Hue range, or with cheaper and fixed color bulbs.
If you're looking for mood lighting for the bedroom, we recommend investing in an LED night light. These are great for kids who have trouble sleeping, and also adults who wake up a lot in the night.
With so many different and chic designs currently on the market, there's something for everyone and they also make a great choice of mood lighting.
When using colored lights in interior design it's important to not overdo it, a brightly colored red-lit room will likely end up looking tacky, not cozy.
Choose your colors wisely and use them sparingly to highly features of the room, not brighten the entire room. An easy to install and cheap solution for mood lighting is under cabinet lighting which can be fitted in the kitchen, or anywhere in the house.
Budget tip: If your budget is tight, you can use LED rope lights for a similar effect. Here's some rope light ideas and inspiration for you to take a look at.
#Tip 6: Fit Contemporary Sculptural Sconces
The great thing about modern lighting designs is that there is so much in the way of choice. Take sculptural wall sconces; these are superbly modern and very stylish, and you can use them as uplighters or as standard wall lights.
They also free up table space, and make for a nice addition to a corner, for example, that may be looking a bit lonely and forlorn.
Corners of the room tend to be forgotten when it comes to lighting design, yet with a bit of thought and a stylish sconce, you can bring a dull corner to life very easily.
#Tip 7: Use Natural Light
While we're concentrating on your light fittings and the type of bulb you should use, it's all too easy to forget about natural light. Windows are a wonderful feature in any room, and if dressed effectively will channel natural sunlight and that from outdoors during the day.
You can complement natural light with your lamps and bulbs, as it may not always be as effective as you need it to be, and create a warm and constant glow that will be the heart of the room.
The Rest of the House
We've covered the living room in regards to lighting designs, but what about the rest of the house?
You want that cozy and warm light in all your rooms, and it can be done. In the kitchen, for example, you can fit LED lights under your cabinets or in the ceiling, and they will provide a nice illumination for when you are cooking, eating or simply chilling.
The bathroom is a place that is somewhat overlooked for lighting, but there are plenty of excellent bathroom lights that can add to the ambience. As for the bedroom, many of the ideas we have suggested for the living room also apply, so you can try them there, too.
What about your office? If you work at home you'll need a suitable LED desk lamp for your workspace. Even if you don't have a desk, perhaps you have a reading space or just need some light on your bedside table. With many modern LED lights available on the market these days, there are table lights to suit every home.
Getting the right lighting effect is about utilising the many different types of light fittings available and designing it to fit the room. With the likes of table and standing lights, you can move them around to achieve the result you need, too.
Some Benefits of LED Lights
Lighting has come a long way in the past couple of decades, and perhaps the most impressive developments have been in the area of LED lights. LED bulbs are available to fit many different types of light fittings, and they have a number of advantages over other types of light bulb.
LED lights use a very small amount of power compared to standard incandescent bulbs, so you will save money on the electricity bill, plus they last a long time too. They can be found in a full range of output levels plus give off a very warm and cozy light – just the sort you are looking for!
We hope we have given you some worthwhile lighting design ideas about how to light your living room and home to the best effect.