| | |
| --- | --- |
| Brand | Philips |
| Model Number | 12342XVS2 |
| Bulb Type | Halogen |
| Fitting | Available as H4 & H7 Headlight Bulbs |
| Color Temperature | 3400 kelvins |
| Brightness | 1500 Lumens |
| Lifespan | 400 to 450 Hours |
Although LED headlights are very much the most popular these days, traditional halogen bulbs are stull widely fitted and still offer superb performance as far as headlights go. The best halogen headlight bulbs can push their weight around when it comes to a battle of Halogen vs LED bulbs.
If you're still on the fence on whether to go for Halogen headlights or LED headlights, I hope this post can show you that halogen is not to be overlooked and is still a huge contender in the headlights market.
Check for Black Friday Deals on Amazon >
(don't worry, button opens a new tab)
Introducing the Philips X-Treme Vision Headlights
The Philips X-Treme Vision Headlights +130% are very popular with drivers (so are the Philips X-Treme Vision fog lights), offering as much as 130% more light to illuminate the road ahead than other bulbs available at a similar price and in a similar class.
They are also fairly easy to install, so you won't necessarily have to take them to the local garage to have the replacement bulbs set into place.
Features of The Philips X-Treme Vision LED Headlights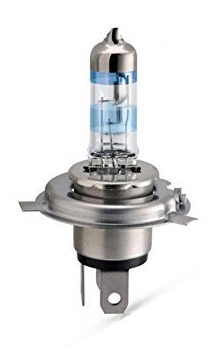 The lifespan of headlights should always be at the top or close to the top of the list of things you need to think about when buying. While LED lights are known to have far longer lifespans, these Philip X-Treme headlights +130 have a longer lifespan than the average halogen bulb.
Obviously, it depends greatly on how often they are used and if they are treated with the consideration, love and care they deserve, but as stated by Philips, these can last between 400 and 450 hours.
As well as the lifespan and price tag, another area where these Philips headlights outperform other similarly priced halogen and even LED options is the actual light color. 3400 kelvins may not sound particularly spectacular, but this color temperature produces a beam that is better able to assist you in focusing on the road ahead more comfortably so that driving at night as just as easy as it is during the daylight hours.
Going hand in hand with the perfect color temperature is the fact that this model generates light that is much brighter than it has ever been before from this range. It is hard to beat the brightness and not only that, the length of that bright and nicely colored beam of around 130-meters.
If you are concerned that this all sounds too good and are wondering are these headlights legal? We can assure you they are.
How Much Do These Halogen Headlights Cost?
Although cost should never be the main thing you focus on, it should be considered somewhere in your decision-making process. When looking at this particular model from the Philips X-Treme Vision range, you may be surprised to learn that they are very well priced when you take into account the light color, brightness, beam length, and lifespan.
Compared to others on the market that don't even offer the same in features, this is a winner. As a way of putting its money where its mouth is, Philips has also ensured that this headlight has a guarantee of 24 months from the date you buy it.
The Possible Downsides
No product is completely perfect, so obviously, as good as the Philips X-Treme Vision Headlight +130 is, it does have some downsides. Perhaps the main downside of this bulb is the fact that it is a halogen bulb.
If you are really desperate to jump the LED bandwagon, then you will undoubtedly look elsewhere. But, if you are inclined to drive at night regularly, whether it's for work or just general driving, then you should find these headlights to be much easier on your eye.
They are also not the most robust lightbulbs you will find on the market, so whenever you are handling them (during installation and any maintenance you need to carry out), you need to be especially careful as the oils from your fingers could damage them.
Philips X-Treme Vision Headlights Review Summary
Whether these are th best headlights for you boils down to what you need and whether the potential downsides outweigh the many positives we have highlighted. Considering the price and the fact that they're manufactured by such a reputable company, if you invest in the Philips X-Treme Vision Headlights +130, you won't be disappointed.
If you're still on the fence, watch this road test on Youtube
The Philips Vision X-Treme range of headlights have become very popular over the last few years, thanks to the fact that they are relatively low priced while
offering a higher level of performance than others
.
Check for Black Friday Deals on Amazon >
(don't worry, button opens a new tab)
About Philips Headlights – The Brand
Kononklijke Philips NV (Translated as Imperial Philips) is the official and full business name for Philips and is a Dutch company that we are sure everyone has heard of. It is based in Amsterdam and has several essential divisions of its business focused on various fields and sectors, such as human services, hardware, and of course, lighting.
A long-running operation, Philips was first established in 1891 by a man called Gerard Philips and his father, Frederik. It now is one of, if not the, biggest hardware manufacturers and suppliers in the world and employs over 105,000 people in over 60 different countries.
It has been reported that in 2012, the company was the biggest manufacturer of lighting and despite being sold to Funai Electric Co., a Japanese company, that arrangement was severed and it remains under the name Philips.
Check for Black Friday Deals on Amazon >
(don't worry, button opens a new tab)