Get the most out of your pond by adding either downlighting or submersible lights so that you can enjoy your pond at night, as well. Of course, finding a suitable light for a water feature is very different from finding the best lights for aquarium lighting.
You have to keep in mind how waterproof the lighting fixture is, the possibility of moss and algae and how the light reflects in the water. To help you out, we've made a comparison of the most commonly used types pond lights; pond downlighting vs submersible lights.
We look at the pros and cons of both and help you find the best pond lighting for your garden.
Submersible Pond Lights vs Downlights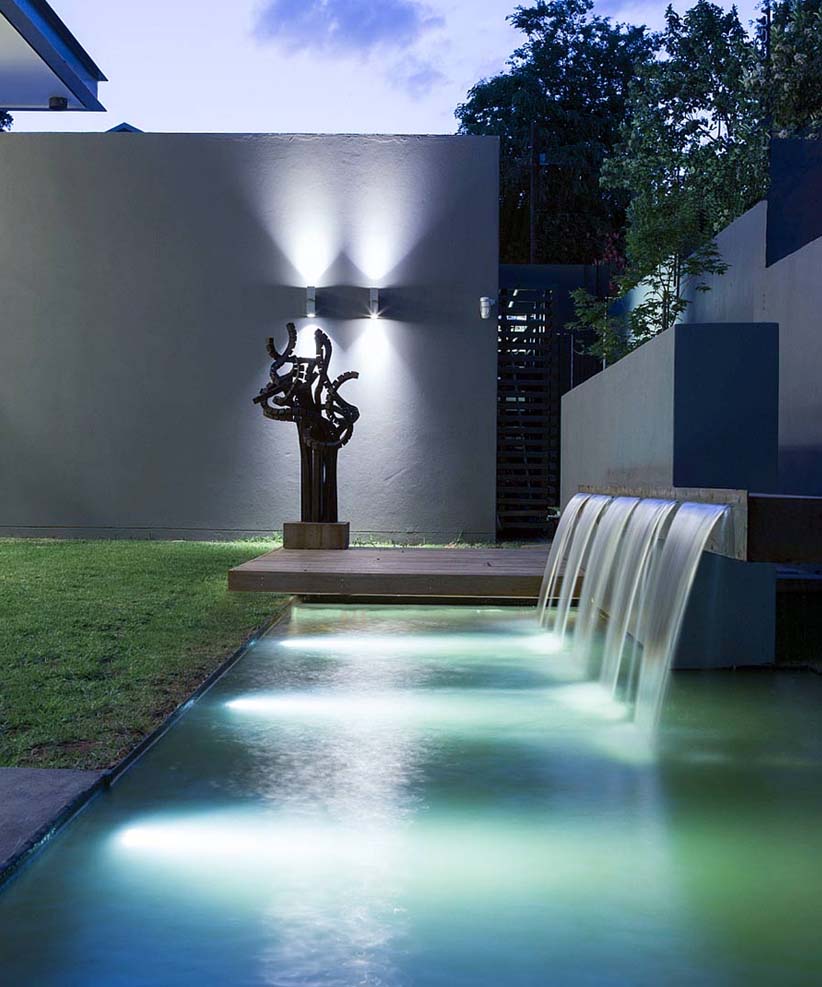 Pond downlighting is nestled on the edge of the pond or on the features surrounding the pond. It is not placed inside the water but emits lights towards the water surface from a higher angle.
Submersible pond lights are placed inside the pond, either on its sides or on the bottom. The emitted light faces upward towards the water surface so the light comes from within the pond.
The angle of the lighting is the main aesthetic difference between pond downlights and submersible lights. Where the light is coming from affects how the light is reflected.
Pond downlights seem more natural at night while a submersible light creates an interesting sight, especially when different lighting colors are used.
Another difference between pond downlights and submersible lights is the maintenance.
Submersible pond lights are not waterproof so depending on the water quality of you pond you may to replace them because of algae or moss buildup inside the lighting fixture.
Since downlights are placed outside of the water you don't have the issue of algae. However, you do need to make sure that the downlights are safe from curious animals and the weather conditions, depending on its weather-resistance.
What Is a Pond Downlight?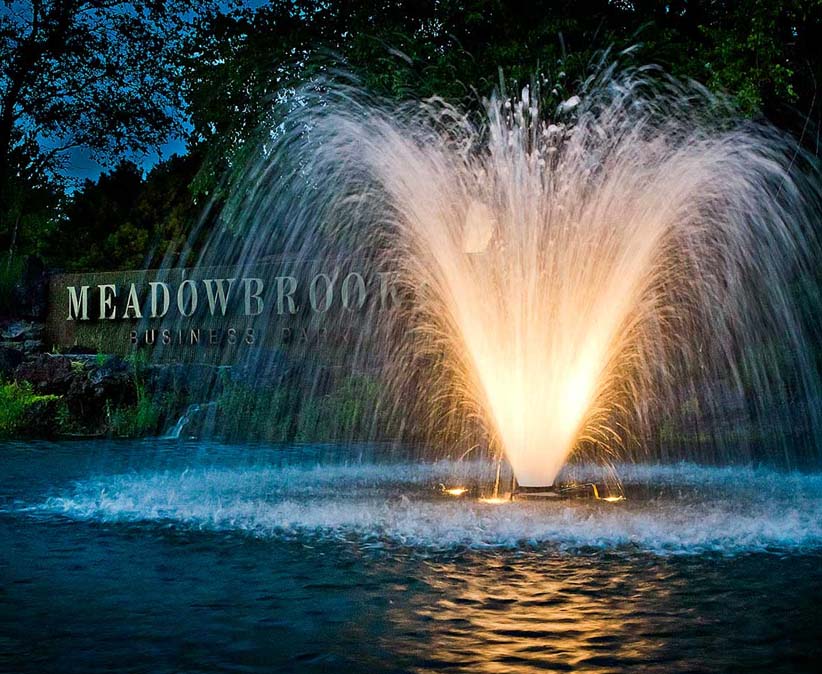 A downlight is a lighting fixture that nestled inside a surface like a ceiling, wall or floorboard, etc. Only the light emitting part of the lighting fixture is exposed which makes it look like part of the surface.
There are two main types of downlighting. These are fixed downlights and surface mounted downlights.
Fixed downlights are also called recessed downlights because of their placement. They are commonly used in ceiling boards because there is a space inside the ceiling for larger lighting fixtures.
There must be a hole in the surface to install a recessed downlight so it is not possible in all surfaces.
Surface mounted downlights are flat and lay on top of a surface. This means that you do not need to drill a hole to install them.
What Is a Submersible Light?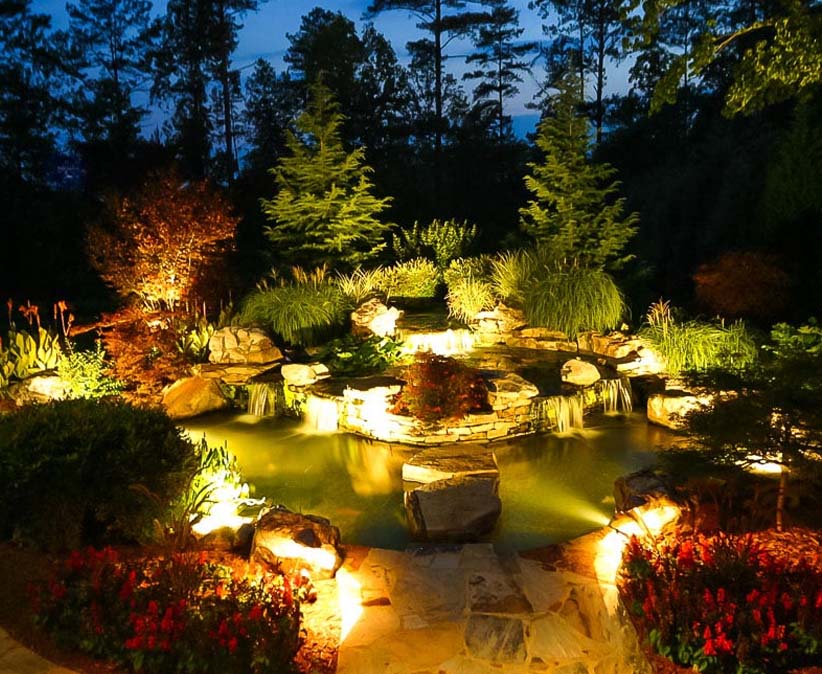 The name already suggests it – a submersible light can be placed underwater. Submersible lights are commonly used inside swimming pools, under waterfalls and of course, ponds.
However, just because it is safe for the light to be underwater, submersible lights are not completely waterproof. This means that there can be water buildup inside the lighting fixture over time.
There are many safe options to power a submersible light. Most types come with a special power cord that you can plug into a regular home outlet.
Here's our 3 top picks for submersible lighting if you're still shopping:
OUR #1 PICK
COODIA Solar Powered LED Pond Lights
Solar Powered
3 Spotlights
Color Changing
Easy to Install
Check Amazon →
Read our review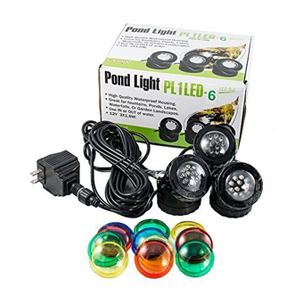 PROFESSIONAL
Jebao Pond Lighting with Color Filters
Electric-Corded
3 Lights
Colored Lenses
High-Quality
Check Amazon →
Read our review
CHEAPEST
MUCH Underwater Pond Lighting Spotlights
Electric-corded
7 Lighting Patterns
Sold Individually
Affordable
Check Amazon →
Read our review
The most popular kind of submersible lights uses LED technology. This is so that the lights don't need to be replaced for a very long time and because LED lights are unlikely to overheat.
Advantages & Disadvantages of LED Pond Downlights
The upside of using LED pond downlights is that you do not need to worry about the lens becoming dull and algae building up inside. This makes the maintenance after the lights have been installed easier.
Also, downlights have greater reach than submersible pond lights so you can use the same lights to light up other landscape features surrounding the pond.
This gives you more creative possibilities.
Advantages & Disadvantages of LED Submersible Lights
LED submersible lights create a fun play of light under the surface. However, they require more maintenance and not all are not completely waterproof.
Another disadvantage of submersible light is that they don't only make the pond clearer to see but also everything else that is floating inside it. In other words, if you have a dirty pond, a submersible light only makes it clearer that the pond is dirty.
It is better to choose LED submersible lights for moving water features like a fountain or waterfall.
The different lighting angle makes moving water more visible than it would with a pond downlight.
Tips for Pond Lighting

The lighting arrangement for a pond is very different from fitting aquarium lights where you have to take into account the species of plants and fish.
Water creates a whole other playing field so you need to rethink how the light creates brightness and shadows.
Here are a few of our tips on how best to place pond lighting, whether it is a LED pond downlight or a LED submersible light.
These tips will help prevent you from making the most common pond lighting mistakes.
Only use LED submersible light in well-maintained clean water to avoid it looking dirty.
Create a balanced light distribution, using several soft lights, for a more natural feel.
Avoid 'hot spots' which are glaring when you are viewing the pond and make an unnatural focused light on the water. This is a matter of correct angling of the lights which takes practice and skill to master.
Don't use too bright lighting or too many lights. It should remain a calming view at night so the more natural the lighting the better.
To conclude, a mix of LED pond downlights and LED submersible lights will probably create the prettiest night view of your pond. However, the lighting placement is key so take your time in planning where each one goes.
Pond lighting should look serene which means a soft and balanced arrangement.