An A-Series light bulb is the traditional pear-shape with either a bayonet twist base or Edison screw base. For a long time this was the lighting industry's standard and the most commonly used light bulb type for households.
How to Understand the Codes
With the A type light bulb, there are two codes that you should understand about its size. These are the socket type and the width.
The most common socket is the Edison screw base which you can recognize by the E-numbers. The number behind the E refers to the diameter of the base in millimeters so an E26 base means that it is 26 millimeters wide.
The most common Edison bases are E26 and E27. The E26 is used for a voltage of 100 – 120 volts and the E27 is used for a voltage of 220 – 240 volts.
The other code refers to the size of the spherical top. This is denoted by an A-number like A19 or A80, for example.
This is a number where you have to pay attention to the geographical location because there is a difference between countries using the metric system like most of Europe and countries using the imperial system like the United Kingdom and USA.
Where the metric system is used, the number behind the A is the size in millimeters. So an A50 light bulb has a maximum width of 50 millimeters.
Where people use the imperial system, the A-number refers to eights of an inch. An A19 light bulb is 19/8 inches wide which is 2 and 3/8 inches at its broadest point.
Best A Series LED Light Bulbs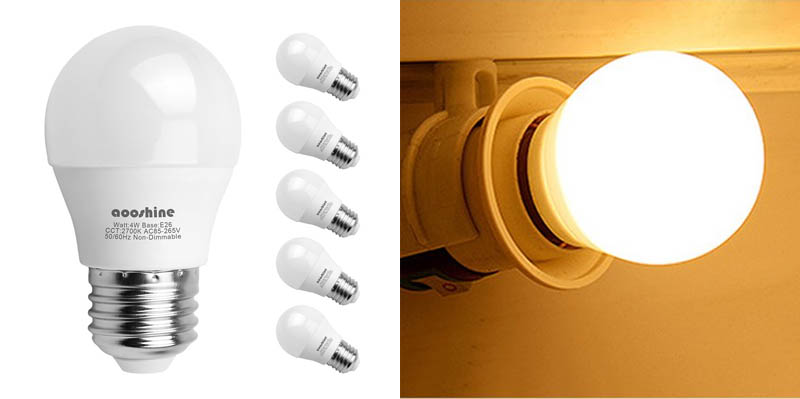 These 4-watt simple globe light bulbs are a versatile purchase for your household because they are suitable for a wide range of voltages; anywhere between 85 – 265 volts. They have a standard E26 base which should fit the basic wiring in most homes and most types of lamps.
The color temperature is 2700 kelvin which gives off a soft white glow that is comfortable and cozy without being too yellow. Color rendering is also good with this product since it has a CRi of above 80 which is the best for showing true colors.
Check for Black Friday Deals on Amazon >
(don't worry, button opens a new tab)
On top of that, these are high quality LEDs that cause no glare, flickering nor annoying buzzing. LEDs are known for having a long lifespan and for their substantial savings and that is no different with this product since the manufacturer promises a working time of over 30,000 hours, even with a 3-year warranty.
| | |
| --- | --- |
| Size | A15 |
| Base | E26 |
| Wattage | 4 |
| Color Temperature | 2700 kelvin |
| Brightness | 400 lumen |
| Dimmable | No |
| Lifespan | 30,000 hours |
The e-commerce giant has its own line of products such as this household staple, a dimmable LED light bulb. This product is available in packs of 2, 6 and 16 so you can order in bulk to always have a stock in the home.
These dimmable light bulbs are extremely bright at its highest setting reaching a maximum of 800 lumen. The color temperature is 5000 kelvin which is equivalent to daylight and so also the most natural illumination.
Check for Black Friday Deals on Amazon >
(don't worry, button opens a new tab)
This is a great choice for saving on your energy bills since each version has a low wattage but with the same brightness as the less energy-efficient incandescent lights. Upgrade the lighting in your home with LEDs that don't flicker and produce a natural source of lighting even after the sun goes down.
| | |
| --- | --- |
| Size | A19 |
| Base | E26 |
| Wattage | 10.5 |
| Color Temperature | 5000 kelvin |
| Brightness | 800 lumen |
| Dimmable | Yes |
| Lifespan | 15,000 hours |
Do you pay attention to even the finest detail when it comes to interior design? Then this LED with the exposed filament is cool new addition to your home's lighting.
This fun combination of industrial design and modern simplicity gives each room a soft warm white glow at 2700 kelvin. They look great in a large living room chandelier or exposed light bulb overhead lighting but are also comfortable enough for an office desk table lamp.
Check for Black Friday Deals on Amazon >
(don't worry, button opens a new tab)
The glass is clear so you can catch a glimmer of the unique filament, even when the lights are turned on. This is an unexpected design detail that upgrades your interior on a very tight budget.
| | |
| --- | --- |
| Size | A19 |
| Base | E26 |
| Wattage | 6 |
| Color Temperature | 2700 kelvin |
| Brightness | 750 – 800 lumen |
| Dimmable | No |
| Lifespan | 20,000 hours |