Having an external flash (or Speedlight in Nikon jargon) for indoor photography lets you have more control over the lighting in the room. The question is how much control you want as this will impact the budget for your Nikon external flash.
Here, we have assembled the top 5 best flash for Nikon DSLR cameras. This list includes Nikon's own brand 'Speedlights' but also a few alternatives from different brands for when you are looking for a low budget option.
Don't have time to read the full review? Don't worry! Here are the 3 best Flash for Nikon cameras;
Note: Best Speedlight for Nikon vs. Universal Flash Models
An important consideration to make is whether you want to stick to Nikon for your camera accessories or are comfortable with using different brands together. An argument can be made for both sides when looking for a Nikon external flash.
Using only Nikon accessories for your Nikon DSLR will ensure that both systems correspond well to each other. Often, you will also be able to use additional features and technologies when you combine a Nikon Speedlight with a Nikon DSLR camera.
On the other hand, there are more affordable Nikon external flash options available on the market. There are manufacturers that build universal flashes for cameras and some of these are very decent.
If you are not a professional photographer but would still like to dabble with external flashes alongside you're regular studio lighting such as photography umbrella lighting, then go ahead and look into the more affordable brands. Though they may not have the same seamless communication between devices, there are still interesting functions to play with.
The best flash for Nikon DSLR cameras is by far the SB-5000. This top of the line external flash is completely decked out making it worth the investment.
What sets the SB-5000 apart from other models (by miles) is the hot shoe-mounted cooling system that lets you take up to 100 consecutive shots at full output. Where other flashes will slow you down because of the recycling rate, you won't miss any of the action using this Nikon DSLR flash.
Of course, the best Speedlight for Nikon comes with a master and slave function. The SB-5000 can be used to build a wireless radio controlled communication system with up to 6 different flashes spread nearly 100 feet apart.
The SB-5000 has wide coverage with a 180° rotation and tilt of -7° to 90° with a zoom span of 24 – 200 mm. The Speedlight is also compatible with the Nikon i-TTL so you can be assured that the exposure is spot on every time.
Programme your settings using the intuitive LCD screen or when using the flash in radio mode, access the settings through the paired camera.
The SB-5000 has enough functions and features to write a complete product review for on its own. This Nikon Speedlight deserves to be in very capable hands or it will not reach its full potential, it should also be combined with a photography lighting softbox to give you maximum flexibility with your shots.
| | |
| --- | --- |
| GUIDE NO. | 113 feet at ISO 100 |
| CONNECTION TYPE | Hot shoe, cord and wireless |
| TTL / MANUAL CONTROL | TTL and manual |
Read Recent Customer Reviews on Amazon.com →
(don't worry, button opens a new tab)
Pros
Hot shoe-mounted cooling system for extremely fast recycling time
Lots of accessories included in the package
Radio Control Advanced Wireless Lighting for an extensive circuit
Intuitive LCD screen
Cons
Buying this product is an investment
System updates needed for flawless execution
Following hot on the heels in second place for the best flash for Nikon cameras is the Nikon SB-700 Speedlight. Though this is the mid-range partner to the SB-5000, the Nikon SB-700 still shares some similar functions.
Like the top external flash model, the mid-range Nikon Speedlight can work as both a master and a slave flash. The Nikon SB-700 has a wireless control too allowing you to create a circuit of flashes.
Another similarity is the i-TTL function. This Nikon specific technology causes the flash to read the lighting in the room and adjust accordingly – making your job as the photographer easier.
The Nikon SB-700 has a zoom capacity of 24 – 120 mm, tilt of -7° to 90° and a 360° rotation (double the rotation of the SB-5000).
Though the mid-range model does not have the hot shoe-mounted cooling system, the SB-700 does make sure that your flash won't burn with the Flash Tube Overheat Protection. This technology helps to reduce the recycle time so you won't have to wait as long as with the budget flash models.
Although this can be considered the mid-range model, you are not paying for the brand alone, you are also paying for its features. The Nikon SB-700 is still a good recommendation for professional photographers.
| | |
| --- | --- |
| GUIDE NO. | 92 feet at ISO 100 |
| CONNECTION TYPE | Hot shoe and wireless |
| TTL / MANUAL CONTROL | TTL and manual |
Read Recent Customer Reviews on Amazon.com →
(don't worry, button opens a new tab)
Pros
A lot of creative control for a mid-range price
Intuitive controls
Lightweight
Long battery life
Cons
Slowing down due to overheating
Recycle time of 2.5 seconds might be too slow for action photography
The entry-level branded external flash is the Nikon SB-300 AF Speedlight Flash. Still meant for capable hands, this model is perhaps the best option for serious hobbyists.
The Nikon SB-300 is a well-designed introduction to working with a flash for indoor photography. Still featuring the Nikon i-TTL, this speedlight gives your composition better-balanced coloring and compensation for shadows and reflected light.
There is no LCD screen but with fewer functionalities compared to the SB-5000 and SB-700, you won't miss the screen either. Instead, the SB-300 comes with a simple on/off dial and manual control for the 120° tilt.
Pairing a Nikon designed external flash will always give you better results than pairing your Nikon camera with another brand's version because of the synchronization of same brand products.
If you are looking for the best flash for Nikon cameras on a budget and don't want to venture into different brands then the Nikon SB-300 is the best choice.
| | |
| --- | --- |
| GUIDE NO. | 59 feet at ISO 100 |
| CONNECTION TYPE | Hot shoe and wireless |
| TTL / MANUAL CONTROL | TTL and manual |
Read Recent Customer Reviews on Amazon.com →
(don't worry, button opens a new tab)
Pros
i-TTL compatible
Entry level price for a Nikon brand speedlight
Fits easily into carry bag as head faces up
Lightweight and compact design
Cons
Limited tilt
Low guide number compared to other flash models
Limited control compared to higher end Nikon speedlights
No LCD screen
Below are two very respectable non-Nikon external flashes. They are a great option for occasional hobbyist and people that are new to indoor photography.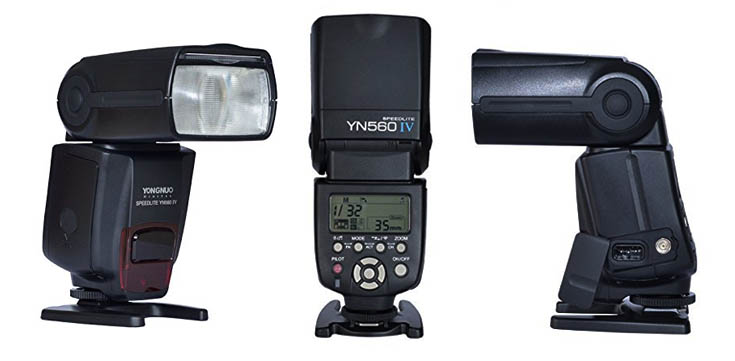 It is rare to find the best flash for Nikon and DSLR cameras on a budget that can be used as both a master and slave external flash. Somehow, Yongnuo has managed to do so with the YN560 IV Wireless Flash.
You can build a wireless flash circuit with this budget flash alternative for Nikon cameras. Though not as seamless as with a flash for Nikon, putting the system together is still a fun way to experiment with lighting.
The Yongnuo YN560 has a decent recycle time for its price point. For an external flash that is far below $100, you can't help but be impressed with its speed.
Other things to note are its decent basic features; 270° rotation, -7° – 90° tilt and up to 105 mm zoom. The range may not be as wide as the Nikon DSLR flash models but are still good enough for creating pretty and balanced indoor photographs.
If you are only recently venturing into indoor photography and have never used an external flash before, this Yongnuo model offers you an affordable chance to practice. It might just help you decide whether indoor photography is your new passion project or not.
| | |
| --- | --- |
| GUIDE NO. | 190 feet at ISO 100 |
| CONNECTION TYPE | Hot shoe and wireless |
| TTL / MANUAL CONTROL | manual |
Read Recent Customer Reviews on Amazon.com →
(don't worry, button opens a new tab)
Pros
A budget option that is still capable of master and slave functions
Decent horizontal rotation
Able to programme different settings for each flash in a circuit
Cons
Common glitch of being stuck at full power
Not compatible with Nikon i-TTL technology
Limited instructions so needs practice through trial and error
Another non-Nikon contender for the best flash for Nikon cameras on a budget is the Neewer TT560 Flash Speedlite. Neewer is known for its respectable low budget external flash options with the TT560 model being one of its best.
The Neewer TT560 is a very basic external flash for DSLR cameras. You won't find the best features of the higher end models but it does its job in balancing out lighting and filling in shadows.
You cannot use the Nikon i-TTL technology in combination with this hot shoe mounted flash but the TT560 Flash Speedlite does have a specific button that lets the flash test the lighting in the room and adjusts accordingly.
This external flash is only capable of a positive tilt of up to 90° while still having a good horizontal rotation of 270°. The other settings are controlled by a simple button console.
The Neewer TT560 Flash Speedlite really is quite basic for a flash. If you are new to photography and want to experiment, then this is an easy entry-level and cheap Nikon flash to use.
| | |
| --- | --- |
| GUIDE NO. | 125 feet at ISO 100 |
| CONNECTION TYPE | Hot shoe |
| TTL / MANUAL CONTROL | manual |
Read Recent Customer Reviews on Amazon.com →
(don't worry, button opens a new tab)
Pros
Good battery life
Decent recycle time, especially at lower power
Very cheap for a flash
Sturdy build
Cons
No wireless connection option
No battery life indicator
No LCD screen
DSLR Camera Flash Buying Guide
There are a few basic things to note when you are deciding which is the best flash for Nikon camera, what works best with your DSLR and meets your photography requirements.
These are the guide number, connection type, whether it is compatible with the Nikon i-TTL or is only a manual and how flexible the head is.
Guide number
Usually given in meters or feet, the Guide number shows how powerful the flash is. Be careful to compare the correct figures between different flash models by comparing with the same ISO.
Connection type
This simply refers to how the flash is connected with the camera and other flashes. Usually, the connection type will either be a hot shoe, meaning it sits on top of the camera or it will have wireless.
TTL / Manual
Budget external flashes will only have a manual function, while the best Speedlights for Nikon cameras are compatible with its i-TTL feature. TTL is similar to the smart-mode of basic digital cameras that reads the composition and adjusts its settings accordingly.
Tilt
Indicates the vertical movement of the head. A downward tilt is measured in negative degrees while an upward tilt is measured in positive degrees.
Rotation
Indicates the horizontal movement of the head. The horizontal and vertical angles of the flash are what lets you control the bounce of light.
Other Considerations
Other than these basic technical details, you should also consider when looking for the best flash for Nikon is how often you need the flash and whether you need extra flash features to enhance your control. These last two considerations will have a big influence on the required budget.
If budget is an important deciding factor than look into brands other than Nikon that produce good universal external flashes for DSLR cameras. You will have to give up many technologies that the Nikon designed accessories have but the other brands will still have the basic functions that you need.
Photography can become an expensive hobby so take the time to think about how important the flash functions are to you. Using a flash can get tedious so unless you are a professional, some of the low budget options might already meet your needs.
If you're looking into external flashes for smaller items, it could be worth checking out some of the best light boxes for product photography as these are much easier to use and typically produce better results (we've also got some top pro tips for using a light box).
On the other hand, if you are a professional photographer, then the added features of the best high-end flash for Nikon cameras cannot be matched.
But the low budget options will not give you the precise control you need to let your creative vision speak through the photo.