Putting together a workshop or garage space can seem like a simple project. However, once you start to gather the components, you soon realize it's a major investment. Regardless of the purpose of the area, you will find that the money and time involved will far exceed your original expectations.
One of the most troublesome parts of putting together a utility space is lighting. You may have found the perfect furniture or decorations, but illumination is the ingredient that brings it all together.
Every garage or workspace needs thoughtfully considered lighting. A workshop or garage needs bright, efficient fixtures to make the most of a space.
Best Linkable LED Shop Lights
Finding the right shop lights is a project in and of itself. The options for linkable, LED shop lights are all over the place. It can be difficult and obnoxious to sift through everything on the market. This list breaks down some of the best choices to be found online.
We've listed every product based on what it is best suited for, rather than from best to worst.
If you're working with a whole lot of space, then it follows that you're going to need a whole lot of light. However, well-made LED shop lights are expensive and most often people try to wring out as much light as possible from a just small bundle of fixtures.
Luckily, BBounder has an incredible deal on a 10 pack of high-quality LED shop lights.
BBounder's package includes 10 individual, 4-foot LED shop lights that produce 4000 lumens. With 5000 kelvins color temperature, the fixatures are equipped with a smooth cover that evenly distributes the light throughout the space.
Check for Black Friday Deals on Amazon >
(don't worry, button opens a new tab)
This makes both the lighting more efficient as well as healthier for the eyes. Combined with around 50,000 hours of light with LEDs, the cost of using them over a long time is minimal.
Each unit comes with two bulbs that are essentially maintenance free once they've been properly installed. With hardy plastic and metal covers and frames, they will be well-protected in even the most active and chaotic of environments.
Even more, Bbounder's 24/7 customer service department is available to handle any problems that might come up.
Additionally, the set comes with chains, V hooks, and ceiling hooks along with a comprehensive installation manual for easy set-up. The units are linkable in groups of 4 or less with a basic 5 f-foot cord.
The BBounder 10-pack's primary strength is that it offers an incredible deal with 10 units for just over $200. The lights are not necessarily the fanciest, brightest, or best designed but the value alone is a reason to buy.
Anyone with large or high-ceilinged space will find the 10-pack to be a lifesaver. You will have every corner illuminated without breaking the bank.
Sometimes you just want to install some lights and not have an entire project on your hands. For those who need simplicity in set-up then Sunco has a superb pack of 6 LED shop lights. The best part of these packages is that it comes with a fantastic comprehensive guide for installation. It makes the entire process quick and easy.
Not only do they include a guide but also all the necessary hardware to either directly mount the lights to the ceiling or to suspend them via hooks and chains. Additionally, the lights can be daisy chained with simple connectors into groups as large as 4 for more customizable possibilities.
Check for Black Friday Deals on Amazon >
(don't worry, button opens a new tab)
Each fixture comes with two long LED bulbs at 40 watts for a temperature of 5000 kelvins and a brightness of 4100 lumens. The lamps themselves are durable with frosted class tubes and protective, hardy fixture frame.
Sunco has a great reputation of green initiatives. Not only does LED last for up to 50,000 hours but their fixtures are also ETL and Energy Star certified.
In addition to green efficiency, Sunco also uses their profits to support charities dedicated to conservation and green practices.
The Sunco Shop Lights may be best considered for their ease of set-up, but their lights also pack a punch with a reduced carbon footprint. They are one of the best options around.
If your budget demands only cheap, bare bones options then you can certainly find that without sacrificing too much on quality. In this regard, Barrina's integrated single fixture is the best choice we could find.
For less than $50, you can have a pack of six lights without any frills that can be immediately installed in a workspace with T5 fittings.
The cheap price means the lights do not come with a protective cover on the fixture nor do they have options in terms of installation.
However, the lights themselves are high quality and, with six in one pack, it is quite the deal. Each light is 20 watts and produces around 2200 lumens with a temperature of 6500 kelvins. That's a lot of light for such a low price.
Check for Black Friday Deals on Amazon >
(don't worry, button opens a new tab)
Moreover, their simplicity in design makes set-up as easy as installing two clips per light and then mounting the fixture. It may lack in options between directly mounting to the ceiling or using hooks and chains, but at least its easy. T
hat said, you can still link these lights in groups as big as 8 fixtures which allows for a ton of flexibility.
Barrina's option may be no frills, but they offer high efficiency, plenty of light, and ease of use. They are the perfect choice for anyone who doesn't want to break the bank just to illuminate a basic garage or needs simple LED work lights.
Even better, they can be a perfect add-on to a more expensive package when you just need a little extra.
Sometimes the ultimate goal is to just bring as much light into a space as possible. For anyone who needs to use their space for detailed work or delicate projects, having a ton of light is essential. ZJOJO's package for linkable LED shop lights is unmatched in terms of pure illumination capabilities.
ZJOJO offers a pack of four double-bulb fixtures that release 5200 lumens at 42 watts. This comes in at an impressive 120 lumens per watt. This high-efficiency results in a vastly reduced electric bill without having to compromise on brightness.
Check for Black Friday Deals on Amazon >
(don't worry, button opens a new tab)
This is in addition to the 5,000 hours of life in each LED bulb. Furthermore, the bulbs are hardy and flicker-free even at negative temperatures.
They are high quality enough for commercial use and lighten up the darkest of areas like windowless basements or large, high ceilinged workspaces. Each pair of bulbs is protected by a hardy metal and plastic cover and can be linked together with a simple plug-in cord. The lights can be mounted flush with the ceiling and wall or suspended with included chains and hooks.
ZJOJO is a perfect example of an energy-saving light that makes no sacrifices in terms of quality illumination. Their lights are commercial grade and exceptionally bright when compared to competitive options.
For those on a budget with a smaller, darker space, ZJOJO is a godsend.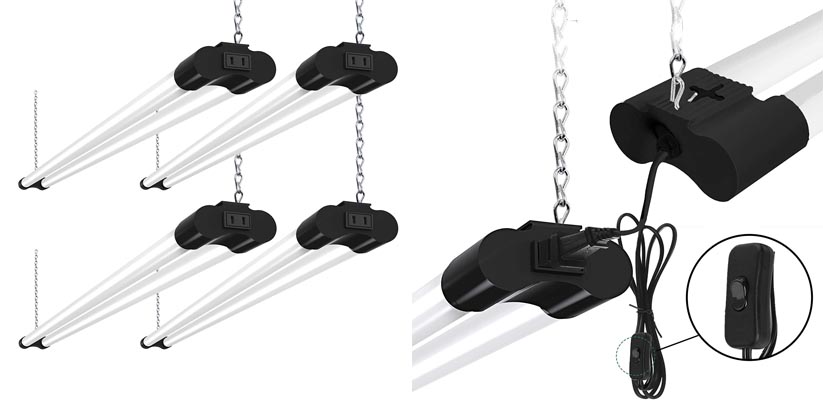 It can be hard to decide whether you simply need the cheapest, most paired down option or something with a little more to offer. Bbounder's 4-pack of linkable LED Shop Light is a great balance between simplicity and useful features.
While the lights don't come with a protective shield or hood, they are connected in pairs and have a hardy fixture that allows the lights to be linked in groups of up to 6 at a time. The bulbs themselves are 36-watt LEDs that can produce 3600 lumens at 5000 kelvins. For a more basic option, this is plenty of power and should be enough for most spaces.
Check for Black Friday Deals on Amazon >
(don't worry, button opens a new tab)
The fixtures also come with the necessary hardware for installation. Unlike most, simple shop light models, Bbounder allows for both flush mounting with the ceiling in addition to suspension by chains and hooks.
All the mounting hardware is included in the package and comes with a well-designed guide to make installation quick.
Bbounder's 4-pack strikes the perfect balance between versatile light fixture and one without unnecessary bells and whistles. It has both a great price point and a ton of power that will satisfy penny-pinchers and big spenders alike.
Our Conclusion – It Depends On Your Requirements
Shop lights are a difficult thing to parse through. What initially seems like a simple matter of buying a few fixtures and bulbs becomes an ordeal once you find all the options available.
It's important to remember that regardless of your choice, sticking with LEDs can only benefit you in the long run. They are cheaper over time, require little to no maintenance, and are far better for the environment. Incandescent or florescent bulbs are a nuisance by comparison.
When choosing the best shop lights for you, it's important to honestly assess your space for what it needs. Someone with an average garage or tool shed is not going to need a 10-pack despite its fantastic value.
Similarly, someone with a Quonset Hut will need more than a small package of cheap, bare bones fixtures.
Moreover, the work being done in the shop may require protective hoods over the bulbs or nothing at all.
Furthermore, brightness levels will make all the difference. Someone who uses a workshop for intricate work like electrical soldering will want all the light they can get while someone with a grow house just needs some grow lamps and a few regular shop lights to get up and running.
Thoughtful consideration for your practical needs will help ensure you have exactly the light you need without having to spend more than you have to.
The products on this list may be geared for different situations, but they are all high quality and designed to be energy efficient and green. Their versatility is some of the best to be found anywhere. No matter where you land, they will not disappoint.