There is nothing worse than an intruder or burglar to upset the calm and comfortable setting of your own home. You may already have some kind of security light in place, but if it's one that stays on all night, it could be costing you more money than it's actually worth. Lighting accounts for around 11% of the complete energy most residential properties use.
However, there may be a cost-effective lighting solution that helps you save money, while keeping your property safe. The solution we are talking about is motion sensor lighting. A motion sensor light, as the name suggests, is only activated when there is some movement that triggers it. So, if you have an outdoor motion sensor light or two on your property, they will light up whenever something or someone is on your property that shouldn't be, thus alerting you and giving them a fright.
If you don't have time to read the full article, here are the 3 most popular picks:
OUR #1 PICK
RuggedGrade Solar Motion Sensor Light
No Wiring
Super Bright
150+ 5* Reviews
4 Metre Detection
Show Me Prices →
Read our review
MULTIPACK
Baxia LED Solar Outdoor Motion Lights
Pack of 4
Solar Powered
1200+ 5* Reviews
<3-5 Metre Detection/li>
Show Me Prices →
Read our review
LONGEST RANGE
Hyperikon Motion Sensor Security Light
1600+ 5* Reviews
3 Directional Lights
9-13 Metre Detection
125W Equiv Bulb
Show Me Prices →
Read our review
To help keep your family and home secure, LED Light Guides decided to take a look at what we feel are 10 of the best motion sensor lights to buy online right now.
By the end of this post you will have enough information at your disposal to make the right choice of these practical and cost-effective LED motion sensor lights that will help protect your home from unwanted visitors.
Our Top 10 Best Outdoor Motion Sensor Light Reviews
| | |
| --- | --- |
| Bulb Type | LED |
| Power Source | Solar |
| Color Temperature | 5000 Kelvin |
| Brightness | 1000 Lumens |
Kicking things off on our list is this great light. The RuggedGrade High Power Solar Motion LED Floodlight is perfect for lighting up your hatchway, the side of your property, driveway or even the garage. As you'll notice, right off the bat one of the biggest selling points of this particular light is the fact that is powered almost exclusively by solar power.
The panel absorbs the sun's rays during the day and then the light uses the stored power when dusk sets. So, there is no need to change batteries regularly or for this motion sensor light to be connected to your mains electricity supply.
There are previous models of this light and the newer 2018 one benefits from an improved range of different modes including Bright, Dim and Recharge. In the Bright mode, when motion is detected the light is activated, whereas in the Dim mode, it cuts down to 10% lighting to conserve power when there's no motion detected. So if if you're wondering How do I get my motion sensor lights to stay on?, this is what you need.
On the subject of the lighting, this model can detect motion within a range of 0 to 4 meters and will stay bright for up to 30 seconds. Installation is incredibly easy with the solar panel and LED ready to be placed on the wall, without the need of a professional electrician.
Furthermore, they can be adjusted to ensure that they both have the right angle to ensure they both work efficiently. Installation is also aided by the fact that the solar panel can be placed up to 3.5 meters away from the light, thanks to the cabling included.
Find the Best Price on Amazon.com →
Pros
The solar power obviously makes this an attractive security light and very cost-effective
The dimming function helps to increase the energy-efficiency as it can maintain 10% brightness until it detects motion and then shine 100% brightness
Easy to install and easy to adjust
Cons
Not the cheapest lighting solution on the list
| | |
| --- | --- |
| Bulb Type | Takes Both PAR38 Halogen & LED bulbs |
| Power Source | Corded Electric |
The next on our list is incredibly hardy and durable RAB Lighting Super Stealth 360 Sensor. This provides a detection area of up to 60ft and an angle of 180 degrees.
Along with the main sensor, there are also secondary sensors behind and underneath the light, so there are not many places where a would-be intruder could go to escape detection. As if that wasn't sophisticated enough, the light is also protected by radio frequency and power surges.
The downside of this robust light, however, is the size. If you are looking for something discreet that won't stand out like a sore thumb to better catch a criminal by surprise, this is probably not the best choice. With that said, prevention is better than cure.
There is also the fact that the mounting has to be fastened securely to a wall or sturdy surface and the corded-electric connection has to be hardwired into your electrical system.
Find the Best Price on Amazon.com →
Pros
It is capable of handling various PR38 bulbs, both halogen and LED with a maximum of 1,000 watts.
Complete 360 degrees of downwards detection and 180 degrees outwards detection
Features a dual-head and multiple sensor

for great coverage
Cons
Another expensive lighting solution
Needs to be hardwired
| | |
| --- | --- |
| Bulb Type | LED |
| Power Source | Solar Powered |
| Color Temperature | 6000-6500 Kelvin |
| Brightness | 400 Lumens |
From Baxia Technology comes our next lights. These are definitely going to appeal to someone with a much lower budget. The first notable thing about this particular set is the fact that unlike others on our list it includes no dimmer setting, with good reason as there is no dimmer, the lifespan of the light and product in general is increased.
It simply activates automatically when the sensor picks up activity or motion around 3 to 5 meters from it. Then when it's not in use it stays off completely. The 6000 to 6500 kelvin light is produced by a total of 28 very bright and powerful LEDs. With a full motion of 120 degrees they also cover quite a wide surface area.
Obviously, the solar power is another big draw to this product, because of how eco-friendly and highly efficient it makes the lights.
Find the Best Price on Amazon.com →
Pros
Incredibly bright considering the price
Extremely affordable
Solar powered, so efficient and eco-friendly
Lightweight, robust design
Cons
No dimmer, which admittedly has not been provided for good reasons, but it still could benefit from it.
| | |
| --- | --- |
| Bulb Type | LED |
| Power Source | Corded Electric |
| Color Temperature | 6000 Kelvin |
| Brightness | 3000 Lumens |
Amico's 3-Head LED Outdoor Security Motion lights are the next great fixtures on our list They are quick and easy to install more simply than the other electric lights on our list. These produce a very bright 3000 lumens light with a nicely toned 6000 kelvin color temperature.
It is very easy to adjust all three heads on this powerful light, and they can detect motion within 180 degrees and up to 49ft away.
Find the Best Price on Amazon.com →
Pros
LED lighting so very cost-effective and efficient
Easy to install
Large and wide range of motion detection
Three heads are better

one

Lightweight design
Cons
No dimming functions
May not suit everyone because of the fact it relies on electricity
| | |
| --- | --- |
| Bulb Type | LED |
| Power Source | Corded Electric |
| Color Temperature | 5000 Kelvin |
| Brightness | 2000 Lumens |
BBOUNDER are the manufacturer of the next set, a 2-head security light that is very much at the affordable end of the price range. Despite the fact that it is connected to the mains, it benefits from having an LED and produces light with a brightness of 2000 lumens and 5000 kelvins for a very natural white daylight tone.
Another notable thing about this lighting fixture is the 150 degrees wide range of detection which activates if it senses something or someone up to 59ft away.
It also benefits from the fact that each head can be rotated and adjusted for the best angle for detection and features two different modes, automatic and test.
Find the Best Price on Amazon.com →
Pros
Affordable price
Wide detection angle and distance
Both heads are fully adjustable and rotatable
LED so the lighting is very bright, economically and eco-friendly
Cons
Again, this would benefit from being wireless and possibly solar
| | |
| --- | --- |
| Bulb Type | LED |
| Power Source | Corded Electric |
| Color Temperature | 5000 Kelvin |
| Brightness | 2000 Lumens |
The CINOTON security lights are another low-priced security solution. With a bright 2000 lumens light with a color temperature of 5000 kelvin, it is an ideal security feature for your home.
Perhaps you already have a halogen model and are looking to save some money in energy costs, this light can give you 84% costs and energy savings, which could mean as much as $500 during its 50,000 hours lifespan.
The motion sensor can detect when something or someone approaches your property during poor lighting and night time. The light heads are adjustable through 180 degrees to ensure that it does catch all motions close to your home.
Find the Best Price on Amazon.com →
Pros
Adjustable through a full 180 degrees
Highly efficient thanks to the LED
Bright and nice color

temperature

Long lasting
Cons
Not the brightest and not the widest or furthest field of detection
| | |
| --- | --- |
| Bulb Type | LED |
| Power Source | Solar Powered |
| Color Temperature | 5000 Kelvin |
| Brightness | 2000 Lumens |
As the title suggests, this light will work from dusk to dawn, thanks to the solar photocell. This means that you can cut your electricity bill by around 88%. Thanks to the 2000 lumens bright 5000 kelvin lighting, intruders will be stopped in their tracks and be forced to flee because of the shock of the illumination.
It has a heavy, aluminium housing which is incredibly hardy and not just weather resistance but also corrosion resistant. The light heads on this unit can both be easily adjusted to find the perfect direction of the illumination to catch those would-be criminals. We liked the fact that it does exactly what it says on the tin.
Find the Best Price on Amazon.com →
Pros
Quick and easy to install an, you essentially hang it up and its ready to go
From dusk to dawn the sensor will detect any unwanted motions around your property and beams a 120-degree beam
Competitively priced
Cons
Instead of the photocell, although it makes it very portable, it could benefit from a proper solar panel connected to it
| | |
| --- | --- |
| Bulb Type | LED |
| Power Source | Corded Electric |
| Color Temperature | 5000 Kelvin |
| Brightness | 1100 Lumens |
From HerrysHome comes our next outdoor motion sensor light and also the next to feature solar power. This obviously suits the outdoor application and means that you can save a lot of money from not using batteries or having it connected up to your mains electricity.
The solar panel absorbs the sun's rays during the day and then that energy is converted to power the light during the night. Although when it has 100% charge it is capable of producing light that is 1100 lumens bright.
Its aluminium alloy housing means that it has a very sturdy build that is also lightweight. Another big benefit is the 4 working modes, including the dim-bright, off-bright and constant lighting mode along with the emergency mode.
If you are looking to not pay too much money for a highly effective and energy-efficient lighting solution, this could be the LED motion sensor light you are looking to buy.
Find the Best Price on Amazon.com →
Pros
Solar powered so very economical and energy-efficient
4 great working modes
360-degree motion detection
Bright illumination even when it is not on a full battery charge
Cons
Not the brightest light on the list
| | |
| --- | --- |
| Bulb Type | LED |
| Power Source | Corded Electric |
| Color Temperature | 5000 Kelvin |
| Brightness | 2700 Lumens |
Our second to last item is from Hyperikon, who have an incredible track record of producing highly innovative and effective lighting solutions for various different applications.
This outdoor motion sensor light is another great member of the Hyperikon family and features 3 heads and produces 2700 lumen brightness with a temperature of 5000 Kelvin.
Although the item is a corded-electric powered illumination, it is not as hard as other lighting fixtures of its kind to connect and can be easily mounted on a wall in minutes.
Once installed this motion detector light covers a motion range of around 30 to 40 feet.
Find the Best Price on Amazon.com →
Pros
Lightweight, but sturdy
Reputable brand
Reasonable range of motion detection
Although its

corded, it is easy to wire up
Cons
While it can technically be mounted on an eave, it works best on walls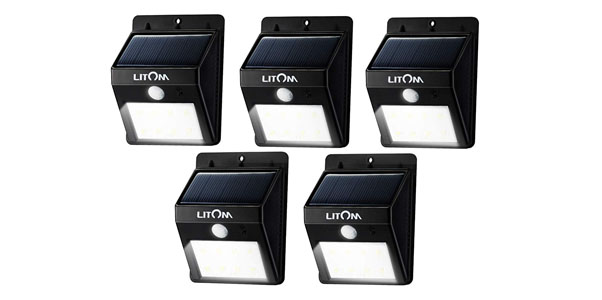 | | |
| --- | --- |
| Bulb Type | LED |
| Power Source | Solar |
| Color Temperature | 5000 Kelvin |
| Brightness | 920 Lumens |
At just over 10 bucks, the last outdoor motion sensor light we have picked out is this highly affordable, but effective Litom fixture.
Powered by solar, it already outperforms a lot of higher priced battery-powered or corded-electric-powered models. A downside of the price though is the fact that it only offers 2 working modes and produces light that is bright enough but not really comparable to the alternatives of 920 lumens.
It does have a 120-degree lighting angle and can detect motion up to 39ft at either side.
Find the Best Price on Amazon.com →
Pros
Extremely affordable
Not too bright but bright enough considering the price
Solar power makes it highly efficient and effective
Cons
There are other brighter models out there for only a fraction of the price more
Now you have an idea of what the best motion sensor lights available, before you run off and setup your bright and gleaming anti-burglary fixture, it may be worth looking at some of the important things to consider when you are choosing this kind of lighting solution.
Features to Look for in Outdoor Motion Sensor Lights
Power Source
It goes without saying that the power source should be one of the most important features to consider when you are choosing the best motion sensor light for you. A corded-electric light will always be connected, is not reliant on the sun or batteries. However, it does need to be wired and often, depending on the setup, this can be challenging.
While
solar is perfect because it doesn't need to be connected to the mains or use batteries
, it does mean it's not suitable for leaving it on all night as the battery will drain. Battery powered motion sensor lights only really have the benefit of being wireless and more discreet.
Light Brightness and Color Temperature
With a piece of security equipment that is supposed to scare would-be burglars away, it needs to be effective at its job.
So, you should look to get the brightest light possible without blinding your neighbors and one with a LED light color temperature to suit you that you can get for your budget and with the power source you prefer.
Motion Detection Angle and Range
Some motion sensor detectors are better than others. You need to choose one that will give you enough warning, without being too much of a nuisance when it is set off by things that are not intruders.
You ideally want to find one that will detect motion in as many angles as possible though, to prevent intruders from getting in close. As a rule of thumb, the more expensive a security light kit is, the better both the light and it's detection capabilities will be.
Different Types of Motion Detection
It may not actually be of any concern to the average residential property owner, but if you are interested in the subject, you could consider the different types of motion detection that are out there and how to use them effectively.
There are lighting fixtures that use most of the common forms and you really have to decide which is best within your budget and best for the placing and application.
How Much Should You Spend On Security Lighting?
We would strongly recommend that you do not purchase motion sensor lights solely on the price tag they have.
When it comes to lighting, you likely want to get as much bang for your buck, considering how much of an energy drain they can be.
A good idea is to work out a rough budget and stick to it. You may need to be a bit flexible though, because if you get something that is a bit too cheap, it may be cheap for a reason.
Remember the saying, if something seems too good to be true, it probably is.
Outdoor Motion Sensor Light Review Summary
Although it can be rather intimidating, if you have ever checked out just how many motion sensor lights there are on the market, it doesn't have to be. Particularly when you know the right models to look at and know the kind of factors you should take into consideration when choosing one.
With this breakdown review we hope you will be able to find the best motion sensor light for your needs.