If you are looking for an interesting light feature to use as decoration for either the interior your home or office then LED strip lights are a good way to go.
They are flexible, offer higher levels of brightness and use less power than conventional lighting solutions.
Our Top 10 Best LED Strip Light Picks
We've put together this guide of the 10 best LED strip lights to choose from to make your choice much simpler. As well as looking at reviews of each of the 10 listed, we will also discuss some of the important considerations to make when you're buying strip lights.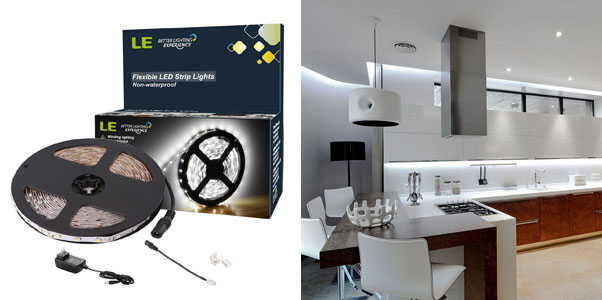 LED Quantity: 300 pieces
Strip Light Length: 16 Foot
First on our list is the simple-to-use daylight white LED strip light. Although not waterproof, it consists of 300 different LEDs with a strip length of 16.4-feet.
It comes with strong self-adhesive backing to make it easy to apply to any suitable surface and furthermore, it can be cut into groups of three and connected easily, without causing any damage to the strips or requiring soldering.
See What Customers Are Saying on Amazon.com →
(don't worry, button opens a new tab)
Pros
Bright enough
Easy to install
Cuttable and linkable
Cons
The adhesive could be stronger
LED Quantity: 48/12 in a strip
Strip Light Length: 4 x 12″ Pre-cut strips
Second on our list is this great kit from HitLights, which could be the best on the market and could be the ideal choice if you are looking for a strip light solution that is discreet.
Thanks to its black tone, it is very well hidden and will not stand out too much whether it's switched on or not. You get four strips with this kit, all the connectors, controller and power supply. It also, as is pretty much standard with these kinds of products, comes complete with 3M adhesive backing to make it easy to install and use.
Perhaps the most attractive thing about this one over the above is the fact that the color of the LEDs can be changed easily.
See What Customers Are Saying on Amazon.com →
(don't worry, button opens a new tab)
Pros
16 different colors
Versatile uses
Easy to install
Cons
Not suitable for outdoor use
LED Quantity: 150
Strip Light Length: 16 Feet
Next, we have the smart strip light kit from WenTop, that comes in two easy to use reels of 16.4-feet of LED lighting. You get a receiver box, IR remote with 44 keys, an AC adaptor and the lights present you with the choice of 20 different preset colors and option to create your own DIY light tones, alongside smart functions that connect with your smart home system such as Alexa, iOS, Android & Google Assistant
Like most of the other kits on our list, it is easy enough to cut these down to the size you want and they can be linked together with no trouble at all. Just make sure you use the cut marks along the reel. Compared to others, WenTop claims that the adhesive used in this is more resistant to temperature and therefore, less likely to weaken while the lights are in use.
See What Customers Are Saying on Amazon.com →
(don't worry, button opens a new tab)
Pros
Smart home enabled
Stronger adhesive
20 color presets and option for DIY tones too
Easy to install
Cons
Longer length might be needed for some people
LED Quantity: 150
Strip Light Length: 16ft
The Tingkam LED light kit we wanted to bring to your attention has been picked out for a number of good reasons. Although it is very similar to other packs on our list, there are a few aspects of this flexible LED light strip that helps it stand out from the crowd.
For one thing, it is waterproof, so can be used both inside and outside your home, depending on your needs and as long as you stick to the manufacturer's guidelines and user instructions. It also has a high number of color options with 44 colors to choose from.
This means that it is able to shine the right tone to match your specific taste and decor perfectly.
See What Customers Are Saying on Amazon.com →
(don't worry, button opens a new tab)
Pros
44 colors
Waterproof, so suitable for indoor and outdoor use
Easy to install and use
Cons
As ever, the adhesive backing could be better
This Cefrank set of four LED light bars is next in our guide. Although technically a set of light bars similar to those found in under cabinet lighting, they can still be used in the same way as strip lights. You can use them for many different kinds of accent lighting and task lighting.
While they can obviously be installed anywhere and have been found to be particularly useful for accent garage lighting. The downside of them being designed in this way is that they are not versatile and flexible as others.
They can't, for instance, be cut up and re-linked together. However, due to their reasonable lifespan and the brightness they provide, as well as the relatively affordable price they are on the market for, they may just what you need for your kitchen.
See What Customers Are Saying on Amazon.com →
(don't worry, button opens a new tab)
Pros
Perfect for use as under cabinet task or accent lighting
Bright
Easy to use
Cons
Not nearly as flexible or versatile as the others
LED Quantity: 30
Strip Light Length: 1 Metre
Built primarily for use behind TVs, this strip light kit can be used for other lighting projects including being used as car strip lights. While many of the strip light kits on this list are incredibly long, if you only have a small area that you want to utilize accent or task lighting in, there is likely to be a lot of unused LEDs. Rather than cutting down a larger kit, it might be better to buy a smaller kit from the get-go.
Although smaller than most, this does come with the option of 20 different light colors and a range of 20 different mods, such as chasing, waterfall and flash to name a few.
See What Customers Are Saying on Amazon.com →
(don't worry, button opens a new tab)
Pros
Multiple colors to choose from
Multiple lighting modes to choose from
Easy to use
Cons
May not be big enough for everyone
LED Quantity: 10
LED Strip Light Length: 4 – 19″ Options
Next on the list we have these battery powered OxyLED motion sensor light bars which can be used for similar purposes to LED puck lights. This is a great solution for some part of your home or work premises that you only need to light up when it's in use such as a closet. It has 10 LEDs in each light bar, but the thing that really makes this an attractive purchase is the motion sensing feature.
Like the others on our list, this is very easy to install thanks to the adhesive tape backing to the lights. Meaning that not only will it save you money because it uses LED lights, it will not go on unless it has to.
See What Customers Are Saying on Amazon.com →
(don't worry, button opens a new tab)
Pros
Battery powered
Easy to use
Quick installation
Motion sensing
Cons
Will not activate during the daytime
LED Quantity: N/A
Strip Light Length: 80 Inch
You'd have to have spent your life hidden under a rock to not have heard of Philips. Their most recent entry into the LED strip light market costs quite a lot compared to other models on our list. For the extra expense though, you get many great features.
Most notably, it will function as a smart light in conjunction with Alexa, Google Assistant, IFTTT, SmartThings, Microsoft Cortana and even Apple HomeKit. So, if you are looking for a set of Smart Led strip lights for your smart home setup, this is perfect.
Just as others on our list, this is incredibly easy to set up and also to use. There is also room to add at least 40-inches onto it with the Hue Light strip Extension.
See What Customers Are Saying on Amazon.com →
(don't worry, button opens a new tab)
Pros
Compatible with Google Assistant and Alexa, as well as many others
Easy to use
Can be extended
Cons
LED Quantity: 150
Strip Light Length: 16 Feet
We have another set at a more affordable price for those on a budget. This TopMax provides you with 16.4-feet of lighting that comes from 150 LEDs. So far, so much like others on the list. the big difference between this and others though is the fact that it can be controlled by your smartphone via Bluetooth.
It also benefits from over 16 million colors and various dimming options.
See What Customers Are Saying on Amazon.com →
(don't worry, button opens a new tab)
Pros
Affordable
Easy to use
Bluetooth enabled
Cons
App not the easiest to use always
LED Quantity: n/a
Strip Light Length: 32 Foot
The last on our list is from Nexlux and is a strip light that can be controlled wirelessly using Wi-Fi, as well as Google Assistant and Alexa. This is a big selling point as is the fact it features numerous different colors.
You can install it as easy as the others and it can be altered and modified to meet your needs. A great addition to your Smart Home and at a fraction of the price of the other we've featured here.
See What Customers Are Saying on Amazon.com →
(don't worry, button opens a new tab)
Pros
Smart Lights – Compatible with Alexa, Google Home, iOS, Android .etc
Affordable AI-Assisted option
Easy to use and install
Very bright and colorful
Cons
Still expensive compared to others
Tips for Choosing LED Strip Lights
With the increased development of LED lighting, they are more versatile than they ever have been before. Strip lights are perhaps one of the most versatile of all. They can be applied and used in various ways, both commercially and domestically.
To help you make the right choice of what you need, we've put together a brief guide about some things you should consider.
Colored or White Lights
What are you looking for from LED strip lights? If you just want some plain, functional white light, there are a few good options out there. You can, for instance, choose either a cool white or warm white color temperature set.
While warm lights are a better option for spaces where you are going to relax, such as bedrooms and living rooms, cool white work better as home office and business premises.
However, if you're more interested in having colors, there are plenty of RGB Strip Light solutions available. These rely on the same three basic light colors, blue, green and red but with these RGB lights you then have the option to create a lot of other different color variations.
Strip Light Length
As you've undoubtedly noticed from our list, and if you've done any research yourself, you'll know that these LED strip lights come in various lengths.
Always measure carefully the space you want to use strip lights and buy slightly bigger than necessary, if possible because they can always be cut down to size.
Voltage
All LED strip lights that have a very low voltage, this means you will need to install a driver that is suitable compatible with them to make sure they work properly.
If you were to just connect them to your mains circuit directly, you could damage or otherwise have a negative effect on them or at the very least, shorten their lifespan. All of the strip lights on our list come with the required transformers or sockets, but if you decide on a different product be sure to check it comes with everything you need to wire it in.
Check for Waterproofing
Not all LED light can be used outdoors. Therefore, if you're looking to use strip lights in an outdoor application you need to make sure they have the right IPX rating.
An IPX rating is what determines the level of waterproofing an item has.
Easy Installation
The great thing about LED strip lights is that the vast majority have self-adhesive backings that make them easy to install and setup. There are some out there that might require more than just sticking them on the right surface and connecting them up easily.
So, always check what is required and whether you have the confidence to do it yourself or conversely if you have the budget to hire a professional to do it for you.