When it comes to safety on the road, having bright lights so you can see the road ahead whilst driving at night, should be one of your main priorities. LED headlights have the benefit of being extremely bright and in our mind a better light, so they are a good choice for swapping out your old HID headlights. Also unlike HID lights, they do not need to warm up, its instant brightness of the brightest kind.
We have previously reviewed our top five best LED headlights on the market, but this list is slightly different. This time, we are focusing completely on the brightest LED headlights bulbs available.
Top 6 Brightest LED Headlights On The Market
There are a lot of elements to think about when you are looking for new LED head lamp bulbs for your high beams and low beams, as you may have read in our different types of car headlights article.
So, this list ensures you have one less thing to think about; all the products that have made this top five brightest LED headlights are guaranteed to be bright enough to outshine the sun, so to speak. Read through our list of the brightest LED headlights and take that step towards safer and longer lasting car headlights.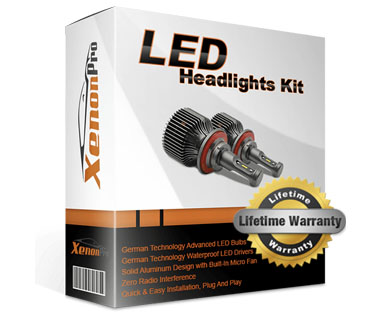 | | |
| --- | --- |
| Brand | XenonPro |
| Color Temp | 3000k - 12,000k |
| Fittings Available | 99.9% of Vehicles |
| Price Point | Mid Range |
| Brightness | 9,000 Lumens |
| Installation Time | 20 Minutes |
| Customer Reviews | Read reviews |
Power55 wattsColor Temperature4300K, 5500K, 8000K, 12000KLight ColorWhite, Yellow, Blue, PurpleBrightness9,000 lumensLifespan45,000 hoursFittings AvailableH13, H4, H9, 9007, 9006, H7, H1, H11, 9005, 9012, 9004, H16, 9140, H3, H8, 9145, 5202 + 15 othersWarrantyLifetime warranty
We start our brightest LED headlights list, with the XenonPro LED headlight bulbs and conversion kit. This is a super easy installation as they are fully plug-and-play and you should be able to complete the conversion within 30 minutes.
The XenonPro LED bulbs come equipped with cutting-edge, supercharged COB LED chips, emitting an incredible 9000 lumens of light output with a cool white brightness and outshines all the other popular kits that we've tested, making it our top pick.
These LED head light bulbs also come with proprietary anti-glare technology as well as intelligent and energy-efficient 45W LED drivers to consume less power. This is a game-changing feature as other bright LED bulbs strain your battery and may blind oncoming traffic.
Aside from the brightness, we loved that these bulbs produced a perfect light beam pattern with a clear cutoff point and come with a lifetime warranty on its German-engineered LED bulbs, drivers and components.
Check For Your Model & Customer Reviews on XenonPro.com →
(don't worry, button opens a new tab)
Why We Picked Them
Superior 9,000 lumens of brightness
Outstanding light beam pattern, light distribution and focus
Anti-glare technology and energy-efficient
Available in 4 colors (white, yellow, blue, purple)
Fast and simple installation (Plug and Play)
Quality-build product with a lifetime warranty from the manufacturer
What We Disliked
Will not fit on cars with stock LEDs
Will not work on cars with stock HID lights
May need to pay extra for a capacitor (eliminates headlight flickering for certain vehicles)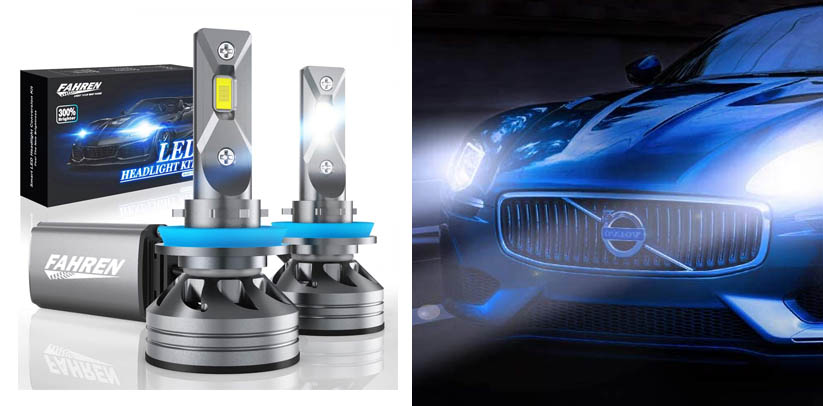 | | |
| --- | --- |
| Power | 60 Watts |
| Color Temperature | 6500 |
| Light Color | Cool White |
| Brightness | 10,000 Lumens |
| Lifespan | 50,000 Hours |
| Fittings | H11/H9 |
| Warranty | Not Specified |
The second position on our list is held by the Fahren LED H11, H8 h9 LED headlight conversion kit for multiple reasons. For starters, a single pair of bulbs can emit up to 10,000 lumens by far the brightest compared with halogen bulbs, especially good if you drive at night a lot.
With a cool whiter light color temperature of 6500 kelvin, and in addition to that, the cutting edge LED headlight bulb technology consists of super-focused light beam pattern design. The design of this LED headlight bulb ensures a wider and farther lighting range while eliminating dark spots on both low beam high beam.
As a result, on the one hand, you have an increased viewing field and on the other hand, your headlights will be brightest, in fact, 300% brighter than halogen. Furthermore, you can make angle adjustments to the LED beam – with the 360-degree adjustable locker ring, you can decide upon the light beam pattern as per your choice while ensuring you don't blind oncoming traffic.
One of the more attractive features of this LED headlight conversion kit is that the manufacturer of the Fahren LED kit has made it CanBUS-ready. The headlight bulb can sync effortlessly with your vehicle's computer system without any effort on your part.
However, some European cars might require the installation of an additional anti-flicker harness or decoder. The Fahren LED headlights body is composed entirely of aviation aluminum.
It features a hollow-carved heat sink design along with a turbo cooling fan which provides 12,000 revolutions per minute. These fancy specs simply mean that your LED comes with its own cooling mechanism which means very long-lasting.
Check for Black Friday Deals on Amazon >
(don't worry, button opens a new tab)
Why We Picked Them
10-minute easy installation
Can fit easily into sockets without any modification
Efficient cooling system
360° adjustable beam
Provides visibility for up to 200 meters
Can be used for low beam or high beam headlight
Waterproof and dustproof
What We Disliked
The filter system may be inaccurate or outdated.
| | |
| --- | --- |
| Power | 55 Watts |
| Color Temperature | 6000 Kelvins |
| Light Color | Bright White |
| Brightness | 12,400 Lumens |
| Lifespan | 50,000 Hours |
| Fittings | H4, H7, H11, H13, HB4, 9005, 9006, 9007, D2S |
| Warranty | 2 Years |
If you've ever been disappointed by the brightness or light distribution of your car headlights whether they be stock halogen bulbs or HID headlights do yourself a favor and get the SNGL super bright white LED conversion kit that lets you adjust the positioning of the LED headlights and are 2 to 3 times brighter than stock halogen bulbs.  Boasting a maximum output of 6200 lumens in 6000 Kelvin color temperature.
This lets you customize the vehicle headlights to suit your needs giving you the opportunity of having the brightest LED headlight as and when you need them. So if you are driving at night a lot these are perfect.
The SNGL headlight bulb model has an excellent driver which makes the LED vehicle headlights as a whole run better, and the brightest LED headlight on our list. The driver has a built-in CanBus Design, a high-quality noise reduction system, and electrical protection that control the voltage, overcurrent, and pulse along with cooling fan failure protection.
LEDs last longer in cooler temperatures because overheating causes light decay; over time the brightness of the LED can falter if it is exposed to heat. SNGL has come up with an effective solution for this problem with its Intelligent Constant Cooling System.
Check for Black Friday Deals on Amazon >
(don't worry, button opens a new tab)
Why We Picked Them
Intelligent Constant Cooling fan System
The extensive noise reduction system
Adjustable LEDs that lock into place
Compatible with CanBus equipped vehicles
2 Year warranty
What We Disliked
Some users report flickering with extensive use
Uses spade connectors so you need more time to install the headlights
| | |
| --- | --- |
| Power | 30 Watts |
| Color Temperature | 6000 Kelvins |
| Light Color | Xenon White |
| Brightness | 10,000 Lumens |
| Lifespan | 50,000 Hours |
| Fittings | H4, H7, H11, H13, 9004, 9005, 9006 |
| Warranty | 1 Year |
The Alla Lighting LED vehicle headlight bulb is praised for its very far reach and that is exactly what sets this model apart. This model is reportedly one of the brightest being 500% brighter than stock lights thanks to its 10,000 Lumen, 6000-kelvin color temperature and well-directed LED focus. In fact, it's the second brightest LED vehicle headlight bulb kit on our list.
The focus of the LEDs vehicle headlight bulbs comes from the fact that they can be adjusted to up to 360° until you get the right light beam for you while avoiding blinding oncoming traffic.
Another good feature of the LED headlight bulbs, and the reason they made our list of the brightest LED headlights, is that the fixtures themselves are also quite small and slim making them an easy fit into many vehicle models, even with a dust cover.
But as with all replacement bulbs, whether you are replacing HID lights or halogen stock lights, please check your handbook to ensure compatibility. The Alla Lighting LED headlight bulbs have a long lifespan of 50,000 hours thanks to its two-way cooling system.
The design includes both a high-speed ball fan and an aviation aluminum heat sink that quickly sends away the hot air built up around the LEDs.
Check for Black Friday Deals on Amazon >
(don't worry, button opens a new tab)
Why We Picked Them
Very good distance covered
The adjustability of direction of the beam
Small and thin size lets it fit many vehicle models
Good cooling system for a longer lifespan
What We Disliked
Installing the headlights is more difficult than advertised
The plastic casing is not sturdy
Some reviewers have issues with keeping the adjustable LEDs in the desired position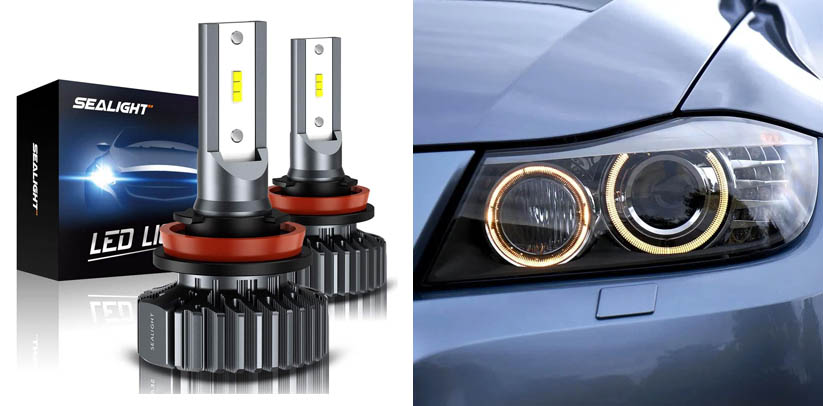 | | |
| --- | --- |
| Power | 40 Watts |
| Color Temperature | 6000 Kelvins |
| Light Color | Bright White |
| Brightness | 6,000 Lumens |
| Lifespan | 30,000 Hours |
| Fittings | H11, H8, H9 |
| Warranty | Not specified |
Next on our list are the SEALIGHT Scoparc headlights LED bulbs. To review it in one statement, the SEALIGHT Scoparc delivers a strong light pattern without dark spots or shadows which is surprising considering its small size.
Although these LED headlight bulbs provide a brightness of only 6,000 lumens, they are great not only for everyday driving but will also prove to be super effective as fog lights. The brand promises a lifespan of up to 30,000 hours.
After some quick (and easy) math you'll realize that a single pair of SEALIGHT Scoparc headlight LED bulbs will last you on average use for more than 3 years. And at the cost the manufacturer has fixed, it's almost a steal.
Quite often, the trouble with extremely bright headlights is that while you have increased visibility, another driver coming your way might be temporarily blinded by the intensity of your LED headlight bulbs.
However, SEALIGHT has taken care to design the LED bulbs in such a way that there are no glare or dark spots. The daylight optics and super-focused 6000K bright white headlights are tailored for safer driving.
To combat the issues of overheating while ensuring silent operation, these LED headlights feature a compact fanless design. Instead of a fan, an advanced heat sink is used to cool the lights down. A driver unit is also included and hence, the power supply required by the LED lights is better regulated.
As a result, they use less power, in turn, making these headlights environment-friendly. The installation is extremely quick as it is a plug and play conversion kit. So if you're an environmentally conscious driver, you should definitely opt for these.
Check for Black Friday Deals on Amazon >
(don't worry, button opens a new tab)
Why We Picked Them  
Longer lifespan compared to many other headlights available on the market.
Durable and environmentally friendly.
Non-polarity plug and play design mean quick installation in 10 minutes.
Fan-less cooling ensures silent functioning.
What We Disliked
The vehicle needs to have low voltage DRL applications for smooth operation.
| | |
| --- | --- |
| Power | 60 Watts |
| Color Temperature | 6,500 Kelvins |
| Light Color | Xenon White |
| Brightness | 10,000 Lumens |
| Lifespan | 30,000 Hours |
| Fittings | H13, 9008 Hi/Lo |
| Warranty | Not specified |
While this conversion kit looks like most other LED headlight bulbs, you will be pleasantly surprised at the number of features that are included. The fancy tech that has been used to create this model of headlight bulb is bound to impress you. 
The BEAMTECH H13 LED headlight bulbs come with high-powered CSP chips. Each bulb has 4 chips that contribute to the 10,000 lumens and 6500 kelvin color temperature for whiter light brightness. The advantage of CSP chips is that while they have a higher intensity, the amount of current consumed is way lower than most generic headlight bulbs.
As a matter of fact, the small size of the CSP chips combined with the high intensity and less heat value makes it a perfect LED headlight.
BEAMTECH has integrated aircraft-grade aluminum that comes with a high-thermal conductivity Nano layer. In addition to this, you can also find a 0.8mm double-sided laminated copper substrate. This way, the light bulb can continue to operate in optimal working temperature and in turn, have a long life.
The presence of sophisticated tech in no way means that you will have to spend more time in installation. Since everything is available in a single piece of equipment, you can mount the bulbs fairly easily into the receptacles.
Check for Black Friday Deals on Amazon >
(don't worry, button opens a new tab)
Why We Picked Them
Heat dissipates 5 times faster than other materials
Consumes less power as compared to other LED headlight bulbs
Decent lifespan of 30,000 hours
No dark spots or foggy light
CanBUS-ready and will work with most vehicles
What We Disliked
High-sink is comparatively larger
To recap, here are our 3 most popular brightest LED headlamp bulbs. If you need help working out which LED car headlight bulb you need, read this article first (opens in a new tab so you won't lose this page).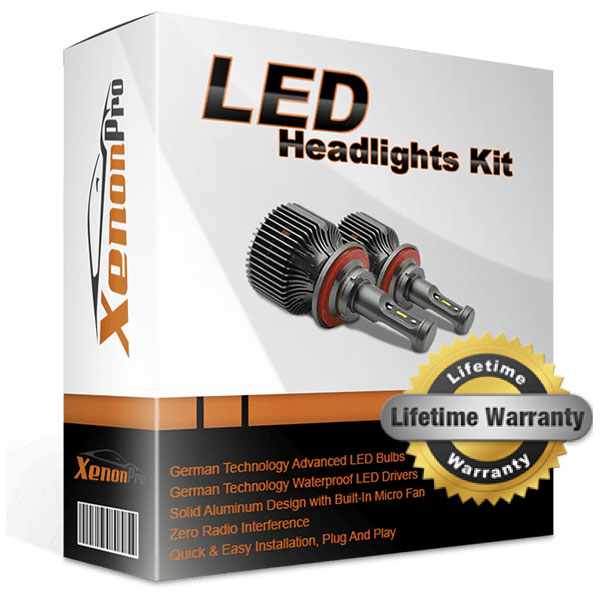 OUR #1 PICK
XenonPro LED Headlight Conversion Kit
20,000+ Reviews
9,000 lumens
45,000 Hour Lifespan
Lifetime Warranty
Browse XenonPro →
Read our review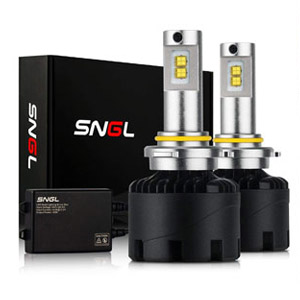 POPULAR PICK
SNGL LED Headlight Conversion Kit
High 6200 Lumens
Fits All Models
Bright White Color
250+ Reviews
Check Amazon →
Read our review
VALUE PICK
Fahren H11/H8/H9 LED Headlight Kit
Efficient Cooling System
Visibility up to 200m
Waterproof
2200+ Amazon Reviews
Check Amazon →
Read our review
Brightest LED Headlights FAQ (Frequently Asked Questions)
We have already extensively covered how to decide on LED headlight bulbs in our top 10 of best LED headlights overall. So, instead of finishing with another buying guide, here are answers to a few commonly asked questions about LED headlights.
Are LED Headlights Better than Halogen Headlights?
Yes, the reason why LED headlights are better than its halogen headlights is that they are brighter and have a better energy efficiency of each type of lighting technology. Essentially, LEDs are more energy efficient because the electricity consumed by the LED bulbs are better converted into light energy while a halogen light loses more of the energy input as heat.
As you have probably noticed from this list of the brightest LED headlights, bright car headlights are important to us. Since headlight led bulbs are brighter than halogen headlights, this is an obvious reason to make the switch to LED vehicle headlights.
The difference in how the energy is released explains why an LED light can carry a lower wattage while still having a light output equivalent to halogen lights of much higher wattage. The difference can be staggering – it is common for halogen lights to use as many as ten times as many watts than its LED counterpart.
In general, LEDs are more energy efficient and so also brighter compared to halogen bulbs. Thus, using the brightest LED headlights has two advantages for you; they last longer and offer greater visibility.
Is It Easy to Replace Halogen Headlights with LED Headlights?
Replacing halogen headlights with LED headlight bulbs was more difficult when the technology first come into the automobile industry, but many headlight manufacturers have now figured out ways to make the process much easier. Many LED headlight manufacturers advertise their product to have a plug-and-play installment process but usually, it is a little trickier than that.
The reason why replacing halogen headlights with LED headlight bulbs is slightly more difficult than replacing them with new halogen headlights is simply because you are changing the technology used. Your car has set wiring and systems in place which are usually still built according to halogen lighting technology, not LED lighting technology.
So, even though replacing halogen headlights with LED headlights has become easier over the years, it is still a precise process. Always carefully read the instructions and consult with a mechanic to make sure that you purchase the right model and connect the systems correctly before you can get the brightest LED headlights on the road.
How Do I Know Which LED Headlights Will Fit on My Car?
There are two ways to find out which headlight model you need to get. The first one is to read through your car's manual and the second option is to look for the model number on your current headlights.
There are also several search tools online that let you know which headlight model your car needs by simply entering the make of the car and the year it was built, we'd recommend the Philips Headlight Bulb Finder.
The most important thing to check when thinking of switching to LED car headlights is the fitting compatibility. Getting the wrong fit automatically means that your headlights will not work.
There is no difference in model number codes between halogen headlights and LED headlights (or other different types of car headlights for that matter) so you won't have to do any extensive research. Nowadays, it is quite easy to filter your headlight search on the specific model number, too.
Fortunately, most headlight manufacturers cater to a wide range of car models. It should not be difficult to find a headlight conversion kit that is compatible with your car.
Can I Install Super Bright LED Headlights on My Car?
Unlike offroad LED light bars, there are strict laws and regulations on the design and brightness of car headlights (are LED headlights are legal in your state) so you cannot install just any LED headlight on your car. Each state has its own standards and your car needs to abide by those regulations.
A common requirement for headlights is that they offer road visibility between 50 to 100 meters and that the brightness does not cause astigmatism in incoming traffic. Another basic requirement is that the light color is either white or yellow.
The specifics can differ so make sure you check with your local authorities before purchasing super bright LED car headlights.
Also, make sure that you are using LED bulbs that were specifically designed for cars. Replacing your headlights with regular household bulbs is not legal and is very dangerous to drive with.
What is your preference for headlight brightness? Do you think switching to LED headlights is worth it? Let us know your experience in the comments below.