When it comes to creating a warm, inviting ambiance for your home, few things are as important as lighting. The wrong set-up can turn a cozy little nest into a harsh, bleached-out office cubicle. Indoor solar lights are a great option to consider and offer great energy efficiency.
Options for indoor lighting are many with a labyrinth of styles and designs. We've reviewed the top 10 best indoor solar lights to help you transform your home.
Indoor solar lights are for those that are environmentally conscious and will add a whole new dimension. Solar lighting solutions for the outdoors are similar and also come in many different shapes and sizes. From solar fence lighting to super bright solar floodlights.
Best Indoor Solar Lighting
Solar power is one of the best ways of going green, energy-saving with no added cost on the electricity bill. For indoor accent lighting, there is no better way to start than by using indoor solar lights. Being easy to get the hang of, indoor solar lights come with their own set of variables that should influence your decision.
But what about installing solar lights inside your home? Every manufacturer approaches indoor solar lights differently. Prices can be all over the place and style does not always mean substance. This article narrows down some of the best choices for solar lighting indoors.
Indoor Solar Lights Top Picks
These solar energy options are affordable and also perfect for ambient or accent lighting in your home. Giving a cozy feel but is bright enough to be practical brightness anywhere.
A twinkling string of fairy lights will make a warm, cozy nest and AMIR is one of the best lighting companies out there. With their string solar inside lights are renowned for their durability and versatility.
The Upgraded String solar-powered indoor lights can be used both inside and outside and are perfect for relaxing accent lighting.
Check for Black Friday Deals on Amazon >
(don't worry, button opens a new tab)
Making a great starter pack this indoor solar lighting kit has 100 bright, warm white LEDs that are encased in a weatherproof clear string. Featuring two settings to choose from depending on your mood, they are constant and flashing.
The materials are high quality and the indoor solar light is connected via 33 feet of flexible copper wire that makes it easy to mold around your space. Once it gets dark, the wire is nearly invisible and does not detract from the glow.
Be both LEDs and solar-powered these are incredibly energy efficient, low heat, and long-lasting. The ambient light sensor will switch them ON automatically or you can choose to do it manually. An incredible deal for a well-made and durable piece of lighting.
Remember that the solar panel will still need to be placed where it can receive sunlight. A wonderful place to start if you are looking to light up your home in a way that is both whimsical and environmentally friendly.
If you are in the market for string lights but would like something more substantial and eye-catching, then look no further. Sunlitec has modeled this string of LED bulbs on the larger cafe-style.
Each bulb gives off a warm white light suitable for the living room, dining room, or bedroom, in fact anywhere in the house and they are so easy to install. The string comes with 25 individual spherical light bulbs connected by 27 feet of thick black wire. Each light bulb is weather-resistant and sturdy so it can be used for garden lighting solar power.
Check for Black Friday Deals on Amazon >
(don't worry, button opens a new tab)
The warm white LEDs have a projected lifespan of 50,000 hours so you will never have to worry about burnout. The panel can be easily disconnected and placed outside to charge. But, this solar indoor light bulb string set also has the option of charging via a mini USB cable. Eliminating the problem of rainy days.
Featuring an ambient light sensor that will automictically switch ON when the daylight falls and OFF when daylight returns. After 8 hours of sunlight or 4 hours of USB charging, the bulbs will light your home for 8 hours.
The Sunlitec String light bulb comes with multiple lighting modes for settings. These include steady, flashing, slow flashing, and pulsating for a relaxing night with a book or a party with friends. They can also be connected with multiple strings to form one long line to cover any space.
Made to a high standard and with the reassurance of the USB for charging the battery on stormy days means you never have to worry about being left in the dark. This cafe-style LED light string would also be ideal for patio areas or solar lighting for a gazebo.
Kyson has created a versatile indoor solar lamp with a truly classic look. With a long, 3-meter chord connecting the light to the panel, the indoor solar light fixture is easily hung up on the ceiling with the wire connecting to the outdoor solar panel.
The single white light bulb contains 3 bright LEDs and is covered by a retro-looking black saucer. Kyson designed their solar indoor lights to last through any ordeal. Lightweight and easy to move, it is made with stainless steel, resisting shocks, and vibrations. This light is fantastic for anyone who wants utility with a touch of class.
Check for Black Friday Deals on Amazon >
(don't worry, button opens a new tab)
It will illuminate any room without drawing attention to itself and is perfect as a utility light in a garden shed or just keeping the kitchen bright. After 6 to 8 hours of battery charging time, the Shed Light should stay on for up to 10 to 12 hours.
With an eye for tradition, Kyson included a pull string to switch the light for ON and OFF. However, it also comes with remote control for those who prefer a more modern, convenient way of lighting up their spaces.
Though this is a higher price point, it is designed for maximum efficiency between charging, illuminating, and lasting through the years.
The team at Kyson are masters of fusing throwback lighting designs with modern technology. Perhaps solar indoor light fixtures do not appeal because you want the traditional older style feel, well with Kyson that is no longer an excuse to not go green.
The Barn Light bulb fixture features an industrial design and classic Edison light bulb to create the perfect atmosphere of days gone by. Like the Shed light, the Barn Light fixtures connect to a panel via 3 meters of black cord.
Check for Black Friday Deals on Amazon >
(don't worry, button opens a new tab)
This gives you plenty of space to install the light indoors and the panel outside to catch the sun and charge the battery to supply you with the brightness you need. The vintage Edison light bulb burns with warm white light and is easily replaceable, while the stainless-steel cage around the bulb is lightweight and is great for utility.
Creating a specific, old-fashioned ambiance that looks great in kitchens and workspaces alike. Additionally, like its sibling, the Barn Light fixture comes equipped with a pull cord switch for the ON and OFF settings as well as a remote control so you can pick your style of on-switches.
This option requires a full charge to last for 8 hours because for what the Edison light bulb has in style it is not quite as efficient as some of the other LEDs on our list.
With all the sturdiness and durability and with respect for the good old days of the warm-colored light bulb, the Barn Light is a must for people with both green and vintage sensibilities.
This light fixture is brilliant if you are not looking to light up a whole room but instead just want an indoor light fixture that is just bright enough for accented glow, and is the StillCool Hanging Wind Chime Light. Designed to imitate the looks of a garden wind chime, the StillCool's solar-powered lamp is an eye-catching feature piece for your personal space, and it even changes color!
Check for Black Friday Deals on Amazon >
(don't worry, button opens a new tab)
With the panel located on the top, the Hanging Wind Chime simply needs to be taken down and placed in the sunlight, so it is a garden ornament during the day and a cozy feature for indoor lighting at night. Perfect for a porch to give a welcoming glow to your property.
Then it is switched on for up to 6 to 8 hours (with a full charge) of a rotating beautiful colorful light. The LED light bulb will automatically turn on at night and features 4 distinct color settings that it will cycle through as it naturally spins, the bubble textured LED light bulb shifts from golden yellow, to red, blue, and green.
The Hanging Wind Chime is not meant to illuminate an entire room or balcony, but rather to add a vivid touch of color and style wherever needed.
Durable, waterproof, and easy to hang up, you can keep it inside with a full charge or take it out to the garden without fear of damage from any rain. The structure is lightweight but made from stainless steel and the bulb is well protected.
Lastly, these Hanging Wind Chime Light fixtures are affordable so if you are searching for a budget, a well-built solar lamp to spice up the home then look no further. Please note it takes a D-cell battery that is not included.
The YINGHAO Solar Panel Lighting Kit is for people who are serious about investing in a solar panel lights system. These high-quality solar panels in this kit are the first step to going completely off the grid.
The lighting kit includes 1 10V 12W Flexible Solar Panel, a controller, 4 LED light bulbs, a USB Cable, and 2 Screws. This Effectively means you can illuminate your home with indoor solar light, charge your smartphones, and power any electrical item that pairs with the provided cords.
Check for Black Friday Deals on Amazon >
(don't worry, button opens a new tab)
Easy to install, this solar-powered lighting system requires absolutely ZERO maintenance and does not require wiring cables.
It can be used in areas where there is no electrical supply, making it perfect for outside hanging lights for yards, gardens, camping, RV, patios, etc.
The bulb lights themselves come in simple white and have long cords for easy installation. They will light up multiple rooms and provide all the brightness for the basic light you need. When all 4 are combined, you can still expect a solid 8 to 9 hours of light and all with no electrical wires.
Incredibly durable and intuitive to use, the Panel Lighting Kit is perfect for emergencies or just completely disconnecting from electrical non-solar power altogether.
For a quick recap, here are our top 3 products:

OUR #1 PICK
AMIR Upgraded Solar Power String Lights
Easy to Shape
Amazon's Choice
Flexible Copper Wire
Water Resistant
Check Amazon →
Read our review
VINTAGE STYLE
Sunlitec LED Solar String Lights
Dual Charging
100% Satisfaction
Lightening Modes
Amazon's Choice
Check Amazon →
Read our review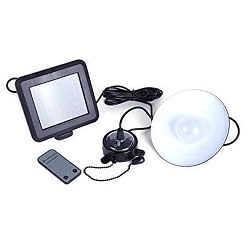 SHED LIGHT
Kyson LED Shed Indoor Solar Light
Lightweight Design
Amazon's Choice
3-meter Chord
External Solar Panel
Check Amazon →
Read our review
How Do Solar Lights Work?
All solar LED lights operate in the same way. When daylight (preferably sunlight for a more efficient charge), hits the semi-conductor materials, it excites the outermost electrons of their atoms. This burst of energy comes in the form of electricity that can be converted and utilized for our solar light via the rechargeable battery.
The solar panels are lined with silicon which is an excellent semiconductor, while the cells of silicon are made with dark material to better absorb light. When the sun shines on the panels throughout the day, the electrons are in constant motion. Electricity is quickly converted and stored in rechargeable batteries for later use in your solar indoor lighting.
This results in several hours of clean light and brightness created without a significant carbon footprint and no energy costs. The process repeats itself over and over in a guilt-free cycle of clean energy.
Knowing the basics of how the technology works, it is much easier to understand what you are getting with the solar light bulbs inside your home on this list.
Frequently Asked Questions about Indoor Solar Lights
Years ago, solar-powered LED lighting was either extremely limited or prohibitively expensive. Now, as the green energy revolution is beginning to spark, options for solar lights are constantly growing. This includes garden solar lights as well as the solar lights indoor use that we have reviewed above.
You no longer have to be limited by your sense of style or desire for simplicity in dealing with solar light and LED technology. Moreover, for all the solar lights that you install in your home, you significantly reduce your carbon footprint and help to fight the advancement of climate change.
The options on this list are all ideal for getting you started on the path towards living a more eco-friendly and well-lit life.
Can solar lights be used indoors?
As long as the solar panel can be placed in the sun then all solar lights can be used indoors. However, we will point out that solar lighting indoor options are not always suitable for use as an outdoor solar garden light. This is due to the fact that they do need to have weather waterproofing.
Is there a solar light bulb?
There are some solar lights that are actually solar light bulbs. Rather than having a separate solar panel and cord the solar panels are actually on the solar bulb and absolutely great idea for camping or emergency lighting.
What kind of light will charge a solar panel?
Are you worried about the kind of light you will need to charge a solar panel? Worry no more as it is not always true that solar panels need bright sunlight to operate. Most high-quality solar panels will charge on a normal bright day and some even with cloudier weather.
Ensure you place them in the brightest area and that they are not shaded. More industrial solar panels are normally placed on the roof for this reason.
Whether you are thinking of buying solar lamps for garden use or using solar lights indoors always check the specs to find the light requirements of the panels.
How do you use solar lights?
The best indoor solar lights or garden light solar panels come in all shapes and sizes, and how to use your solar lights could not be simpler. They are easy to install, without the need for hard wiring.
Place the solar panel in the optimum position to receive the best amount of light, either mounted on a wall or with a stake pushed into the ground for garden lights, switch the light ON, and away you go.
Many solar-powered garden lights feature different settings and function differently. For example, a solar lamp that has a motion sensor and will turn ON automatically when movement is detected. While others will turn ON at dusk and OFF again as daylight returns.