Whether you use your garage simply as a place to keep your car at night, when it is not in use for the general storage of items you have no place for in your home, or as a workshop, adequate illumination is vital. And we are not just talking about outdoor garage door lights.
Garages, by design, often do not have windows and even if they have some lighting, it does not produce enough light output for your needs – especially if you are working in your garage late at night or early in the morning.
You need the brightness for your workbench and the illumination so you can see that spanner in your tool chest without a struggle. Before we show you some of the best garage lighting on the market, here are some of the best garage lighting ideas we could find online: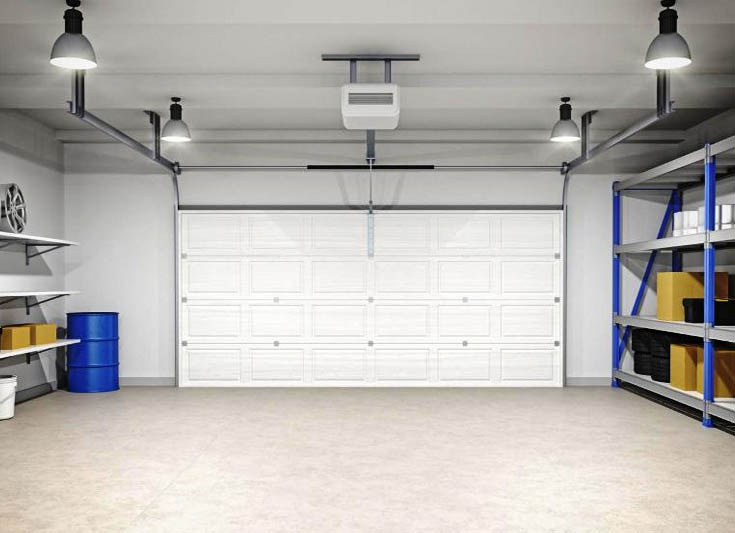 Maybe you've seen a style you like, but if you haven't then we've saved you the headache and rounded off some of the best garage lighting options below.
Installing the best garage lighting you can get your hands on for your budget will help to brighten up your garage, storage area and workspace.
Garage lights can also be used as LED warehouse lighting especially if you only have a small warehouse to light.
The work you carry out on your car will benefit greatly from the increased visibility from your choice of garage lights, as will any other tasks or projects you work on in this space.
When you need to find something stored away at the back of a shelving unit, better lighting will stop a simple job becoming a headache-inducing nightmare and it's this problem that usually starts people looking for new garage lighting ideas.
Or, you might be using the older fluorescent technology and wish to update to something that is more energy-efficient such as LED lighting to save on energy consumption, LEDs are also the greener option because they do not use mercury, unlike the fluorescent tubes.
Unless you have ever researched and bought garage lights before, the sheer choice out there can be more than a little intimidating.
Therefore, to help you with your decision making, we have put together a list of the best led garage lights you can buy online. If you already have existing garage lighting and do decide that you want to upgrade to LED tubes from fluorescent, check out our recommendations for the best T8 LED Light Tubes.
Best LED Garage Lighting Ideas – Our Top 7 Best Picks
Before we look at our shortlisted garage lighting options, you may be wondering why we are looking at LED garage lighting fixtures instead of incandescent and fluorescent lighting.
It is true that there are actually two popular lighting options that are suitable for garages. The reason why we are only highlighting LED lighting rather than the more traditional fluorescent bulbs is because of these features:
LEDs produce light that is around 3 times brighter and also last 3 times longer and have a greater energy efficiency of about 60% less energy. Learn more about the benefits of LED lighting) without flickering. If you need help replacing fluorescent to LED tubes, we've written an extensive guide on what you should be looking for.
So without further ado though, let's take a look at our pick of the 7 best LED garage lights.
This simple modern design light fixture by Bbounder is extremely versatile. Each individual lamp housing consists of two 4 feet long LED shop lights for garages, delivering a super bright 4000 lumens in a daylight glow for the bright light needed.
The package includes 10 housing pieces, all of which are linkable so you can build a lighting structure that is as long as you would like it to be. Install them to the ceiling with a suspended or flush mount at a recommended height of 7 – 16 feet. With a five-foot power cord just plug into your power outlets.
Check for Black Friday Deals on Amazon >
(don't worry, button opens a new tab)
Installation is fairly easy since the package includes a how-to guide with clear instructions and all the hardware that is required such as hooks and brackets. You won't find yourself rushing to the hardware store to buy the missing pieces.
Bbounder has excellent 24/7 customer service so you can contact them with any questions at any time. This product comes with a 5-year warranty so you can feel assured that you are receiving a quality product. Energy-efficient so you have lower energy bills, has durability and anti-rust housings with low or no maintenance required, 4000 lumens, and a great color rendering index (CRi) of 5000 kelvin.
Although these are quick and easy to install please, as with any electrical appliances, ensure you follow safety regulations.
Why We Liked Them
Easy installation incl. manual
Good customer service
Long lifespan
Daylight color temperature
Both suspended and flush mount
5 Year Warranty
Considering its price, the next on our list is this rigid and lightweight Hyperikon HyperSelect which provides enough light to illuminate even the darkest of spaces and uses far less energy than a fluorescent bulb and so increasing your energy savings.
Every individual light consists of 2 separate LED bulbs for a combined brightness of up to 3,800 Lumens. These 4′ LED shop lights for garages from Hyperikon were also recently featured in our top 5 best 4 foot shop lights review.
Check for Black Friday Deals on Amazon >
(don't worry, button opens a new tab)
The hanging system utilized by this LED light housing is what makes it particularly unique, as it does not use the standard chain that many other lights rely on, but a wire suspension instead. Although many customers have suggested that this does make it easier to install others have stated that they felt it was harder than other models.
Whatever way you look at it, the suspension cord offers a lot of room to play with when it comes to making adjustments to the height. Furthermore, these give you the option of being mounted flush to the ceiling if you do not have the height to hang them.
It is important to note that the power cord and on-off for the light switch are in-line with each other, not a pull chain hanging down. Meaning if you have a high ceiling it could be hard to reach.
Another feature with this kit is the fact that it is available as a 4 pack, but please note that they can't easily be connected in a series together.
Why We Liked Them
3,800 Lumens
Long lifespan
The versatile and adjustable mounting system
5 Year Warranty
This ultra-bright Lepower New Craft LED flood light is an ideal option for garage lighting if you are always on the go and looking for portable LED garage lights, or maybe you are working outside a lot and don't necessarily need a permanent lighting solution for your garage.
Compared to other lights listed on this page, this particular model can be fixed or portable so the best of both worlds.
Check for Black Friday Deals on Amazon >
(don't worry, button opens a new tab)
The handle at the back of the light features points for wall mounting or to be used as part of your system of LED lights for garage ceiling. Thanks to the built-in stand it can be placed on the ground or virtually anywhere so no matter where the project is or the light is required this LED light can be there. It is completely waterproof so ideal for exterior lighting as well.
For the price point and portability, it produces a very powerful and bright light with 8,000 Lumens light output with a warm color temperature indexing of 6,500 Kelvin (learn more about LED color temperatures). This makes it closer to natural daylight than many other LED lights.
The reflector on the interior has a scale design meaning the light is spread and glaring is reduced. Maybe you have incandescent or fluorescent lights and just need some extra bright light that can be moved around to different working areas then this is the one for you.
Why We Liked Them
Waterproofed
Portability and a variety of mounting options
Bright and warm 8,000 lumens and 6,500 kelvin light
These stylish LED highbay lights by Lightdot are extremely bright, rated at an impressive 24000 lumen (by far the best Lumen count so far) and that is a lot of lumens per square foot it has a and a color temperature of 5000 kelvin.
On top of that, they are very safe thanks to the adjustable steel wire rope which can take a weight that is 7 times heavier than the actual weight of the high bay housing and light. The steel wire that is included is 2 feet long. Depending on the height you install the high bay light, the area of illumination will be greater or lesser, a nice option to have.
Check for Black Friday Deals on Amazon >
(don't worry, button opens a new tab)
Lightdot has included a handy table describing exactly how much area is illuminated at what height. You can also use this table to determine how many bay lights you should install in your garage to avoid any dark spots over your workbench or in a tucked away storage area.
These are dimmable LED lights with a dimming range or between 1 – 10 volts and since this light fixture is a vented design you don't have to worry about overheating the LED bulb at full brightness for long periods so make for the ideal garage lighting with very low power usage so another that saves on power consumption. This LED fixture will knock spots off your older fluorescent lights and you will wonder what took you so long to upgrade.
Why We Liked Them
Adjustable height
Strong structure and Good Durability
Dimmable
Extremely bright
Vented design
2 Year Warranty
The best for being the most original lighting option on this list is definitely this stylish and clever design by Yiamia. When fully expanded it looks similar to a ceiling fan but the four light flaps on the side also fold up to create more of a cone shape.
This adjustable design is not just for show – it lets you change the angle of the lighting to suit your exact needs at the time. Each illuminating flap can be adjusted separately which gives you ultimate flexibility.
Check for Black Friday Deals on Amazon >
(don't worry, button opens a new tab)
Installation is made as simple as possible. It screws into any E26 or E27 bulb base so installing this garage ceiling light is as simple as replacing a light bulb, no brackets, ballasts or tube lights in sight.
Safety, quality, and durability are just 3 aspects that YiaMia pays close attention to which you can tell just by the build quality with better heat dissipation. In total there is 246 individual LED chips spread over the four flaps and central light so expect great illumination with no flickering
In fact, this light is so bright that they recommend that you do not look at it directly when fully lit. In our mind, we think this form of garage lighting would not only suit garages but like most would make stylish and bright shop lights as well as being good for warehouse use.
Why We Liked Them
Adjustable angles
Easy installation
Lifetime Aftersale services
Good heat dissipation
Without a doubt, the LeonLite Shop Light fixture is probably one of the best and most versatile light we have come across for garage lighting and is great for larger-scale areas that require more than one or two lights.
It is not uncommon for lights to be easily linked together, however, the difference with the LeonLite LED light is that 5 individual lights can be connected end to end using the built-in linkers.
Check for Black Friday Deals on Amazon >
(don't worry, button opens a new tab)
If you prefer though, they can be installed with as much as 5 ft separating them with the included power cord. Certainly a good chance to reduce power consumption for the larger property and definitely cheaper and greener than the older fluorescent bulbs. However, this mounting option involves hard-wiring lights together.
As the mounting system is incredibly flexible, it can be used to hang them from the ceiling but also to install them flush against a wall or even a workstation. This makes it the ideal choice if you are looking for a lighting solution for your workbench or work area and is operated with a pull chain.
Though, its crucial to note that customers had a lot more difficulty using the mounting system for this light than others and it does not offer the option for flush mounting to your ceiling.
Taking on board all of the features mentioned and the downsides, this is an LED garage & workshop light that is an excellent contender with its brightness of 4,000 Lumens and a long lifespan of 50,000 hours.
Why We Liked Them
4,000 Lumens brightness
Can be mounted flush to a wall
Up to 5 lights can be connected end to end
Last but not least of our garage lighting options is this LED light fixture from Sunco and is difficult to beat when the quality and price are taken into consideration.
They are supplied as a 2 Pack. And each individual light has a length of 50.5 inches and produces 4,000 lumens in brightness. Thus, LED lights for workshops, etc that are well designed and sufficiently powerful for the majority of residential and smaller garages.
Check for Black Friday Deals on Amazon >
(don't worry, button opens a new tab)
However, if you are on the lookout for something that will illuminate a commercial garage or just a large scale garage, it is worth knowing these can be used in a daisy chain (Linked) for groups of 4 lights so they can illuminate the commercial size property as well.
We've recently finished a standalone Sunco 4 foot shop lighting review as it remains such a strong seller.
Unlike fluorescent bulbs, these LED bulbs do not flicker at all, not even in winter when temperatures are low.
By far the best thing about this particular LED fixture is the fact that they are very easy to install. While many customers did comment that their lightweight feel made them seem cheap, when it came to suspending them from the ceiling, this was forgotten.
The chain hangers included with the lights make it lightweight and easy work to attach the housing to your ceiling and enable you to adjust the height easily. The plug-in cord that comes with these lights is only 5 ft long, so it is likely that you will need to purchase an extension.
They may have a low price, but as LED garage ceiling lights go, they will definitely last a very long time, and even if they do not last the stated 50,000 hours, they come with a full 5 years guarantee.
Why We Liked Them
Energy usage reduction by around 65%
Easy installation
Long lifespan of 50,000 hours
5 Year Warranty
For a quick recap, here's the top 3 most popular picks of lighting for garages:
OUR #1 PICK
Brightech LightPRO LED Garage Light
Linkable Lights
Budget Friendly
Over 550 Reviews
SUPER Bright
Check Amazon →
Read our review
VERSATILITY
LeonLite 40W 4ft Linkable Lights
Linkable Lights
Surface or Suspended
An Amazon Choice
300+ Reviews
Check Amazon →
Read our review
CHEAPEST
Sunco Lighting 2 Pack Garage Lights
Surface of Suspended
Very Affordable
400+ Reviews
84% Energy Saving
Check Amazon →
Read our review
Important Factors To Consider When Choosing Garage lights
Fluorescent vs LED
As we have already mentioned towards at the start, we were only going to be reviewing and highlighting LED lights and not the more traditional fluorescent lights. LED bulbs have distinct advantages over the alternatives, such as:
They don't include mercury or any other dangerous chemicals
They don't emit UV rays which can be dangerous
Safer and more energy efficient to run
Can actually save you as much as 60% on your energy usage
Longer lifespan than the alternative – 50,000 hours rather than just 15,000 hours
If you want to learn more about Fluorescent bulbs vs LED bulbs, the benefits and the downsides of both, check out this page.
LED Color Temperature and Brightness
When looking at garage lighting systems, you'll notice there are two numbers that appear first in any LED light review or product description are the color temperature and brightness. LEDs can come in various color temperatures, measured in Kelvin or 'K' for short, but the most common temperatures range between 4,000 and 5,000K.
While lower color temperatures produce bluer lights, higher color temperatures produce more orange-tinged light. Want to learn more? Read our full guide to understanding LED color temperatures.
Brightness is measured in Lumens and the most commonly available products produce a brightness of 4,000 Lumens. However, up to 8,000 Lumens and even more.
It should be noted that brighter is not always better, as light that is excessively bright can cause reflections and glaring and even cause long-term health issues. Particularly so if it has been mounted directly above a workstation or hung low from a ceiling. It can take some testing to get the correct brightness, but it could be better to install more lights instead of just one that is too bright.
Connectivity and Installation
Before you choose a lighting system for your garage, you need to give thought to planning how you will set it up. If, for example, you are looking to set lights up above your workstation, it is recommended you think about whether it would be best to have it flush to a wall or hanging from your ceiling.
Additionally, give consideration to the garage height and the adjustability of the hanging systems featured with lights. If you are looking for many lights, do they need to be connected together? if this is the case, ensure that those lights can choose the capabilities and that the number of lights you require can be connected together.
Testing Certification
When you buy LED lights, it is crucial to look for products with either Edison Testing Laboratory (ETL) or Underwriter Laboratory (UL) certification. Both of these certifications note that it meets the Occupational Safety and Health Administration's minimum electronics safety standards.
Energy Usage and Savings
When you compare them to fluorescent lights, as previously noted LEDs use less considerably less energy while producing the same light, which equates to up to 80 percent less energy. You will find an energy star rating on some options.
When looking for the energy usage of 2 lights though, you need to look also at the wattage lights with a higher wattage tend to use energy quicker. The majority of 4,000 Lumens lights have a wattage of 40 watts, but brighter bulbs with a higher lumen count will probably have a higher wattage.
Frequently Asked Questions:
Although we have covered most of the points that you need to consider when trying to find the best garage lighting for your needs. But, below to try and help a little more we have answered the questions that we are asked the most.
Is it worth switching to LED bulbs?
Yes, it is worth switching to LED bulbs from a fluorescent bulb system because of the following features that LED lights have.
They have far greater energy efficiency, thus giving you a great saving on energy consumption.
The lifespan of an LED far outways that of older technology
They are brighter as they have a greater lumens output.
You have more control over the color temperature, there is a wide selection that you can choose from.
Lastly, they can be fitted with dimmers to allow for various conditions.
Overall the benefits you will gain from having an LED lighting system are vast.
What type of lighting is best for a garage?
What type of lighting is best for a garage will vary on what space you have and what it is used for. LED would be recommended every time as it saves on power consumption and has the brightness that you would need in a garage or workshop area.
There is a great variety on the market to choose from and therefore you can find the design and type of lighting without making sacrifices on style or light. If it is a residential property then why not have a look at a light fixture with a motion sensor, ideal when arriving home in the dark.
How many lumens do you need in a garage?
The number of lumens you need in a garage will always vary. Depending on what the space is used for, but on average allow 130 to 150 lumens per square foot. Whereas, for a larger warehouse-size garage 300 lumens per square foot would be recommended.
LED lighting comes with many options of lumen ratings along with choices for color temperature as well. This is the guideline that has been given in the  Lighting Handbook of the Illuminating Engineering Society (IES).
How can I improve the lighting in my garage?
You can improve the lighting in your garage by considering the following points.
Work out the area that needs lighting, this will let you work out how many lumens you will need.
Don't just settle for the basic overhead lighting. Look for specific task lights for certain areas.
Choose the fixtures that you need for your purposes. Wall fittings will enhance the lighting from ceiling lights.
If you have incandescent or fluorescent lighting consider a conversion to LED lighting as these are brighter and have more user-friendly features such as energy efficiency and color temperature options..
In Summary
To summarise, having sufficient lighting for your garage will obviously make working in it a lot more comfortable and easier.
Although there are a lot of different lights available, we are confident that the 7 we have listed on this page are the best. Along with our buying guide, we feel we have equipped you with all the tools necessary to choose the best LED garage lights for your home.
If these kinds of lights aren't what you are looking for and want some shed lights, make sure you check out our best LED solar shed lights post which may have some options for your smaller workshops or garages.