Lights for garage doors are great for safety and to make access for vehicles pulling up and parking on your driveway much easier and safer. Improving your garage lighting is also a smart idea when you have limited garage space inside or are using it as a workspace.
When installing side or above garage door lighting on the outside, you want something that functions similarly to a porch light. In other words, garage door lighting fixtures with motion sensors and are bright enough without causing glare for the neighbors but still in keeping with your lighting design.
Best Outdoor Garage Door Lights
We've reviewed the best outdoor garage door lights currently on the market to help transform your garage lighting and be inspired with some garage light ideas for the front of your residence.
Don't forget to read through our quick buying guide to make sure that you buy the right size garage door lighting and take a look at some of the most frequently asked questions about this type of lighting.
If wanting to make your garage secure is the main concern then you want a bright light with a wide-angle of illumination. This gives you the best visibility so that you can monitor from a safe distance and from inside the property.
A motion sensor is another preferred element since this type offers great visibility and helps make your car garage secure while also being energy-efficient. Another advantage of using motion sensor lighting is that it turns on automatically and the sudden light helps scare off and deter intruders.
These LITOM models do all that and more. This option is kind to both the environment and your wallet since it runs fully on solar panels that are fitted into the unit, but just remember that if you do have large trees around then make sure these are not being shaded from the sun.
Check for Black Friday Deals on Amazon >
(don't worry, button opens a new tab)
Another reason to choose this model is the ease of installation. No wiring is required and you can even remove this portable unit at any given time, in case you want to use it for other outdoor activities like camping.
The materials are waterproof, heatproof, and frost-resistant meaning that they are suitable for many different climates. However, remember that they rely on the sun's energy so it is not suitable for areas with limited daylight.
Overall, this LITOM solar powered motion sensor option is a brilliant choice. It is energy-efficient, easy to install, and made of durable materials and LED bulbs that last for decades.
Why We Picked Them
Solar energy, solar panels included
Durable LED bulbs & solar panels
Portable
Easy installation, no wiring needed
Several modes
Wide-angle of illumination
Exterior garage lighting ideas don't have to be boring or purely functional. There are also plenty of attractive designs that would blend in well with stately elegant or a period build home exterior while enhancing the car garage.
A good example is these bronze wall sconces (and can be pendants if you prefer) that are a modern adaptation of Victorian oil lamps. Instead of a flickering fire, you can screw in the bulb of your choice with an E26 base and 120 volts.
This is sold in packs of two which is perfect for placing on either side. The package comes with universal mounting brackets so some DIY with screwing the lamp into place is required.
Check for Black Friday Deals on Amazon >
(don't worry, button opens a new tab)
This is also a hardwired model meaning that you will have to connect it to your home's electrical circuit. However, reading from the customer reviews, the installation was not that difficult so the average homeowner should be able to figure it out.
The materials used are metal and glass which is a welcome change to the many plastic lighting solutions. Though the manufacturer does not include a waterproof rating they are sold as outdoor lighting and should have no problem weathering the rain.
You can have some fun with this, too. It works just as well upside down which means you can install it on the wall whichever way you like best.
Why We Picked Them
Sturdy materials
Universal mounting brackets
Decorative
Choice of bulb
This is a sleek contemporary option by Globe Electric that fits against the backdrop of any style of homes. It is simple yet refined, made with a matte black frame and clear glass, matching any garage door style.
These wall-mounted sconces require 1 garage door light bulb each as they are not supplied with the unit. The manufacturer recommends an LED Edison bulb because of the beautiful shape but you can just as easily choose a brighter option for better visibility.
Check for Black Friday Deals on Amazon >
(don't worry, button opens a new tab)
The great thing about this particular option is that it is dimmable. This means that you can set it to a lower brightness when everyone has gone to bed and keep it at a higher brightness for when you are expecting visitors or are going out for the evening.
Although this is simple, it does require some assembly and wiring to get them installed. These pieces are hardwired and the lamp itself does not arrive pre-assembled.
Overall, it is a very modern-looking option that looks great in pairs consider installing them on either side of the garage door or above it. This is an LED fitting that would also look good for your patio and not just for your garage door needs.
Why We Picked Them
Beautiful design
Choice of bulb
Dimmable feature
Affordable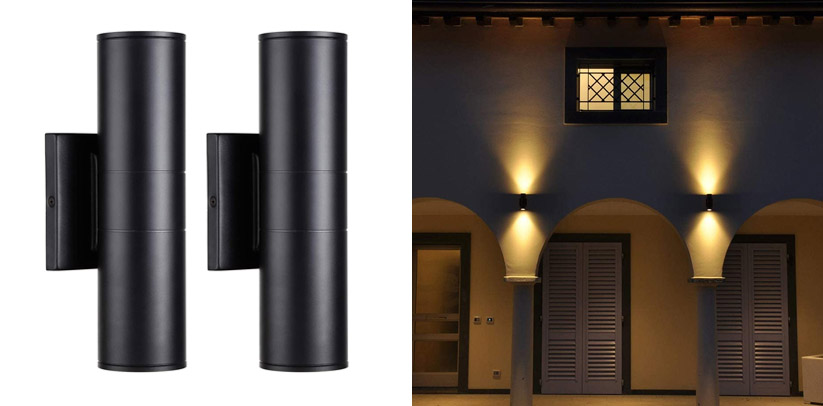 Don't let the solid cylindrical size mislead you – this is the brightest of the outdoor lights for garages on our top 5 list. The LED bulbs emit a whopping 1400 lumen at a warm white 3000-kelvin color temperature.
Being LED technology, these are also a smart choice for energy-efficiency. The bulbs are rated at 20 watts but with the brightness equivalent to a 120-watt incandescent bulb.
Check for Black Friday Deals on Amazon >
(don't worry, button opens a new tab)
Besides the savings you earn on energy efficiency, you also get the benefit of not having to replace the light for many years. The manufacturer rates the lifespan of this at 50,000 hours which is also the longest-lasting bulb in this top 5 garage door lighting list.
The materials are suitable for a wide range of climates and will keep working in temperatures between -4°F and 104°F. They are perfect for placement in wet areas, too, it won't affect the lamp.
One of the greatest features is that this shines in two opposite directions, from each end of the cylinder. This means that with just one lighting fixture, you get both an up-light and downlight.
This works especially well for placement on either side or above a garage door because it gives enough illumination to see the surroundings without causing any glare. Your neighbors will be thankful.
Why We Picked Them
Up/down lighting
Long lifespan
Very bright
Elegant style
Since outdoor lighting is usually left on overnight, you want a unit that won't cause a shocking hike in your monthly electricity bills. For that very reason, these Hyperikon lights are a great choice since they run on just 12 watts.
More importantly, they are energy-efficient LEDs while still being very bright with a rating of 1000 lumen in a cool white color at 400 kelvin. This is perfect for when you want a clear view of an area but not so bright that it blinds you.
There are two slits of clear glass on this unit, one at each end of the cylinder. In practice, this gives you both an up-light and a downlight which is the ideal illumination and will fit in well with any other landscape lighting.
Check for Black Friday Deals on Amazon >
(don't worry, button opens a new tab)
Another great feature is the photocell sensor and dusk to dawn function. Essentially, this means that as soon as the units are installed you never have to think about switching it on and off anymore.
Thanks to the photosensor, these automatically detect the ambient light and respond accordingly. So, at dusk, the lamp turns on and automatically turns off again at dawn.
These lights are great for placing on either side of the door. If they fit under a little awning, that would be even better for its water resistance.
Why We Picked Them
Dusk to dawn setting
Super bright
Energy-efficient
Up/down lighting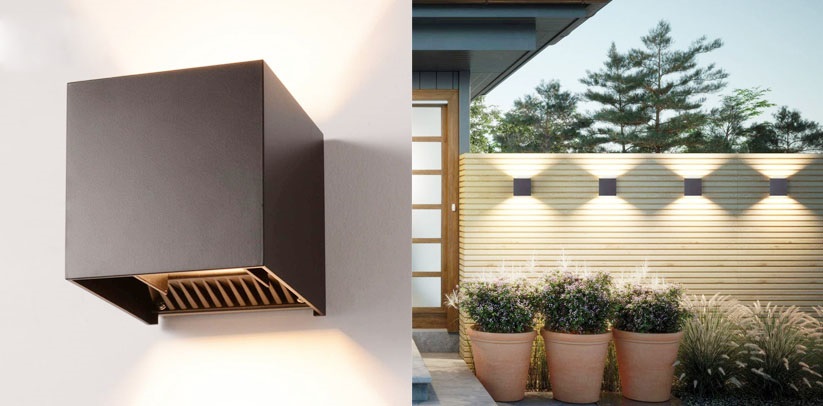 This modern exterior cube light by INHDBOX is a 12w hard wired fitting designed to cover the exterior electric box and is surface mounted for ease of installation. Measuring 4.7 inches (12cm) it is made from pure aluminum with a heavy-duty texture so this exterior garage light is extremely durable.
With a waterproof rating of IP67, it is made to withstand anything the weather conditions can throw it, in fact, this comes with a 2-year warranty so you can rest assured that you are buying quality at an affordable price.
Check for Black Friday Deals on Amazon >
(don't worry, button opens a new tab)
The bright LED light is emitted from both the top and bottom to be not only practical but decorative and is fully adjustable via two flaps, again top and bottom, so you are able to change the width of the beam to suit you.
Modern with clean lines this light would look good not just for your garage, but on a patio, decking area, or even indoors and is also available in grey or white.
Why We Picked Them
2 Year Warranty
Adjustable Up and Down Lighting
Modern Clean Look
Lights for Garage Doors Buying Guide
Just like you want a different style of lighting in the different rooms inside the house, you are looking for different elements in each type of exterior lighting. Choosing the right lighting requires thinking about the space that needs to be illuminated, the main time of use, and also the weather conditions.
A full guide on all exterior lighting for home use is quite expansive so here we focus on tips of how you can find the perfect garage door lighting option for you and your garage door style.
Still looking for the best garage door lights? Here are our top 3 Best Exterior Garage Light picks;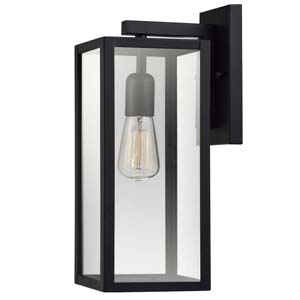 OUR #1 PICK
Globe Electric Wall Sconce LED Garage Light
Clear glass
Easy setup
Weather-resistant
Black finish
Check Amazon →
Read our review
ELEGANT DESIGN
LEONLITE LED Cylinder Up Down Garage Light
Ambient Lighting
Long-lasting
5-year warranty
Quality aluminum
Check Amazon →
Read our review
SOLAR POWERED
LITOM LED Solar Powered Garage Lights
Motion inductor
3 Lighting modes
LITOM solar led
Fixed buckle
Check Amazon →
Read our review
Finding the Right Size
Whether you are placing the lights on either side of the door or above it, the measurements should be similar. This is because you determine the size of the fixture by the height of the door, regardless of its placement.
For a single door garage, multiply its height by 0.25 and for a single door garage by 0.33. This about the height of a lighting fixture that would look in good proportion to the garage door.
Lighting Direction
For garage door lighting, downward or upward facing lights are preferable. This is to avoid glare when driving up the lane and to avoid bothering the neighbors.
There are several options for models that have both upward and downward angles but if you don't like these designs than a downlight works fine, too. Just make sure that the bulb has a wide angle of illumination so that it does not function as just spotlighting.
Extra Features
A useful feature is a timer or dusk to dawn setting because the garage is a less frequented part of the house. Also, consider security lighting features like a motion sensor and dimmer.
For easier installation, choose either a solar-powered or battery-powered unit – no wiring needed.
Frequently Asked Questions
We have covered all sorts of lighting in the above reviews and hope you are on your way to knowing which option will suit your needs. Below we will answer some of the questions that are asked the most by our readers.
Are there special light bulbs for garage door openers?
Although standard incandescent and fluorescent bulbs will work in your garage door opener it is recommended that you do actually use a special garage door opener light bulb, this is because the regular vibration caused by the opener can damage the standard bulb causing it to have a shorter life span.
Although all forms of lighting can be used it is worth noting that it is actually not recommended to use LED bulbs due to the LED bulb interference with garage door opener and problems that this may cause so ensure that it is a garage door opener LED bulb.
How do I get my garage door lights to go on when I open the door?
For your garage door lights to go on when you open the door you will need to have a motion sensor on the lights that you have fitted. This will enable the lights to detect your movement and will then automatically turn on.
Where is the best place to put my garage door lights?
There are three smart lighting placements; on either side, in the center above the door or spread all along the top. The best option is up to preference and fixture size.
For most single door garage, one lighting fixture installed in the middle but above all moving parts should offer sufficient illumination. For double door garages, it is smart to place a unit on either side.
For even better visibility, consider a combination. For example, one central and two sidewall fixture, but keep the designs the same for cohesion.
Also, remember to install the lights in spots that won't interfere with other garage door functions. Don't let the fixture or the brightness block the sensor for opening the door.