The development of long-lasting LED lights means that such bulbs are now available in a wide range of applications. You most likely have them in the home as room lighting, you may even have a television that uses LED technology, and they are used in many other items in and around the home. When it comes to cars, there are LED brake and fog lights which are becoming very popular, plus interior lights, but what about LED headlights? 
LED headlights are available in the USA, and they are very effective, yet you need to be especially careful as LED headlights are not always road legal. So when are LED headlights legal?? Road legal headlights are those that meet the requirements laid down in the law pertaining to where you might be, and LED lights often do not fit the bill. Let's have a look at what makes headlights road legal, and how you can make sure your LED headlights are, too. 
Are LED Headlights Legal?
Whether or not LED headlights are legal varies from state to state, but in general LED headlights are legal if they project a beam that allows you to see between 50 and 100metres ahead of you and they should be bright enough to be seen, but must not be so bright that they dazzle other vehicles on the road. And, there are certain rules about the color that you are allowed to use. Usually yellow or white are the only colors permitted – and the latter point is one that can be a problem with certain LED bulbs. 
When we talk of headlights – or any other parts of a car – being road legal, we mean that it can be lawfully driven on the roads of your region. It should be remembered that there are different regulations in some states – and in other countries – so what may be determined acceptable where you are may not be elsewhere.  
When we are talking about headlights, there are important safety issues that determine the legality of the lights you fit in your car. When you buy a car it will come with standard headlights and other lights that are required; some people like to use LED lights, but they do not always comply with the necessary regulations. 
Remember, the above paragraph outlines general rules and regulations; you should check with your local authority regarding the fitting of LED headlights. 
So, now we know what road legal means, can it be applied to LED headlights? 
Buying Legal LED Headlights
Why do people fit the best LED headlights – or other lights – to their cars? Well, there are two main reasons: firstly, they really do look great. LED lights give a much more up to the minute look to your car lights. The second reason is that LED lights last a lot longer than conventional halogen bulbs, of the type used in standard car headlights. This makes them more efficient and cost-effective, and fitting such bulbs can be a sensible cost-saving.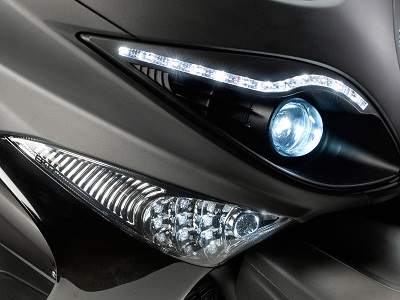 However, there still remain the problems surrounding whether LED headlights are legal in your state , so let's check them out in more detail. 
First, there's the brightness issue; as we've already mentioned, it is entirely possible – and not, in fact, uncommon – for car headlights to actually be too bright, and therefore illegal. You know what it's like when you come head-on with a car that has its high beam headlights on; badly fitted, or too bright, LED lights can have the same effect, and may momentarily dazzle other drivers straight on or through there mirrors, which can be very dangerous indeed.  
There are also requirements as to where headlights should point, in terms of direction, when you have your normal beam on: this is always downwards, and slightly away from oncoming traffic. The reason for this is as we mentioned above – badly angled lights can blind oncoming drivers, and this is a regularly encountered problem with cheap LED bulbs that have not been realigned. 
Many drivers, for example, change from standard halogen lights to more impressive xenon HID bulbs, and when they do so are legally required to purchase an HID conversion kit that ensures they have the correct angle of headlight beam. This is not a legal requirement with LED, yet you should still ensure that your headlights are correctly aligned as you may otherwise be breaking the law. 
Should I Fit LED Headlight Bulbs?
We may have made fitting LED headlights sound problematic; that's because, if we're honest, it can be! The reason for the problems remains with the sometimes confusing laws and regulations as we have outlined, and once again it is important to ensure you check the local regulations that apply to your region, as only then will you discover if LED lights are in fact a legal option for your car. 
Of course, if your car is a show or track vehicle, and will not be driven on the roads at all, then you have no problem at all in fitting LED lights. If you do intend to drive it on the road, there are some important steps to take that we have listed below:
Don't buy cheap LED headlight bulbs online – you will find many, many suppliers offering cheap LED bulbs of all types online. We recommend very strongly that you steer away from these without exception. The bulbs will be of a poor quality, and will most likely fail to meet any necessary legal requirements. 
Buy name brand products – look for known brands, such as electronics giants like Philips, for your LED bulbs, or take advice from your local car dealer. Buying quality items means you get the best performance and life out of your LED headlights. 
Check the law – it really is worth mentioning this again; it may be legal in one place, but not in another, so make sure it is legal to fit LED lights where you intend to drive. 
There may be changes in the law as LED lights become more popular, but for now it is wise to exert caution if you want to fit them to your car or any other road-going vehicle/