Although it didn't start that way, LED lighting has become a viable alternative to traditional lighting. As a result, there a multitude of different types of LED lights available these days.
They are also a lot more affordable. Many of which would be great options for your home office or workspace. Working from home is more popular now than it ever has been. That's not to say working from home is free from complications, as there can be plenty of distractions. Lighting is one of them.
The fact is, homes are generally not built business ready. If you have an office or desk at home, these home lighting ideas will help you get the most out of your workspace and help you to be more productive at home.
Home Lighting Ideas For Your Office & Desk
The lighting you choose can have a bearing on whether your home office will be an area that helps with your productivity or not. Even when looking for the best LED desk lamp, you need to think carefully before you purchase one.
We want to show that there is more to choosing suitable lighting for a home office or workspace. If you need the best type of lighting for desk work, you've come to the right place. In the following post, we'll discuss the best home lighting ideas for your office, desk, and general workspace.
1. Allow Natural Light to Shine Through
Many tech users who are tied to their smartphones, tablets, and laptops, often try their best to avoid natural sunlight. However, there is nothing wrong with allowing some natural light to shine through into your work environment, in fact, it's good for your health to do so.
Particularly if you know how best to use it. It's best to try and allow a controlled amount of natural light in, without letting it bounce off all the glossy tech. Obviously, you need to take care to avoid it clashing with the artificial lighting from your devices.
2. Choose the Best Ambient Light
However, if there are not adequate levels of natural light coming into your workspace, you need to make use of artificial lights throughout the day. You can do this by using a LED desk lamp for example.
The issue is that the ambient light that even if you have ambient lighting in your home to tackle this issue, such as recessed ceiling lights, it was never installed with working from home in mind. So, you need to consider bolstering your ambient lighting with additional lighting sources.
3. The Right Task Lighting is Very Important
As you'd imagine, one of the most important forms of illumination for your home office space is task lighting. Having the right task lighting can ensure, regardless of what you do for work, that you do it to the best of your ability.
The wide range of desk lamps that exist nowadays enable you to choose models that offer extremely focused lighting. You also need to factor in that different types of tasks require lights of different intensities.
4. It All Revolves Around Angles
The art form of creating the best lighting all comes down to angles. It also depends on your use of natural light and what your work entails.
For example, if you work as a graphic designer or another position that involves the use of large sheets of paper, rather than tech, natural light will always be a great addition.
Ideally, if possible, you should try to have your workstation facing the south or north of the room, to avoid natural light causing distracting shadows.
5. Winning the Battle Against Glare and Gloss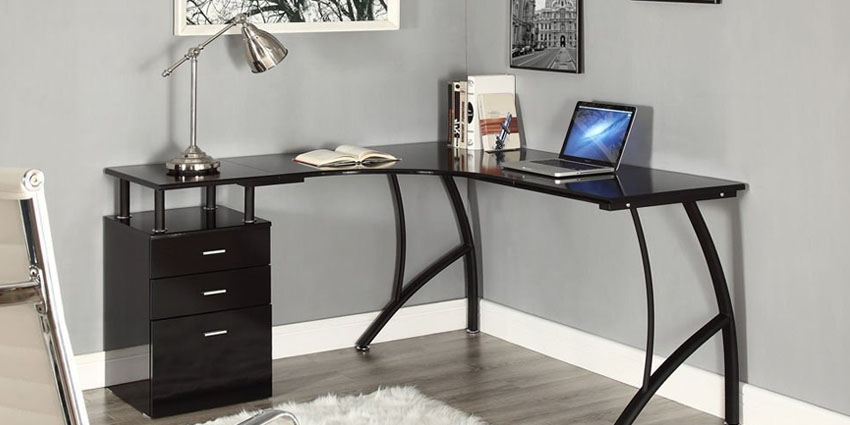 Gloss and glare are a troublesome pair of effects that can be hard to battle with unless you use a variety of layers of illumination. One great way to lighting any room, but particularly a home office, is as layered from the get-go.
The ambient light forms the foundation, while the task lighting provides the functionality and the accent lighting brings it all together. Rather than just trying to use each layer to outdo the other, you need to set them all at different levels so that they work as complements.
6. What if You Have Limited Space?
It's all too common, these days, as many adapt their home environments to accommodate their work needs, that they are dealing with smaller workspaces and offices.
What then, if you don't have that spare room that you can easily use as a workspace?
Rather than having a desk or work area cluttered with lamps, you could instead use wall sconces or pendants to create a space that feels more open and less claustrophobic.
7. Use Shades to Combat and Tame Natural Light
One of the biggest complaints about working from home that many people have is natural light and glare being a huge problem. The alternative though is not to completely block out that natural light either.
Instead, it is much better to try and aim for a happy medium, making use of cool colored transparent curtains, that have started to become more and more popular. Using simple but functional blinds or even roman shades can help you get the right balance of natural light.