The right LED lighting is essential for reef aquariums. Without reef lights, you would not be doing the beauty of your corals justice.
The type of LED lighting you install for your aquarium directly affects the reef system. You need to be careful in choosing the right color spectrum if you want your reef tank to be healthy and happy.
We already covered everything you need to know about aquarium lighting and we also explained why LED lights are a safe option for aquariums. Now we are taking it one step further in helping you keep the best reef tank.
As a follow-up to our list of the best selling aquarium lighting, here are our top choices for the best LED reef lights for both LPS, SPS, and soft coral aquarium tanks.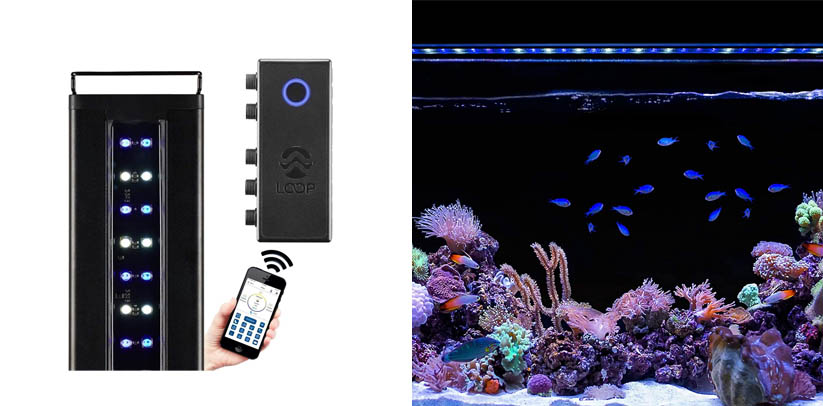 This is the first Current USA Orbit aquarium light that makes it on our list and it has earned its place for good reason. This American design model takes it one step further in technology and convenience with its mobile app controls.
With the Loop App, you can perfectly control the light intensity and wavelength but also the natural weather patterns and the flow rate of the water. It establishes a Bluetooth connection between you and LED light system, pump, and water sensors that is compatible with both Android Smartphones and iPhones.
Check for Black Friday Deals on Amazon >
(don't worry, button opens a new tab)
Even more impressive is the binaural audio that matches your chosen weather conditions. It has an incredibly soothing ASMR effect – functional for your fish and coral while being enjoyable for you.
Best Features:
Bluetooth connection wireless app
App controls weather patterns, pump & light
Binaural audio
Best for saltwater reefs
Slim easy to install design
Have several reef tanks around the house or are you lucky enough to have an extra-large aquarium? Then do yourself a favor and get this aquarium lighting system that lets you expand with the daisy chain function.
The package comes complete with a power cord that lets you connect up to 4 lighting systems with a single plug-in. This is ideal for larger reef tanks but also saves you the money you would have otherwise spent on a power strip.
Check for Black Friday Deals on Amazon >
(don't worry, button opens a new tab)
This model offers full spectrum light emitting from 168 individual LED lights. It also has a safe and intelligent fan cooling system that ensures your reef aquarium is safe at all times.
Best Features:
Concentrated LED lights
Linkable, up to 4 units
Smart automated cooling system
Double dimmer and timer
Blue light, white light, and combo mode
This simple but highly effective aquarium lights system was designed by reefers so you can feel assured that it offers just the right type of LED lighting. The LED light systems are specifically designed for LPS, SPS, and soft corals, making them suitable for both freshwater and saltwater reef tanks.
They have designed their lighting system to contain a dimmer and timer for both channels. In other words, you can adjust the light intensity from the blue light separately from the 24-hour light cycle.
Check for Black Friday Deals on Amazon >
(don't worry, button opens a new tab)
You can adjust the aquarium lights from a distance using the remote control. Installation is kept super simple thanks to the adjustable brackets that can hang over reef tanks.
Best Features:
Suitable for LPS, SPS & soft corals
Suitable for both freshwater and saltwater tank
Includes remote control
Double channel timer
Easy installation
Suitable for both corals in a saltwater aquarium and water plants in a freshwater tank, this Phlizon lighting system does its job well. Offering full spectrum light from energy-efficient LED bulbs there is little you can fault it on.
Sometimes that is said about products that simply meet the bare minimum and nothing else but that is not the case here. In fact, there is quite an important reason why this Phlizon aquarium light makes it on the list: the double dimmer.
Check for Black Friday Deals on Amazon >
(don't worry, button opens a new tab)
Corals and fish need time to acclimate to the new water light conditions, you cannot suddenly blast them with LED light fixtures. Thanks to the double dimmer, you can slowly increase the exposure while at the same time make use of the daytime/nighttime dimmer functions.
Best Features:
Double dimmer
Full spectrum LED reef lights
Compatible with both freshwater and saltwater tanks
Includes hanging kit
UV-protection and fire-proof cover
Don't want the hassle of having to hang something up above your reef tanks? Then you will love the idea of this planted aquarium LED fixture – no hanging necessary.
All you have to do is clip it to the side of your aquarium, plug it in and adjust the 360o bendable gooseneck so that it provides the perfect coverage at the best height for the aquarium. No need to bring out your toolkit or fumble around trying to follow the instructions.
Check for Black Friday Deals on Amazon >
(don't worry, button opens a new tab)
The daylight LEDs are very bright which gives you an excellent view of what is going on inside your reef tanks. We recommend getting at least two of these LED lights for your aquarium to ensure that there is an even distribution of light.
Best Features:
6500k daylight LEDs
Bendable gooseneck
Clip-on LED fixture
Best for freshwater aquarium tank
Heat sink for longer LED lifespan
Simple and functional – that is the best way to describe this VIPARSPECTRA aquarium light. Controlling the LED light is simple thanks to the remote control and it works efficiently and effectively.
This LED lighting system has full spectrum light and it is suitable for saltwater aquariums with both photosynthesizing and non-photosynthesizing corals. It is designed to perfectly balance the PAR output and coverage.
Check for Black Friday Deals on Amazon >
(don't worry, button opens a new tab)
The package comes with a hanging kit that is easy to install above your aquarium. Soon enough, your corals will be enjoying a natural light cycle from your living room.
Best Features:
Full spectrum light
Easy monitoring with remote control
Excellent PAR & coverage balance
Dimmable
Very quiet fan system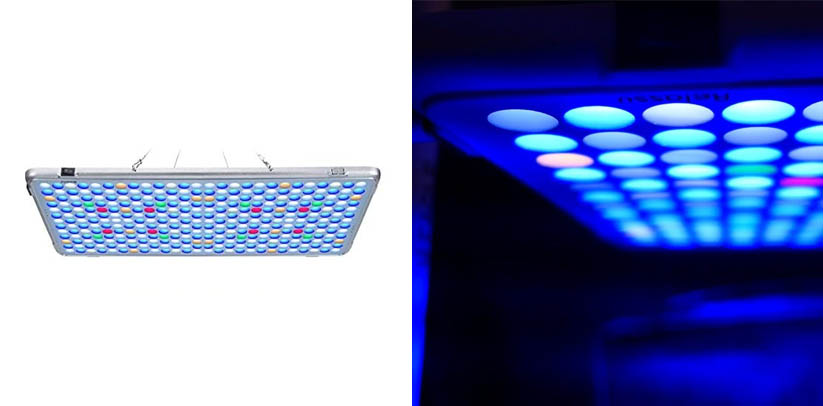 Here comes the new and improved LED lighting system for reef tanks from Relassy. This updated version has a good concentration of LED lighting and area coverage which prevents differences in microclimates within your reef aquarium tank.
One of the biggest perks of this model is that it does not have any noisy fans in its cooling system. Instead, it dissipates heat through its aluminum back panel and heat sink.
Check for Black Friday Deals on Amazon >
(don't worry, button opens a new tab)
With the handy remote control, you can adjust the led aquarium lights any way you like without having to get up. You can dim, set a timer, adjust the brightness, and more – anything you need to do to help along with the healthy growth of SPS and LPS.
Best Features:
Easy monitoring with remote control
Designed to support SPS & LPS
Concentrated and uniform lighting
Good energy efficiency
No loud fan cooling system
Only have saltwater LPS corals in your reef tank? Then save yourself the space and money of a bulkier aquarium light and buy this sleeker ClassicLED lighting system.
Not only is this LED fixture thinner but it also has more flexible sizing. It comes with extendable brackets so that it fits reef aquariums of different dimensions – no more panicking about buying the wrong size!
Check for Black Friday Deals on Amazon >
(don't worry, button opens a new tab)
This model also comes with a dual timer which lets you adjust the light intensity and the light cycle separately. One piece of advice that we can give you is to add a canopy that will prevent moisture from entering the aquarium lighting.
Best Features:
Double timer and dimmer
Many sizes available and all adjustable
Thinner sleeker design
Strong aluminum alloy shell
Full spectrum lighting
Take one look at the remote control and you immediately know that you can adjust the lighting system down to the smallest details. This advanced system is designed to give the ultimate reef tank experience with the brightest and healthiest corals and fish.
This LED lighting system perfectly imitates the natural 24-hour light cycle which puts reef tanks under ideal conditions. It goes as far as to provide weather effects, for example mimicking temporary cloud cover, just like your aquarium inhabitants would experience out in nature.
Check for Black Friday Deals on Amazon >
(don't worry, button opens a new tab)
This LED fixture is made with blue light LEDs that also offer full spectrum light. The result is dazzlingly beautiful bright corals and healthy fish.
Best Features:
Suitable for both LPS & SPS tank
Weather effects options
Perfectly mimics natural light cycle
Extra bright LED light
Complete remote control
These aquarium lights look like they come from straight from a chic design magazine. It is a long sleek single strip of LED lights that makes reef tanks look better instead of crowded.
A single strip includes six different kinds of LED lights creating an excellent spectrum of blue light. These LED lights were specifically chosen to emit the best light wavelengths for the growth and color of corals.
Check for Black Friday Deals on Amazon >
(don't worry, button opens a new tab)
Reef aquariums are meant to be vibrant and a treat for the eyes. When you install this new and improved aquarium light that is exactly what your reef tank will become.
Best Features:
Stylish LED light strip
LEDs with best aquarium light spectrum
Low wattage = high energy efficiency
Illuminated touch dimmer
Bluetooth connection for monitoring app
For a quick recap, Here are our Top 3 products:
OUR #1 PICK
Current USA Orbit Reef Aquarium Light
Binaural Audio
Mobile App Controls
Advanced Design
Easy to Install
Check Amazon →
Read our review
MOST COVERAGE
LPS SPS Dimmable Aquarium Lighting
Concentrated LED Lights
Daisy Chain Function
Double Dimmer
Safe Cooling System
Check Amazon →
Read our review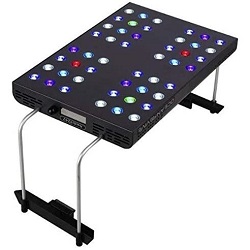 MOST VERSATILE
Ocean Revive Arctic T247-B Aquarium Lights
Universal Fitting
Remote Controlled
Double Dimmer
Full Spectrum Layout
Check Amazon →
Read our review
Frequently Asked Questions about Reef Lighting
So there you have it, our top 10 best selling LED reef lights. Not only will your corals and fish thank you for investing in one of these options, but you will reap the benefits of these types of lights.
If you are still unconvinced, we have answered some of the most common questions that come up when talking about LED lights for marine tanks.
What is the best LED light for reef tank?
The best LED light for a reef tank offers full control over light intensity, color spectrum, and light cycle. These settings all need to be adjusted to the specific corals in your reef tank.
Some of the best aquarium LED lighting systems brands include:
VIPARSPECTRA
Current USA Orbit
Relassy
Nicrew
Phlizon
Fluval
What lighting is best for corals?
Generally, LED light is best for corals but what is more important is the PAR. PAR stands for Photosynthetically Active Radiation which is what helps corals emphasize their colors and grow their food.
Always check the PAR when choosing a new aquarium light. It is also wise to have a PAR meter at home because it is nearly impossible to accurately measure the PAR with a naked eye.
Soft corals need the least amount of light, LPS corals require low to medium lighting and SPS corals thrive under bright LED lights. Knowing this, also clarifies why you have to be extra careful in picking out which corals you place together inside your reef tank.
Different types of corals have different lighting requirements. The light intensity tolerance of each species directly affects how you need to install your aquarium light.
These are the ideal PAR values:
Soft corals: 50 – 100
LPS corals: 50 – 150
SPS corals: 250 – 350
For a mixed reef tank, you will have to find a balance between coral types that have a wider range of light tolerance.
Are LED lights good for coral?
LED lights are better for corals because they do not release as much heat as fluorescent lights. The heat coming from bad aquarium lighting affects the water temperature but it also puts you at risk of overheating short circuits.
Not only are LED lights safer for your aquarium, but they are also better for your wallet. LED lighting has better energy efficiency which means that your energy bill won't go up as high.
Another reason why an LED light is better for corals is that an LED is capable of a wider light spectrum. Corals have different light intensity requirements and thrive under different wavelengths so the precision of an LED light is crucial.
The coolest reason why LED light trumps fluorescent light in an aquarium is the option for weather effects. The more advanced aquarium lighting systems can mimic natural weather conditions which also supports the health of reefs and fish.
How many watts of LED lighting do I need for a reef tank?
Watts are not a good measure for LED lights so this is not the best way to determine the appropriate light for your aquarium. PAR is the only accurate estimation of how much light your corals need.
However, you can make a rough estimate of how many watts you need. For freshwater planted aquariums you can calculate 2-5 watts of LED light per gallon and for a saltwater tank calculate approximately 4-8 watts per gallon.