Fluorescent tube lighting comes in a range of sizes. When you are trying to replace fluorescent lighting, whether with LEDs or other fluorescent tubes, you will need to understand the difference between tube light sizes.
Determining the tube size of the fluorescent light will help you decide which tube lighting is a suitable replacement. The tube size will also be a clue on the best method for converting fluorescent tubes to LED.
Even if you are not planning on converting fluorescent lights into LED tube lights, knowing about the differences between tube sizes is still imperative. Each fluorescent tube size has its own advantages and disadvantages.
Fluorescent Tube Sizes Guide
There are 4 different fluorescent tube sizes; T4, T5, T8, and T12.
The T stands for tubular and the numbers are an index for the diameter (in inches) of the tube light. Most tube lighting will have its size mentioned on one of the end of the tube. So, in most cases, you won't have to physically measure the tube's diameter and length.
If in any case, if the size tag is missing, use the overview below for quick reference.
| | | | |
| --- | --- | --- | --- |
| Tube Light Type | Size Index | Diameter in Inches | Diameter in Millimeters |
| T4 | 4/8 | 0.5 | 12.7 |
| T5 | 5/8 | 0.625 | 15.8 |
| T8 | 1/8 | 1 | 25.4 |
| T12 | 12/8 | 1.5 | 38.1 |
Aside from the size you need to check that the lighting fixture is compatible with the bi-pin base and the milliamps.
T4 Fluorescent Tube Lighting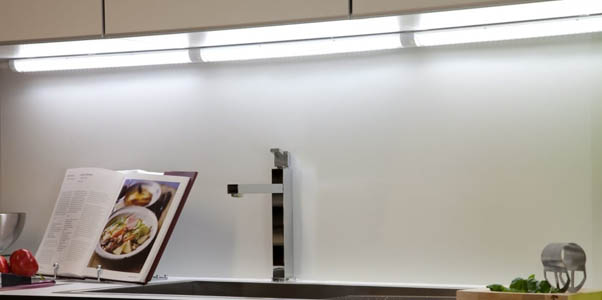 T4 fluorescent tube lights are the smallest tube lights at only half an inch wide. Their size is what makes T4 lights popular for under cabinet lighting purposes and accent lighting for displays or a staircase.
There is no industry standard for the length nor watts of T4 fluorescent tube lights. They can range anywhere from 6 watts to 30 watts and in any length.
If you are replacing a T4 fluorescent tube light, you may struggle with finding the same size. Be sure to measure the length of the tube light and check the wattage before heading for the shops or placing an online order.
T5 Fluorescent Tube Lighting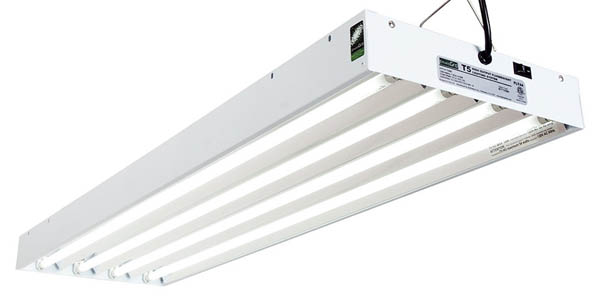 There is not much difference in size between a T5 and T4 fluorescent lights. This is why the T5 is used in many of the same applications.
On the other hand, T5 tube lights are little powerhouses when comparing T5 vs T8 tube sizes. Compared to a T8, T5 fluorescent tube lights can achieve higher luminous flux using less power.
The energy efficiency of the T5 fluorescent light tubes means they also last the longest, around 20,000 hours. However, this is still less than half of the expected lifespan of a T5 LED tube light which lasts an average of 50,000 hours.
If you are using T5 fluorescent lights for garage lighting or an art display, then make sure that you choose a model with a higher CRi. The CRi of T5 fluorescent lights generally range in the lower end of 70 -80 but there are options with more accurate color rendering up to 95.
Another aspect to remember about T5 fluorescent lighting is the different output possibilities. There are three levels of output available on the market; normal output (NO), high output (HO) and very high output (VHO).
The watts needed for T5 fluorescent lighting will increase with the type of output. For example, a NO T5 fluorescent tube light can range between 14 watts to 35 watts while an HO T5 fluorescent tube light will usually range between 24 watts and 80 watts.
T8 Fluorescent Tube Lighting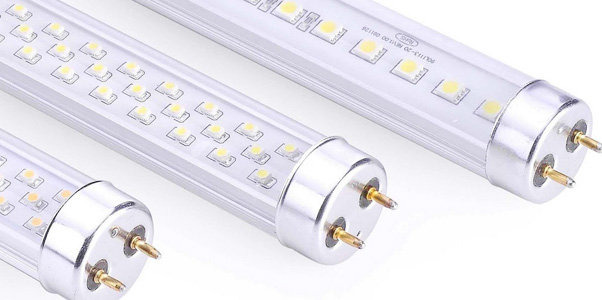 The most commonly available fluorescent tube lighting is the T8 size. This type of fluorescent tube lighting is the most popular because of its high CRi and many color temperature options.
T8 fluorescent tube lights are a good choice for an adjustable lighting system because of their color temperature range from a soft yellow to bright daylight. You will also have several options that you can connect to a dimmer.
T8 lights are commonly used in larger spaces as overhead lighting for example in office spaces, garages or classrooms. This is why you will often see long T8 fluorescent lighting in 4 foot light tubes, 6 feet and 8 feet long.
Compared to T5 fluorescent lighting, the 8 Foot T8 tube lights are less economical. T8 fluorescent tube lighting tends to be more expensive and have a shorter lifespan of around 15,000 hours, but can last up to 50,000 hours if you choose the LED alternatives.
Here's our top 3 picks for replacement 8 foot T8 light tubes: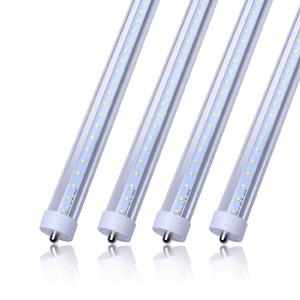 OUR #1 PICK
JOMITOP 8ft T8 LED Tubes
Pack of 4
Accessories Available
Cool White Color
35+ Reviews
Check Amazon →
Read our review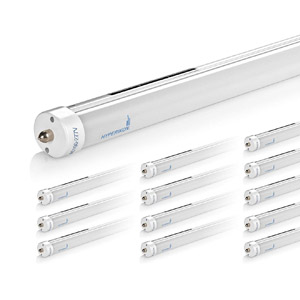 BEST VALUE
Hyperikon T8/T10/T12 8ft Tubes Lights
Pack of 12
Excellent Value
Bright White Color
50+ Reviews
Check Amazon →
Read our review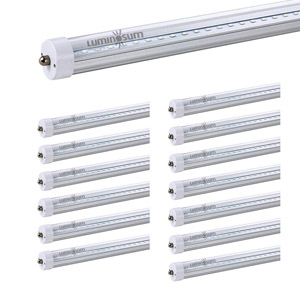 PREMIUM
LUMINOSUM T8 LED Tube Lights
Ultra Bright
70+ Reviews
T8/T10/T12 Compatible
Business Friendly
Check Amazon →
Read our review
If you would like to switch out a T5 fluorescent tube light for a T8 fluorescent tube light or vice versa then you will need to use a ballast. Finding the correct ballast size may also take some effort as there is no industry standard for them.
T12 Fluorescent Tube Lighting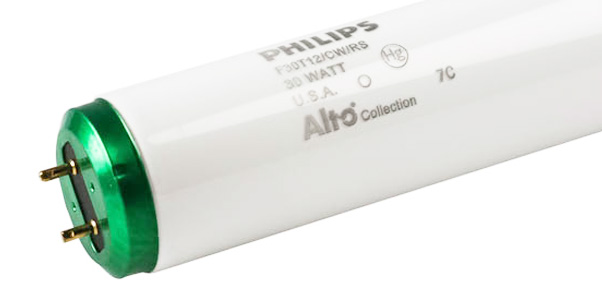 T12 fluorescent tube lighting are the least popular size. This is because they use an older technology that is less energy-efficient compared to the smaller fluorescent tube lights.
T12 fluorescent tube lights use a magnetic ballast which is less energy efficient. The smaller and newer fluorescent tube lights have already been fitted with the more energy efficient electric ballasts.
However, there are still many office spaces and homes that use the T12 fluorescent tube lights, especially in older buildings. Another reason why they are still used is the cheaper purchasing price compared to the other sizes.
Despite being an older model, the T12 fluorescent tube lights still offer a range of color temperatures at different watts. However, their limited lifespan of 15,000 hours still make T12 fluorescent lights a less attractive option compared to the smaller fluorescent tube light sizes or LEDs.
Think about these differences in fluorescent tube lighting the next time you need to convert fluorescent lighting to LED. The different sizes are not directly interchangeable so if you want to use another size then you will have to do a bit of handiwork.
Also, don't forget to compare fluorescent lights with the benefits of LED lighting.