If your home tanning bed is not performing as well as before, it might be time to replace the bulbs. Getting tanning bed replacement bulbs is a much more affordable way to boost the performance of your indoor bed.
Bronzing bulbs for tanning beds are a very specific type of light bulb so it is important to understand the specifics and buy the best tanning bed bulbs that are compatible with your own equipment. This is why we have created a tanning bed bulb buying guide, too.
Pssst – If you don't have time to read the full post, here's our top 3 best tanning bed bulb picks:
BEST OVERALL
Wolff Bronzing Sun Plus F71 100W Bi Pin Tanning Bulb
1000 Hours Tanning
100 Watts
Bi-Pin Fitting
Fits Many Models
Check Amazon →
Read our review
BEST FOR OLDER BEDS
Brilliance Bronzer F73 HO RDC Tanning Lamp
1000 Hours Tanning
100–120 Watts
Compat with F73 lights
RDC Fitting
Check Amazon →
Read our review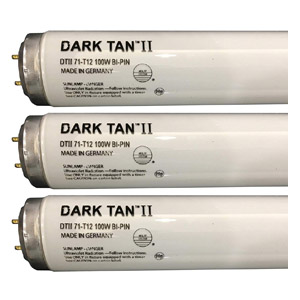 BEST FOR VALUE
Wolff Dark Tan II F71 100W Bi Pin Tanning Bulb
800 Hours Tanning
100 Watts
Replaces Most Lights
Bi-Pin Fitting
Check Amazon →
Read our review
Top 4 Best Tanning Bulbs for Bronzing
Read on to find out which are the best tanning bed bulbs and which ones you can use in your own bed.
| | |
| --- | --- |
| FITTING | Bi-pin |
| SIZE | F71 |
| WATTAGE | 100 watts |
| COMPATIBLE WITH | Alpha Sun, Solar Storm, SunQuest, ESB, ProSun, ETS SunVision, Virtual Sun and Sontegra |
| LIFESPAN | 800 hours |
The Wolff Bronzing Sun Plus model wins the best tanning bed light bulb because of its affordability, versatility, and results. These replacement bulbs fit a large variety of bed models, are not too expensive and hold a lot of power.
These bronzing lights only require very short sessions, starting with less than 10-minute sessions. This is because these UV lamps are quite powerful so longer sessions would cause overexposure.
Wolff Bronzing Sun Plus is a good choice for when you are looking for a glow similar to the sun but with the convenience of indoor usage. Use these bronzing bulbs for a summer tan during the winter.
The Wolff Bronzing Sun Plus is compatible with a number of bed models from the following manufacturers: Alpha Sun, Solar Storm, SunQuest, ESB, ProSun, ETS SunVision, Virtual Sun and Sontegra.
Check for Black Friday Deals on Amazon >
(don't worry, button opens a new tab)
Pros
Powerful replacement bulbs
Short sessions
Versatile design
Cons
Not suitable for long sessions
Bad customer service
| | |
| --- | --- |
| FITTING | Bi-pin |
| SIZE | F71 |
| WATTAGE | 100 watts |
| COMPATIBLE WITH | ESB, Sunquest Wolff, SunVision, Sunstar, Solar Storm, SunMaster, Alpha Sun, Sunsource, Anytime Beds |
| LIFESPAN | 800 hours |
Wolff Systems is one of the biggest brand names in the industry and they deliver some of the best equipment. This Wolff Dark II promises quick dark tans due to its higher levels of UVB rays.
The higher UVB levels mean you need shorter sessions to achieve the same coloring. This is a time-saving replacement setup.
The Wolff Dark Tan II comes in big packs so you can replace all the lamps at once. The available packs are 10, 12, 16, 20, 24, 26 and 28 quantities.
This is also one of the most affordable and cheapest tanning bed light bulbs so it is a great budget pick.
Check for Black Friday Deals on Amazon >
(don't worry, button opens a new tab)
Pros
Budget option
Comes in large packs
Quick bronzing
Cons
High UVB levels
Does not ship to Alaska or Hawaii
Difficult to contact customer service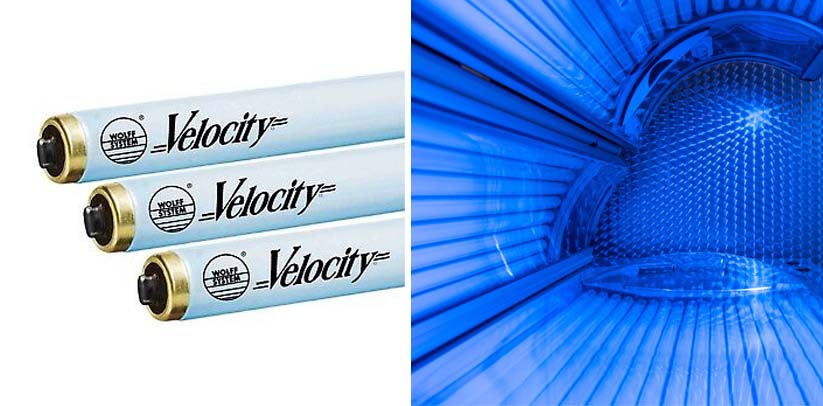 | | |
| --- | --- |
| FITTING | Bi-pin |
| SIZE | F71 |
| WATTAGE | 100 watts |
| COMPATIBLE WITH | Any bed with FR71 light bulb fitting |
| LIFESPAN | 1000 hours |
The Wolff Velocity sunlamp model is actually commonly used and is considered one of the best tanning bulbs you can buy. If manufacturers have confidence in these, why shouldn't you?
The Wolff Velocity sunlamp is a non-reflector lamp that uses advanced phosphor technology for faster and even coloring. Expect to get the same results with shorter sessions.
These have an expected lifespan of up to 1000 hours so you can these bulbs should last for several years. Considering the lifespan and the shorter sessions, the Wolff Systems model is great value for money.
Check for Black Friday Deals on Amazon >
(don't worry, button opens a new tab)
Pros
Industry standard
Higher UVB levels for shorter sessions
Long lifespan
Cons
Doesn't ship to Alaska and Hawaii
| | |
| --- | --- |
| FITTING | RDC |
| SIZE | F73 |
| WATTAGE | 100 watts – 120 watts |
| COMPATIBLE WITH | Any bed with F73 light bulb fitting |
| LIFESPAN | 1000 hours |
The Brilliance Bronzer is a versatile lamp. It can act as a replacement for a wide range of beds and fits both the 100 watts and 120 watts power requirement.
The Brilliance Bronzer HO F73 can replace Bellarium S, Velocity, Diamond Sun, Crystal Sun, Dark Tan and SunMaster type fittings.
Brilliance Bronzer is an affordable manufacturer that has strict quality. This is why this option is a good budget-friendly choice for replacing the existing lamps in your high-end bed.
Check for Black Friday Deals on Amazon >
(don't worry, button opens a new tab)
Pros
5% RDC
Affordable
Fast shipping
Cons
Only works for older beds
Reflector-style
Tanning Lamp Buying Guide
Having your own system for indoor tanning is a big investment. So, you want the best tanning bulbs that will last for as long as possible to get your money's worth.
How well the equipment performs largely depends on how well the lamps perform. This is why replacing the lights is a good idea, especially when you notice them becoming less effective.
Replacing your bulbs does not have to be expensive. There are plenty of affordable options available. If you need help learning how to change tanning bed bulbs read this article
One advantage of sunbeds is that many models are not-proprietary. This means that you can replace the lights with lamps made by different manufacturers.
Trying those from different manufacturers lets you customize your bronzing bed to your own personal preference. You can change the intensity of your bronzing routine by choosing fixtures with different levels of UVA and UVB radiation.
This buying guide puts together the basic information that you need for choosing replacement bulbs.
What Is a Tanning Bed Light Bulb?
Tanning bed lights are a specific type of lamp that is used for bronzing. It emits artificial UV rays which cause the skin to darken with exposure.
A traditional suntan is a result of your skin coming into contact with the sun's ultraviolet rays. A tanning bed mimics this with special light bulbs that emit high levels of UVA radiation and to some degree UVB radiation.
UVA radiation encourages melanin production which is what gives people a tan. The UV lamps speed up melanin production which is why you tan faster.
The relationship between the UVA and UVB rays and your health is why you should only use the best quality equipment. Also, always follow the directions of health care professionals like your GP and dermatologist.
Types of Bed Lamps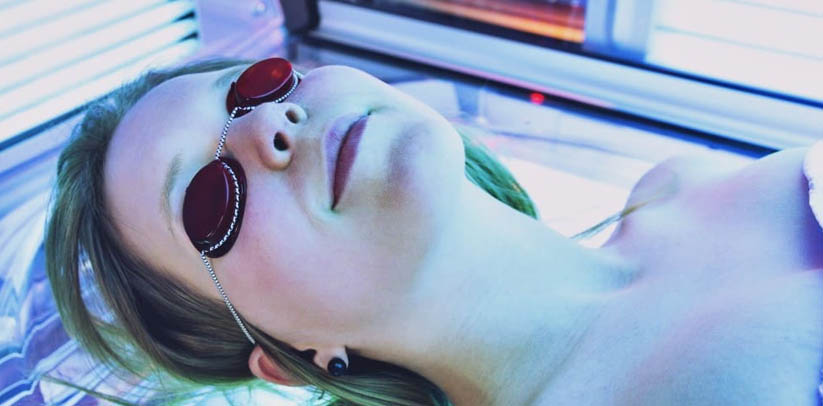 Most lamps look like tube lights but using a different light technology. The two main types are RDC bulbs and bi-pin bulbs.
An RDC bulb, or recessed double contact bulb, is the older model. These bulbs have an adapter that covers the pins.
As the name already suggests, a bi-pin bulb has two pins sticking out at the end. The bi-pin is the standard light bulb model in most modern tanning beds but the pin cover is the only real difference between these lamps.
What Size Tanning Bed Light Bulb Do You Need?
There are several parts to the tanning bed light bulb that you need to understand to know what type of tanning bed replacement bulbs you are buying. Most have two important numbers on it, the F-number and the T number which correspond with its length and light bulb size.
The most common F numbers on the bulbs are F71, F72 and F73. The number behind the F indicates how long the light bulb is in inches so an F71 light bulb is approximately 71 inches long.
The F-number is often also an indicator of what type of light fitting the tanning bed light bulb has. Most bi-pin fittings are an F71 type light bulb while most F72 and F73 are RDC light bulbs.
The T number refers to the same thing as on a conventional fluorescent tube light; the eights of an inch. A T8 tanning bed light bulb is 1 inch while a T12 tanning bed light bulb is 1.5 inches big.
The best way to find out what size you need is by checking the label that is already on your tanning bed or checking the user manual. Often, the manufacturers also offer a list of models that the light bulbs are compatible with.
How Much Power Should Your Tanning Bed Light Bulb Have?
There is a fine line between the best tanning bed bulbs and those that will cause a burn on your skin. Be careful with High Output (HO) models and don't accidentally overexpose yourself.
100 watts is a standard wattage for most bronzing beds. Certain models hold more power, usually 120 watts, 140 watts or 160 watts.
Generally, the higher the wattage, the quicker the melanin production. This means that a bed with High Output light bulbs are more likely to deliver a darker tan in a shorter amount of time.
However, the most powerful lamps should only be used for shorter sessions. Staying inside the equipment for too long causes skin damage, especially with high output lamps.
For their more powerful models, most tanning bed light bulb manufacturers recommend starting with shorter sessions and building up to longer sessions so that your skin can get accustomed to the UV radiation levels.
Calculating Costs of Replacing Your Bulbs
Two of the main factors affecting the price is their power and expected lifespan. The more powerful the lamp and the longer the expected lifespan, the more they cost.
Think about your personal requirements for both lifespan and power when buying bronzing bulbs for tanning bed. How often do you tan and how quickly do you wish to tan?
Do a quick calculation of how long and often you will be using it considering the indicated power of the tanning bed light bulb.
Remember that the more powerful the bulb, the shorter the required sessions for the same results will be.
Tanning Bed Light Bulb Kits
Besides the standard replacement lamps that you buy per piece or pack, there are also kits available. Bulb kits usually combine different types of output so that the rate of tanning is different across the body.
In many cases, even bronzing is the goal, but in some cases, you might want less powerful or more powerful lamps around certain body parts. This is where the specially designed kits come in.
For example, you can buy a light bulb kit that has less powerful light bulbs around the face or a tanning bed light bulb kit that is more powerful around the legs.
Do your research for these light bulb kits and consult the manufacturer's customer service for more detailed advice.
In summary, each model of lamp has a different tanning effect and is compatible with different tanning beds, so take your time to go over all the details, recommended use, and the safety instructions.