The Phillips InstantFit LED T8 light tube works like a master key for replacing fluorescent tube lights because it fits both T8 and T12 light fixtures. On top of that, the tube lights use a plug-and-play mechanism for quick and easy installment.
You might also want to think about the length of LED lights you are looking for. We recommend 4 foot LED lights if you are looking to place your lights in a domestic setting, such as lighting for a garage or that perfect kitchen lighting.
Before getting into how to replace a fluorescent tube light with the Phillips InstantFit T8 LED light, let's take a closer look at the product features. Then we'll take a look into why these are perfect for durable and comfortable office lighting.
Range of Brightness and Light Color Options
| | |
| --- | --- |
| Size | 2 foot |
| Light Type | LED |
| Brightness | 1150 lumens |
| Color Temperature | 3000 – 6500 kelvins (daylight) |
| CRi | 82 – 83 |
| Watts | 7 – 8.5 watts |
The Phillips InstantFit 2 foot T8 LED light tubes come in a range of color temperatures (known as the Kelvin scale) from a warm white light at 3000 kelvins to a white daylight brightness of 6500 kelvins.
The softer lighting of 3000 – 4000 kelvins is suitable for a home workspace like above the garage workbench while the stronger 5000 – 6500 kelvins options are great for a studio or a display window.
The luminous flux of the Phillips InstantFit T8 is in the high ranges between 950 lumens in the 3000 kelvins tube light and the maximum of 1150 lumens in the 6500 kelvins option. Whichever brightness you choose, the LEDs cover a wide area with its clear light.
Check for Black Friday Deals on Amazon >
(don't worry, button opens a new tab)
Impressive Energy Efficiency
We all know that energy efficiency is a huge concern for most people, and it's also an important factor to think about when choosing 8ft LED shop lights (read our other reviews here). The Phillips InstantFit 2 foot T8 LED tube light is an energy efficient alternative to fluorescent tube lights. The wattage is either 7 watts or 8.5 watts but each one is equivalent to 17 watts.
Equivalence to a higher wattage means that the light is able to emit the same brightness with less energy usage. In this case, the Phillips InstantFit T8 LED is able to produce the same brightness as a 17 watt light but with the energy use of 7 watts or 8.5 watts.
You may already know that LED lights are more energy efficient than fluorescent lighting. The Phillips InstantFit T8 proves just how much more energy efficient LEDs are by achieving the same results with less than half the watts.
Aside from being energy-efficient, the Phillips InstantFit T8 LED tube light is free from mercury which makes it even more environmentally friendly.
Suitable and Comfortable for the Eyes
The Phillips EyeComfort technology is one of the reasons why these T8 LEDs work so well in an office space. The Phillips EyeComfort technology makes sure that the lighting doesn't cause glare, flickering or strobe effects.
In addition to the EyeComfort technology, there is no lag time or flicker when turning on the lights because it immediately reaches full brightness.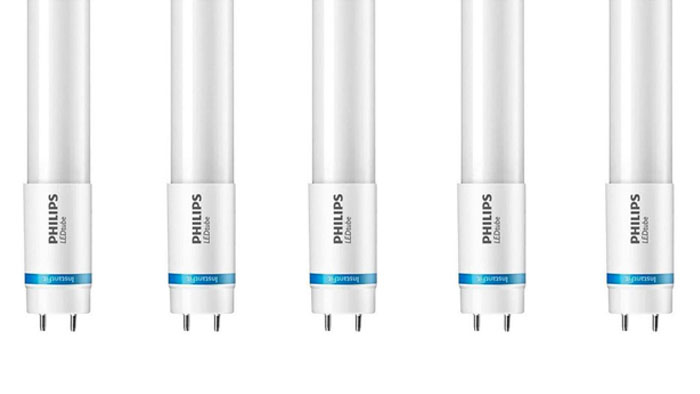 The Downside
The CRi (Color Rendering Index) of these LED tube lights could be higher. The CRi is just below 86 which means that the color reflection is still good but won't completely show the true coloring, even at the highest kelvins.
Regardless of the CRi ranking of 82-83, the color temperature and brightness are still sufficient for most lighting applications.
How to Replace Fluorescent Tube Lights with the Phillips InstantFit 2 Foot T8 LED
The new InstantFit innovation from Phillips is one of the easiest ways to replace fluorescent tube lights. There is no need for rewiring, even when you want to replace a T12 tube light with this medium
bi-pin (G13) base T8 LEDs. T12 fixtures usually work on a magnetic ballast while T8 fixtures tend to work on an electrical ballast.
Regardless of what your original lighting fixture is, you can place these T8 tube lights in the same fixture as long as you follow the ballast instruction provided by Phillips.
That is basically all you need to know. Check for the correct ballast and then simply remove the old tube lights and replace them with the Phillips InstantFit T8 LED. If you need help converting fluorescent to LED Lights make sure you check out our guide!
Review Summary
The Phillips InstantFit 2 foot T8 LED light tubes are a premium product, best suited for commercial spaces and large offices. This is because of its durability, energy efficiency but also the higher price tag.
You are paying for quality though. Phillips is known for their advanced lighting technology and this product is no different.
Despite being more costly than some other options out there, the InstantFit technology will save you more because you won't have to replace the tube light fixtures, as well. You will also save yourself the time and hassle of rewiring, which for some is even more valuable.
Check for Black Friday Deals on Amazon >
(don't worry, button opens a new tab)