Who doesn't love Christmas?
It's the time of year when family and friends come together to celebrate, and often those friends you rarely see, and young and old alike get into the spirit of things.
Putting up the LED Christmas lighting in the house is something that parents and children enjoy together, but what about decorating the outdoors?
Sure you can use traditional icicle lights, but solar path lighting can create a great atmosphere for your home and neighborhood, and not just for the holiday season,. From Christmas candy cane lights, everyday mains powered light stakes, to solar light stakes, the options are plentiful, LED Light Guides has something for everyone!
Top Best 10 Christmas Pathway Light Reviews
Decorative lighting is a traditional way of enhancing your outside landscaping, home, and decorating Christmas trees. They add so much and come in a variety of shapes, styles, and include some novelty options that are available for the festive season, and you may be surprised how affordable they are.
We have put together a list of the 10 best pathway Christmas lights including a good mixture of styles that can be used all year and are not just for Christmas.
Here are the best path lights for Christmas and throughout the year (maybe check out our year-round best outdoor lamposts).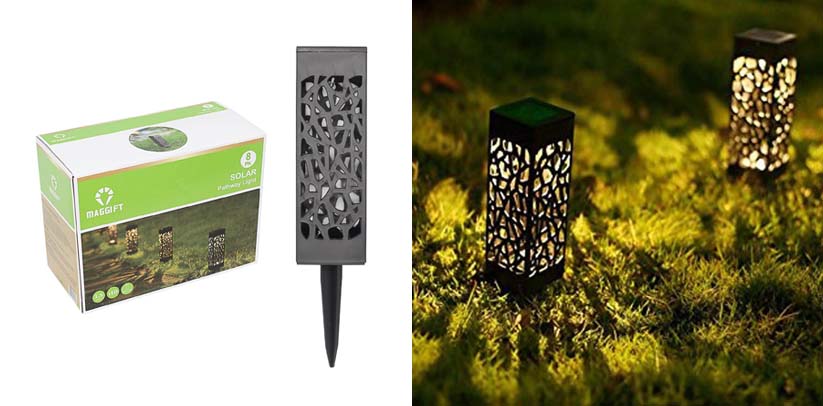 This 8 piece set of solar Christmas pathway lights that could double as either Christmas festive lights or for an all-year decorative option. These Christmas walkway lights are LED and encased in an attractive cover with a cut-out pattern, so the light is cast in a very charming and original way.
They are all individually powered by a solar cell on the top so they can be placed wherever you want. These wonderful little units are 11 inches tall including the spike and contain a 3-lumen of warm white LED.
Check for Black Friday Deals on Amazon >
(don't worry, button opens a new tab)
They are designed for outdoor use so are waterproof, and on a full charge will illuminate your garden for 6-8 hours. They contain a light sensor and will turn ON automatically as daylight falls and OFF as the sun rises.
This is a set of eight, which is enough to line a short pathway or add some ambiance to your patio or deck area, but please note that these act as path markers and are for decorative purposes only.
At this price, these make a great pick for beautiful Christmas lighting ideas!
What We Liked
Warm white
Attractive design
Individually solar powered
8 pack
Next on our list is a beautiful and whimsical option that is great fun, so if you have kids and want to do something with LED Christmas pathway lights with them in mind, you should consider this excellent set of four including Rudolph the Red-Nosed Reindeer and his friends, including Santa.
The figures are 8" high when in the ground making them easily noticeable with the 25 clear mini LEDs inside, these are mains powered so you do need them near an outlet.
Check for Black Friday Deals on Amazon >
(don't worry, button opens a new tab)
Not only are they great Christmas light stakes, but they also come with suction cup hangers so are easy to attach to any smooth surface. They'd be great as window ornaments, for example, but they are certified for outdoor use.
These officially licensed light-up pathway markers are nicely made, durable and something that children and adults alike will really enjoy. Add a little special something to your home this festive season.
What We Liked
Fun Christmas characters
Brightly lit
8" tall
Mains powered
This set of 10 red and green Christmas bulb path lights will guide you and your guests on your way, and although red and green have become traditional for the Xmas period, these wonderful little bulbs could be used for the rest of the year.
They are very neat and attractive, just perfect for placing along a path or driveway and are really beautiful when place around a pond, or landscaping feature.
Check for Black Friday Deals on Amazon >
(don't worry, button opens a new tab)
This set, as with many of the options, are electric and will need a power source. With the stake, they measure 8 inches in height and they come attached to a 30-foot electric cord, which is quite a length and would easily line a standard drive or path up to your home.
They are weatherproof, peel proof and fade proof so they will withstand the seasons well, easy installation as you simply position them, plug them in and they are ready to go.
You can also use the standard end connectors to link more sets together if you wish. We believe these are among the best value on this list.
What We Liked
Red and green
Pack of 10
30-foot cord
8 Inch height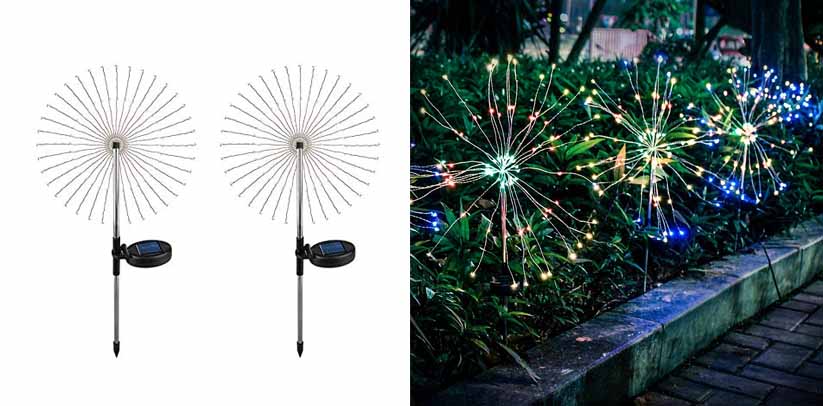 If you are a fan of fireworks you are going to love these from EpicGadget. The Solar Firework Light has 105 LEDs that are solar-powered, just perfect for adding a unique flair to your outdoor pathway light decorations and are another good option for all year use.
Ideal for adding a sparkle to your flower and shrub beds as well as being path Christmas lights they great for all special events but they are sure to add an extra spark to your 4th of July party.
Check for Black Friday Deals on Amazon >
(don't worry, button opens a new tab)
Included are 2 solar firework light units that you can place around your backyard and as they are solar-powered you are not restricted on where they can shine, but best of all there is no worrying about having an outlet or extension to plug into and you'll be saving on your electrical bill.
These are easily one of the most unique available on the market. With the flexible branches on each, you are able to adjust them to your own design and shape.
On a full charge, they will shine for up to 8 hours and these also have a light sensor and will automatically turn ON when the daylight fades and OFF as the sun rises, along with the choice of flashing or steady mode.
What We Liked
Solar-powered
Flexible branches
8 hours of illumination per charge
Waterproof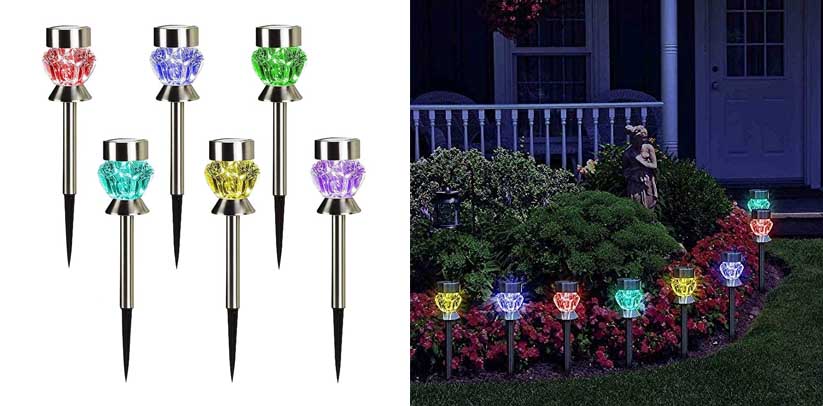 These SunnyPark solar-powered light stakes make it look like beautiful little sparkling gems. The stake itself is cool silver metal and are shaped to look like that of a large gemstone.
Maybe you would like a lot of color in your outdoor Christmas pathway lights, or do you prefer neutral tones, with this set of 6 Christmas path lights you don't have to choose because each one can emit both white light or they can be set to display 6 different constantly changing color.
Check for Black Friday Deals on Amazon >
(don't worry, button opens a new tab)
The design is incredibly versatile since they are more than just Christmas stake lights, you can remove the stake and place them on any flat surface such as your steps, around your patio, or on the table making it a wonderful multipurpose decorative light that will shine bright for 8 hours on a full charge.
Being solar-powered, there is no fussing around with cords, just place them wherever you want, and watch your neighbors grow in envy. If you are looking for a pathway light that doubles as both festive and year-round outdoor lighting, this is a great choice.
What We Liked
Removable diamond light
Solar-powered
White or color light
Unique shape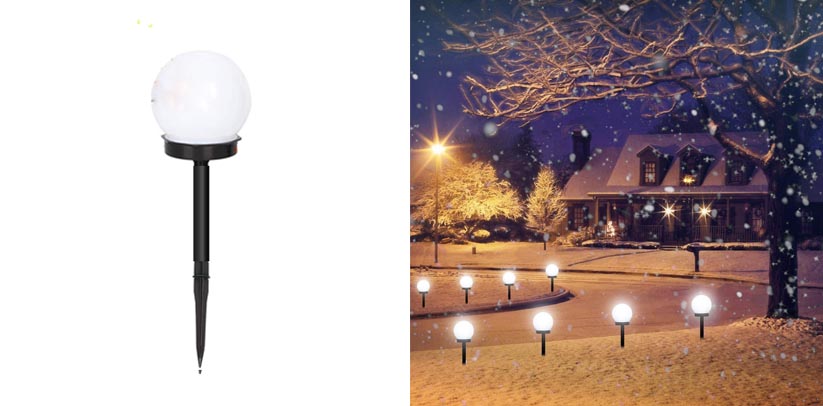 If you don't want to overdo it this season and would like some simple Christmas lights for driveway Christmas lights these are a more traditional and simplistic design, that works all year round, and will suit your needs.
These solar-powered Otdair black stakes and white globe units are durable, easy to install, and will fit within any outdoor setting. They have a light sensor fitted that will automatically turn ON as the daylight falls and OFF as the sun rises and on a full charge will shine for 6 – 8 hours.
Check for Black Friday Deals on Amazon >
(don't worry, button opens a new tab)
Ideal for creating an atmospheric ambiance, and, not just for your walkway Christmas lights, when placed strategically amongst your shrubs and flowers they will create a beautiful atmosphere.
Don't worry about a thing when you purchase these because they come with free replacements and a full refund if they don't make it through the first year.
Christmas outdoor pathway lights don't have to be all about extravagance and bright in color, you can still capture the festive spirit with this simple and warm lighting solution.
What We Liked
Suitable year-round
Great warranty
Quick installation
Dusk to dawn sensor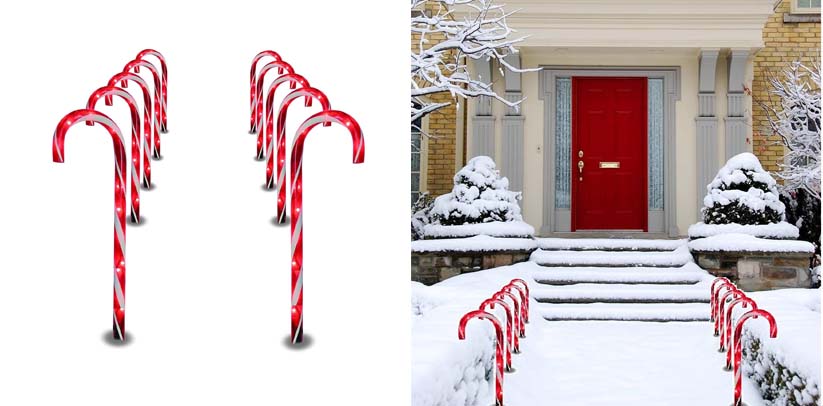 Nothing says Xmas like candy canes and with this set, you can create magical pathway lighting Christmas style, that will lead you and your guests to your front door.
This is a pack of 10 wonderful individual candy canes each measuring 22 inches tall and has 6 pre-installed light bulbs on each. Although this stake lights Christmas themed pack is beautiful to mark a path to your front door, these Christmas pathway decorations are also great for hanging, either indoors or out.
Check for Black Friday Deals on Amazon >
(don't worry, button opens a new tab)
The best feature about these is that you can connect up to 5 sets of these holiday pathway lights with a single cord allowing you so much freedom in what you can do and the vibrant display of bright red and white will certainly give your outside area the festive spirit. Perfect Christmas lights to line driveway, pathway, or lawn.
Made from high-quality plastic they are water-resistant, as with all corded electric outdoor lighting you must make sure that the fuse box stays dry and you use the correct outdoor outlet.
What We Liked
Fun candy cane shape
Connects up to 5 sets
Includes replacement bulbs
Also great as a gift
Next on our list of Christmas lighted yard stakes we have another solar-powered option and we just love the sleek design of this Aushen solar set. The stainless steel is the perfect complement to the bright and colorful LEDs.
The LED shines in 6 different shades ranging from a soft almost pastel purple to greens and reds and yellows. With so much color you can have a lot of fun with your outdoor Christmas decorations.
Check for Black Friday Deals on Amazon >
(don't worry, button opens a new tab)
Installing them does take a little assembly but you won't spend more than 1 – 2 minutes on each stake. This is a pack of 10 so your path or drive will be transformed in less than 25 minutes. They have a waterproof rating of IP65 and are weather-resistant another good all year rounder.
This is a high-quality solar panel light option, so if you live somewhere with less daylight during the winter it is a good choice for you, as it only needs 4 – 6 hours of sunlight for a full charge which gives the battery enough juice to shine for 6 – 8 hours.
What We Liked
Stainless steel stake
Multiple color choice
Shorter charge time
Quick assembly
IP65 waterproof rating
For those having a tropical Xmas, we have found the perfect pathway decoration in the form of these wonderful little solar light trees.
These LED Christmas walkway decorations are shaped like a young tree that has branches full of color. The leaves and stems are all adjustable so you can design your outdoor Christmas lighting down to the little details.
Check for Black Friday Deals on Amazon >
(don't worry, button opens a new tab)
Every single element of this light tree is made with durable materials and is IP65 waterproof and weather-resistant, including the solar panel itself.
Get creative this season with solar-powered LED light trees. Play around with the color and the many different positions of the leaves and branches.
What We Liked
Fun creative design
Fully adjustable
4 different light colors
Durable materials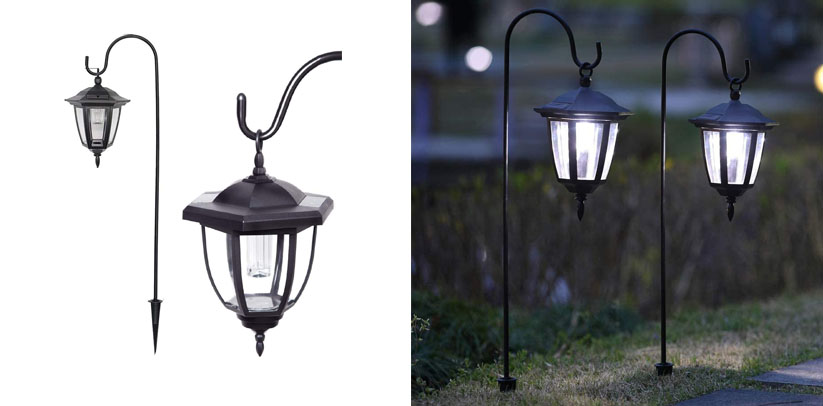 The shepherd hook design is a very traditional and beautiful way to light up your walkway. It reminds you of Victorian times and the classic Dickens tales and the design works perfectly year-round.
They are elegant with a nudge towards industrial design while making a wonderful option as Xmas lighting for driveway, or to dot around your shrubs and flower beds.
Check for Black Friday Deals on Amazon >
(don't worry, button opens a new tab)
As always, we want to offer you the convenience of solar power that is so much more versatile as there is no wiring to worry about. This is why we have included another solar light model.  These are made from high-quality thick plastic and have a waterproof rating of IP44 so is suitable for outdoor use,
If you want an elegant outdoor form of LED pathway Christmas lights, this shepherd hook design is the perfect compliment. Leave them in your yard for the rest of the year, too.
What We Liked
Suitable year-round
Classy industrial design
Quick installation
Large lanterns
For a quick recap, here are our top 3 products:
OUR #1 PICK
Maggift Solar Christmas Light Stakes
Attractive Design
Solar Powered
Warm White
2800+ Amazon Reviews
Check Amazon →
Read our review
FUN DESIGN
ProductWorks Rudolph and Friends Path Lights
Mains Powered
8" tall
25 Mini LEDs
Brightly Lit
Check Amazon →
Read our review
STRING LIGHTS
Lumabase Red and Green Christmas Path Lighting
8 Inch Height
30-foot Cord
Landscaping Feature
Pack of 10
Check Amazon →
Read our review
Review Summary
There are a number of choices to make here, do you want a colorful light or plain white? Are you looking for all-year-round options or just the festive season? Are you happy with solar-powered lights, or do you prefer mains?
Maybe you are looking for stake designs, or perhaps you want to add some real festiveness to the outdoors with a Christmas Laser Light Projector? First, we should say that there is something for everyone here as we've included both plain and festive designs.
For colored options that we have reviewed, the best choice is probably number 5, which not only gives you great color at a great price it will give you the flexibility of not just being a stake light but can be placed on a table or patio, etc. But there are others that are also very attractive. But remember if you are going for solar-powered then you must be certain you will get enough sunlight.
For a novelty lighting set, and to make the perfect setting to your outdoor areas this season, our favorite is the candy canes, number 7 in our list.  These awesome little canes are a great size and also a lot of fun for all of the family and your neighbors too!
So read through and make your choice, and most importantly brighten up the outdoors this year with these great Xmas pathway lighting options.
How to line driveway with Christmas lights?
When you are thinking about how to line your driveway with Christmas lights there are a few decisions to make.
Firstly, would solar-powered Christmas pathway lights be the best solution for you, offering simple installation and dusk to dawn auto setting, or do you want to be assured that they will always light, and, go for a set that is electric?
Secondly, you will need to decide whether you want Xmas pathway lights that will be suitable for use all year and not just for a short period of time. There are some wonderful novelty options but you are restricted to use just for the festive season.